Follow us on our all-new twitter page: Twitter.com/GiantsEAST RUTHERFORD, NJ - The Giants' 10-6 record left Coughlin with a career regular season record of 133-107 (.554), including 65-47 with the Giants. He is 8-7 in postseason games (4-3 with the Giants).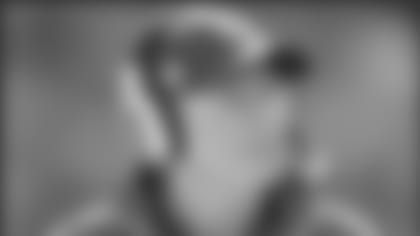 *Coughlin's 133 regular season victories place him 21st on the NFL's career list. No. 20 is former Tampa Bay and Indianapolis coach Tony Dungy, with 139 wins. Coughlin is third among active coaches, behind New England's Bill Belichick (162) and Washington's Mike Shanahan (152).
*Coughlin is also 21st with 141 combined regular season and postseason victories. He trails former Tennessee coach Jeff Fisher by six victories.
*Coughlin's 65 victories with the Giants moved him past Allie Sherman (57) and Jim Fassel (58) and into third place on the franchise's career list. He trails only Bill Parcells (77) and Hall of Famer Steve Owen (153).
*Coughlin is 65-45 in division games, a .591 winning percentage that places him fourth among active coaches with more than 30 division games. He trails Belichick (.637), Chicago's Lovie Smith (.619) and Shanahan (.612).
*Coughlin is 25-17 (.595) in NFC East games with the Giants.
*The Giants were 6-2 at midseason and have been 5-3 or better at the halfway point each year Coughlin has been coach. The Giants are a combined 41-15 (.732) in the first eight games since Coughlin arrived in 2004.
*The Giants' 31-18 victory over Carolina on Sept. 12 improved Coughlin's record in season opening games to 10-5, including 4-3 with the Giants. The 10 victories tie Coughlin with Belichick and Fisher for second among active coaches, behind Shanahan (13).
*Coughlin's 100th regular season game with the Giants was a 17-3 victory over NFC finalist Chicago on Oct. 3. He is the fifth coach in franchise history to reach the century mark. With a 57-43 record, Coughlin had the second-highest victory total among Giants coaches at the 100-game mark:
RECORDS THROUGH 100 GAMES WITH GIANTS
| | |
| --- | --- |
| Steve Owen | 59-34-7 |
| Tom Coughlin  | 57-43 |
| Bill Parcells   | 56-43-1 |
| Jim Fassel    | 56-43-1 |
| Allie Sherman | 52-44-4 |
*Coughlin was 7-5 on replay challenges in 2010. He is 30-32 with the Giants and 40-41 in his career on replay challenges.
*The Giants' 34-point margin of victory (41-7) at Seattle was Coughlin's largest in a road game in his 15 seasons as an NFL head coach. The previous best of 33 points was set in the Giants' 45-12 victory in Washington on Dec. 21, 2009.
*When the Giants faced Tennessee on Sept. 26, Coughlin and then-Titans coach Jeff Fisher squared off for the 18th time, which was more often than any other two active head coaches had faced each other. Since Fisher left the Titans, the most-frequently contested rivalry between active head coaches is between Coughlin and Philadelphia's Andy Reid, who have faced each other in 15 regular season games, 14 since Coughlin joined the Giants in 2002 (plus twice in the postseason). Reid leads the regular season series, 8-7, and the postseason series, 2-0.
The Giants are also included in the most frequently-contested head coaching rivalry since the 1970 merger. Bill Parcells (first with the Giants, then with the Dallas Cowboys) faced Joe Gibbs 22 times during the Hall of Famer's two tenures with the Washington Redskins. Parcells owns a 13-9 lead, according to the Elias Sports Bureau.