EAST RUTHERFORD, NJ - Multiple injuries on the line and at wide receiver have forced the Giants to reshuffle their offensive lineup as they fight to keep pace in the NFC playoff race. The team has played without Shaun O'Hara, David Diehl and Steve Smith, and now Hakeem Nicks has become a spectator who would prefer to play as the Giants prepare for their home game Sunday against the Jacksonville Jaguars in a battle of 6-4 teams.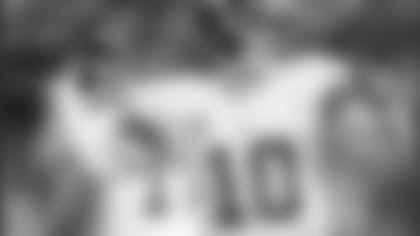 The Giants remain confident despite the losses, in part because their most indispensible player is having the finest statistical season of his career. Eli Manning is on pace to set or challenge team records in most major passing categories, including attempts, completions, yards, touchdown passes and in a category he would prefer not to set a new mark, interceptions.
Through 10 games, Manning has thrown 352 passes, the NFL's ninth-highest total. That puts him on a pace to finish with 563 passes this season. The team record of 568 was set by Kerry Collins in 2001. Manning's career high is 557 passes in 2005.
Manning is sixth in the league with 231 completions, which projects to a 16-game total of 369. That would shatter the franchise record of 335, set by Collins in 2002. Manning threw a career-high 317 completions in 2009, the second time in his career he exceeded 300.
Another Giants record that could fall is passing yards in a season. Manning is currently eighth in the NFL with 2,595 yards. If he maintains his pace of just less than 260 yards a game, he will finish with 4,152 yards. The current team mark is 4,073 yards, set by Collins in 2002. The only other 4,000-yard seasons by Giants quarterbacks were 4,044 yards by Phil Simms in 1984 and 4,021 yards by Manning last year.
Manning's completion percentage of 65.62 is fourth in the league. The highest full-season percentage by a Giants quarterback (among those qualifying for inclusion in the league's statistics) is 62.81, which was accomplished twice: Jeff Hostetler in 1991 (when he completed 179 of 285 passes) and Kurt Warner in 2004 (174 of 277). Manning has already thrown and completed more passes than Hostetler and Warner did in those seasons. He set his career best completion percentage of 62.27 in 2009, when he hit 317 of 509 passes.
On Sunday in Philadelphia, Manning threw his 20th and 21st touchdown passes of the season, a total that places him third in the NFL, behind only San Diego's Philip Rivers (23) and New Orleans' Drew Brees (22). At his current pace, Manning would throw 34 TD passes this season. The Giants record of 36 touchdown passes was set by Y.A. Tittle in 1963.  Tittle – who is also second on the list with 33 in 1962 – is the last Giant to lead the NFL in touchdown passes. The only other Giants to finish first in the league were Harry Newman, with 11 in 1933, and Ed Danowski, with 10 in 1935. Manning's career high is 27, set last season.
And then there are the interceptions. Manning threw three in Philadelphia, including one when the Giants had no chance to win with just a second remaining in the game. "I don't count that one," Manning said. But the NFL does, which means Manning has thrown 16 picks this season, the second-highest total in the league after Brett Favre (17). Manning is on pace to throw 25 interceptions, which would tie the franchise record shared by Frank Filchock (1946) and Charlie Conerly (1953). Perhaps the picks are a good omen. When Manning threw his career-high 20 interceptions in 2007, the Giants won the Super Bowl.
*The interceptions are part of a turnover problem that continues to plague the Giants. The team has unwanted league-high totals of 14 lost fumbles and 30 giveaways. In the entire 2009 season, the Giants threw 14 interceptions and lost 17 fumbles for 31 turnovers. According to the Elias Sports Bureau, the Giants have not led the NFL in giveaways for a full season since 1983, when they had 58 (including 31 interceptions). Their next-highest turnover total was 49, set in both 1960 and 1964.
Their current turnover differential of minus-eight leaves them tied with the Arizona Cardinals for
27th in the NFL. Jacksonville, which visits the New Meadowlands Stadium on Sunday, is 31st at minus-11. The Giants are not close to the worst turnover differentials in their history: minus-22 in 1983 and minus-20 in 1966.
*The Giants have not allowed a sack in any of their last three games, their longest streak keeping the quarterback upright since Nov. 5-26, 1972, when they played four games in a row without allowing a sack.
*On Sunday, Manning became the seventh quarterback in history to throw at least 20 touchdown passes in six consecutive seasons. The record of 13 straight seasons is held by his brother, Peyton (1998-2010).
*After two weeks in the top spot, the Giants' defense slipped to No. 2 in the NFL rankings this week. The Giants are allowing 282.4 yards a game. The San Diego Chargers, who gave up only 235 yards to Denver last night, moved up to first with an average of 270.7 yards allowed a game. The Giants' defense remains first in the league in first downs allowed (14.2 a game) and opposing third down conversion percentage (28.1, 36 successes in 128 attempts).
*The Giants' offense is ranked third with an average of 389.6 yards a game. They are fifth in rushing yards (138.3 a game) and seventh in passing yards (251.3).
*Ahmad Bradshaw is second in the NFC and fifth in the NFL with 867 rushing yards. He is fourth in the conference and 10th in the league with 1,064 yards from scrimmage.
*Nicks is second in the NFC and tied for third in the NFL with 62 receptions. He is second in the conference and sixth in the league with 800 receiving yards. His nine touchdown catches tie him for third in the NFL.
*Osi Umenyiora leads the Giants with 8.0 sacks and Justin Tuck is right behind him with 7.0. They could give the Giants two players with double-digit sacks for the first time since 2007, when Umenyiora led the Super Bowl champions with 13.0 and Tuck chipped in with 10.0. Last year, Umenyiora's team-leading total was 7.0 sacks. With 27.0 sacks, the Giants are just five short of their total for the entire 2009 season.