EAST RUTHERFORD, NJ - Brandon Jacobs has started less than half of the games he's played in during his six seasons with the Giants (38 of 81), which qualifies him to be designated as one of the most productive part-time players in franchise history.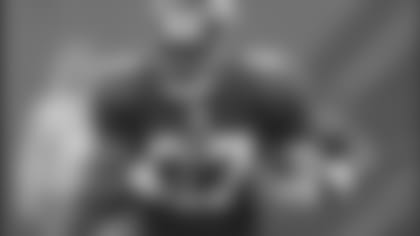 Jacobs ran for 87 yards Sunday in the Giants' 24-20 victory over the Jacksonville Jaguars – his first start of the season. That increased his career total to 3,929 rushing yards, which is 22nd among active players in the league. Jacobs needs only 71 yards to become the fifth player to rush for 4,000 yards in a Giants uniform, joining Tiki Barber, Rodney Hampton, Joe Morris and Alex Webster.
Jacobs has a career average of 4.5 yards per carry, which places him second among the top 12 rushers in Giants history. Only Barber's 4.7-yard average is better.
This season, Jacobs has rushed for 474 yards on 92 carries while playing primarily as a backup to Ahmad Bradshaw. But his 5.2-yard average is the second-highest among the 39 backs in the NFL with at least 90 rushing attempts. Kansas City's Jamaal Charles is averaging 6.3 yards a carry.
If he runs for only 26 more yards in the final five games, Jacobs will become the fourth Giant with at least 500 rushing yards in four consecutive seasons, joining Morris (1984-88), Hampton (1991-96) and Barber (2000-2006).
Jacobs has twice rushed for more than 1,000 yards with 1,009 in 2007 (when injuries limited him to 11 games) and 1,089 in 2008 (when he played 13 games). He is one of only four running backs in Giants history to rush for 1,000 or more yards in at least two consecutive seasons. The others were Morris (1985-86), Hampton (1991-95) and Barber (2002-2006).
Jacobs is fourth in team history with 45 rushing touchdowns, which leave him three behind Morris and four behind Hampton. He is sixth in Giants history with nine 100-yard games. The Giants are 8-1 in those games.
*Bradshaw is eighth in the NFL with a career-high 916 rushing yards. He needs 84 yards to become the eighth Giant in history with 1,000 rushing yards in a season.
*Despite several injuries on their offensive line, the Giants have allowed an NFL-low 12 sacks. Indianapolis is second with 13 sacks allowed, so Eli and Peyton Manning are the most protected quarterbacks in the NFL.
The Giants are on a pace to give up their fewest quarterback sacks in a 16-game schedule. The record is 24, set in 2002.
*Eli Manning has not been sacked in four consecutive games (137 pass attempts), the longest streak in the NFL this season. According to the Elias Sports Bureau, Indianapolis, New England and Atlanta all had four-game streaks without allowing a sack in 2009.
The Giants' four-game sack-less streak ties the team record, set from Nov. 5-26, 1972. That was also the last year in which the Giants allowed the fewest sacks in a full season. Giants quarterbacks were sacked 10 times in 14 games.
*The Giants' defense is tied for fifth in the NFL with 31 sacks, just one less than the team had in the entire 2009 season. Antrel Rolle, Justin Tuck, Jason Pierre-Paul and Terrell Thomas teamed up to sack David Garrard on Jacksonville's final three offensive plays Sunday. It was the second time this season the Giants sacked opposing quarterbacks on three consecutive plays. They did it against Chicago on Oct. 3, but unlike Sunday, it was not on one offensive series.
*Tuck leads the NFL with four recoveries of opposing fumbles.
*The victory Sunday was the Giants' first game in which they did not allow a sack nor commit a turnover since Sept. 27, 2009 at Tampa Bay in a 24-0 victory.
*The Giants rallied to win the game by scoring 15 fourth-quarter points, their highest-scoring fourth quarter since they had 21 points in St. Louis on Sept. 14, 2008.
*Eli Manning played in his 100th game against Jacksonville (98 starts). Manning holds franchise records for the most completions (1,838), attempts (3,169), passing yards (21,465) and passing touchdowns (148) in a player's first 100 games as a Giant.
*Manning's 23 touchdown passes put him in a four-way tie for the league lead with New England's Tom Brady, San Diego's Philip Rivers and New Orleans' Drew Brees.
*The Giants have scored 277 points this season - 139 points in the first half and 138 in the second half.
*After allowing the Jaguars to throw for only 121 yards, the Giants pass defense moved up from third to first in the NFL rankings. The Giants are giving up only 186.4 passing yards a game. The last time they allowed fewer yards through the air in a full season was 1991, when they gave up 179.6 passing yards a game, which was good for sixth in the league. The Giants have not led the NFL in pass defense over a full season since 1959, when they gave up 151 yards a game.
*The Giants' defense is ranked second in the NFL, allowing 286.5 yards a game. They have allowed the fewest first downs in the league, 168 (15.3 a game). The Giants' offense is ranked third with an average of 387.0 yards a game.
*The Giants are first in the NFL, allowing opponents to gain an average of 4.42 yards on first down plays. Their opponent this week, Washington, is last in the league, giving up an average of 6.83 yards per first down play.
*The Giants today signed defensive tackle Joe Joseph to their practice squad. Joseph, 6-2 and 315 pounds, joined the Tennessee Titans as a rookie free agent on April 30. He played in all four preseason games and had three tackles and a pass defensed, before being waived on Sept. 4. Joseph played in 37 games with 25 starts at the University of Miami, where he had 71 tackles, 13 for losses, and 1.5 sacks.
*The Giants, FedEx and New York Cares will host their 13th annual Coat Drive on Sunday, when the Giants host the Washington Redskins at New Meadowlands Stadium. Fans are encouraged to donate their gently worn coats by bringing them to any of the FedEx trucks and volunteers located at each stadium entrance prior to the game. New York Cares is a non-profit organization that helps warm thousands of men, women and children by providing winter coats to homeless shelters, community organizations, centers for battered women, and agencies serving senior citizens across the metropolitan area.