EAST RUTHERFORD, NJ - Wide receiver is one of the NFL's glamour positions, but the glitz has often eluded the Giants.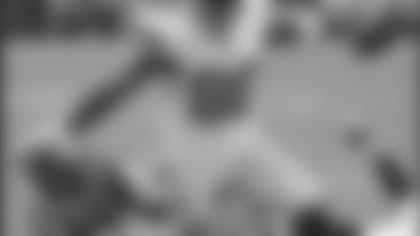 A powerful rushing attack and a strong defense have fueled Giants' success far more often than an aerial show featuring exciting receivers. In 1986, the season they won their first Super Bowl, the Giants were ranked sixth in rushing and second in defense in the NFL and their top two receivers were a tight end (Mark Bavaro with 66 catches) and a part-time running back (Tony Galbreath with 33). The most productive wideout was Bobby Johnson with 31 receptions (not even two a game).
The receivers were in the background when the Giants won another championship in 1990. The rushing attack was eighth and the defense was again ranked second. The three leading receivers were running backs (David Meggett with 39 and Rodney Hampton with 32) and Bavaro (with 33). The most prolific (for lack of a better term) wide receivers were Stephen Baker and Mark Ingram with 26 catches apiece.

But as the NFL became more of a passing league, the Giants opened up as well. Amani Toomer, the franchise's leading receiver, caught at least 72 passes each season from 1999-2002, In those four years Toomer finished, on average, more than 33 receptions behind the league leader, but the Giants could win games through the air. In 2002, they reached the playoffs with a passing attack that was ranked sixth and a running game that was 14th.
In one respect, the four years from '99-'02 were the heyday of the Giants' aerial prowess. In each of those seasons, they had two players with at least 70 receptions apiece. But twice it was Toomer and a running back (Tiki Barber in 2000 and 2001) and once Toomer was joined by a tight end (Jeremy Shockey in 2002). In 1999, Toomer (79) and Ike Hilliard (72) combined for 151 catches.
That remained the franchise record for catches by a pair of wide receivers until last season when Steve Smith (107) and Mario Manningham (57) totaled 164. Smith shattered Toomer's former franchise record of 82 receptions, set in 2002. Before Smith's Pro Bowl season, the Giants were one of seven teams than had never had a receiver catch at least 100 passes in a season.
Now the Giants have two receivers who are on their way to setting a new franchise standard for combined excllence. Through five games, Hakeem Nicks is tied for fourth in the NFL with 33 catches. Smith is tied for 15th with 28 receptions. If they stay on their present pace, they will combine for approximately 195 catches, which would easily make them the most productive wide receiver tandem in team history.
In addition, with 409 receiving yards, Nicks is on pace to finish with a little more than 1,300, which would challenge the franchise record of 1,343, set by Toomer in 2002. Smith is averaging exactly 60 yards a game, which projects to 960 in a 16-game season. If they both finish with 1,000 yards, they would be the first duo of Giants receivers to do so in the same season. Seven teams had two 1,000-yard receivers last year alone.
Nicks leads all NFL wide receivers with six touchdown receptions. That not only matches his full-season total as a rookie in 2009, it puts him on a pace to shatter the franchise record of 13, set by Homer Jones way back in 1969. In the 41 seasons since then only Plaxico Burress, with 12 in 2007, has been able to challenge Jones' mark.
*The Giants' defense is currently ranked first in the NFL, allowing 244.6 yards a game. But for a reminder of how little that means at this point in the season, they need only look back on last season.
In 2009, the Giants had the league's top-ranked defense entering their 10th game, at home against the Atlanta Falcons. They were allowing 274.4 yards a game. But despite being No.1 in yards allowed, the Giants were 21st in scoring defense. Although the Giants defeated the Falcons in overtime, they gave up 31 points. By the end of the season they were tied for 13th in yards allowed and were 30th in scoring defense.
That cautionary disclaimer aside, the Giants' defense played extremely well the last two weeks in victories over Chicago (17-3) and Houston (34-10).
The Giants gave up 110 total yards to the Bears and 195 in Houston, the first time they've allowed less than 200 yards in consecutive games in one season since Oct. 30-Nov. 15, 2005, when they yielded 125, 138 and 137 to Washington, San Francisco and Minnesota, respectively.
That was also the last time the Giants surrendered less than 60 rushing yards in back-to-back games (Chicago had 59, Houston had 24). The Redskins, 49ers and Vikings ran for 52, 46 and 56 yards, respectively.
Houston rushed for 24 on 15 carries, a 1.6-yard average. It was the lowest per-carry average by a Giants opponent with at least 15 attempts since Nov. 23, 2008, when Arizona ran for 23 yards on 15 carries, a 1.5-yard average.
The Bears' only score was a field goal and the Texans scored just one touchdown, the first time the Giants held consecutive opponents to one touchdown or less since Sept. 4 and 14, 2008, against Washington and St. Louis. That was also the last time the Giants had at least 10 more first downs than their opponents in back-to-back games.
*The Giants are holding their opponents to an average first down gain of 3.60 yards, the best figure in the NFL. Philadelphia is second at 4.21. Offensively, the Giants are third in the league, averaging 6.32 yards on first down. Their next opponent, the Detroit Lions, is last at 3.71.
*The Giants' victory in Houston improved their regular season record in dome games to 24-15. That is the second-best record among teams that play their home games exclusively outdoors (not in retractable domed stadiums). Washington is 26-15 indoors.
*Ahmad Bradshaw leads the NFL with seven runs of 20 or more yards. Bradshaw is second in the NFC and fourth in the NFL with 449 rushing yards. He is seventh in the league with 532 yards from scrimmage.
*The victory in Houston improved the Giants' record in October with Eli Manning at quarterback to 18-4.
*Manning was not sacked against the Texans. The Giants are 12-5 in games in which he is not sacked and 41-34 when he is.
*The Giants are 12-2 when Manning throws three touchdown passes in a game, 1-2 when he throws four.
*The victory in Houston improved Tom Coughlin's road record as an NFL head coach to 57-57. He is 69-46 at home. Coughlin is 29-21 on the road with the Giants.
*Coughlin is now 100-16 in games in which his teams hold a lead after three quarters, including 45-4 with the Giants.
*Osi Umenyiora is tied for second in the NFL with 6.0 sacks.
us on facebook.com/newyorkgiants!