EAST RUTHERFORD, NJ - If you combined the Giants' two running backs into one – let's give him the alliterative moniker Brandon Bradshaw – he would be leading the NFL in rushing with 789 yards and seven touchdowns and averaging an impressive 5.1 yards per carry.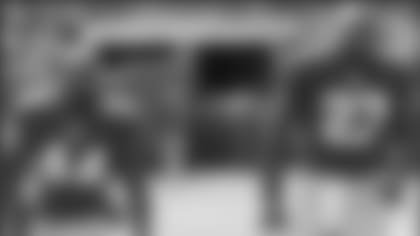 Okay, in real life Ahmad Bradshaw and Brandon Jacobs must remain separate entities. But that doesn't mask the fact that sharing the job has been good for both of them and, more importantly, for the Giants.
In an NFL where the forward pass is increasingly king, the Giants follow tradition and do their best work when they run the ball well. They have started the season with six consecutive 100-yard rushing games, their longest streak since they had six in a row to open the 2008 season. That team led the league and set franchise records with 157.4 yards a game and 5.0 yards per carry. Not coincidentally, the Giants won the NFC East title with a 12-4 record.
Last year, the Giants fell to 17th in the league in rushing as the numbers plummeted to 114.8 per game and 4.1 yards a carry. The Giants had their three highest rushing totals of the season during a 5-0 start, but lost eight of their last 11 to finish out of the playoffs for the first time since 2004.
The ground game has been rejuvenated this season and as of late so have the Giants. They are fifth in the NFL with 136.3 yards a game and sixth with an average of 4.7 yards per carry. In the last three weeks, they rushed for 189, 117 and 167 yards in victories over Chicago, Houston and Detroit that improved their record to 4-2 and into a first-place tie in the NFC East.
Under Tom Coughlin, the Giants have rushed for at least 100 yards in 68 of 102 regular season games. They are 46-22 (.676) when they reach the century mark, 13-21 (.382) when they don't.
Bradshaw rushed for 133 yards in the 28-20 victory over Detroit on Sunday. Under Coughlin, the Giants are 31-10 (.756) when they have an individual 100-yard rusher. The Giants are 5-0 when Bradshaw rushes for 100 yards and 8-1 when Jacobs does.
When the Giants led the league in rushing two years ago, Jacobs (1,089 yards) and Derrick Ward (1,025) were the fourth set of running back teammates to each rush for 1,000 yards in a season. Jacobs and Bradshaw may not match that lofty standard, but they could be the most productive tandem in the NFL.
They have switched roles this season, with Bradshaw leading off and Jacobs batting cleanup.
Bradshaw is first in the NFC and third in the NFL with 582 yards. He is averaging 5.3 yards a carry, a half-yard improvement over last year's average. He is also second in the conference and third in the league with 675 yards from scrimmage. Bradshaw leads the NFL with eight runs of 20 or more yards.
Jacobs has a team-high four rushing touchdowns while running for 207 yards on 45 carries, a 4.6-yard average that is almost a yard better than his 3.7-yard mark a year ago. Jacobs says he's fresher at this point in the season than he's been in a while.
"I feel like a 12 year-old boy right now who hasn't played any sports," Jacobs said after the Detroit game. "I feel good.  My body is great and I am just coming out trying to add as much to my team as I can to help us win."
"He's played very well," Coughlin said. "He's been the thumper that he always has been and the combination of Bradshaw and Jacobs has worked very well. They're great supporters of each other and Brandon has made extremely strong contributions."
If the Giants continue to run the ball well, history suggests they will have a successful season. When Coughlin led the Giants to the playoffs each year from 2005-08, the team finished - in order - sixth, seventh, fourth and first in the league in rushing yards. Since 1990, the Giants have finished in the top 10 in the NFL in rushing nine times. They made the playoffs in seven of those seasons, missing only in 1991 and '92.
*The numbers also favor the Giants when they have a stout run defense. This season, the Giants are 4-0 when they hold their opponents to less than 100 rushing yards, 0-2 when they don't. None of their last three opponents rushed for more than 64 yards, the first time they've done that since Oct. 30- Nov. 13, 2005, when Washington, San Francisco and Minnesota ran for 38, 52 and 12 yards, respectively. Under Coughlin, opposing teams have rushed for at least 100 yards in 56 of 102 regular season games. The Giants are 36-10 when they keep the opposition to less than 100 rushing yards, but 23-33 when they don't.
*Osi Umenyiora is second in the NFL with 8.0 sacks, just behind Green Bay's Clay Matthews, who has 8.5. According to the Elias Sports Bureau, Umenyiora leads the NFL with seven forced fumbles and the Giants are the team leaders with 13.
*The victory over Detroit was the 135th of Coughlin's career (127 regular season, eight postseason). That broke a tie with Hall of Famer Weeb Ewbank and moved Coughlin into 22nd place on the NFL's career list. He needs one victory to tie Hank Stram.
*Eli Manning is 19-4 (.826) as a starter in October, the best mark among quarterbacks who began their career in the Super Bowl era (minimum 20 starts).
*On Sunday, Manning joined Phil Simms as the only Giants quarterbacks to pass for 20,000 yards. Manning is the 91st player in NFL history to reach that milestone.
*The Giants had 167 rushing yards and 167 net passing yards vs. the Lions. It was the first time they had the same total of rushing and passing yards since Dec. 8, 1963, when they had 143 of each in a 44-14 victory over Washington.
*Bradshaw rushed for 133 yards on 19 carries on Sunday, a 7.0-yard average, the highest by a Giants back with that many attempts since Dec. 30, 2006, when Tiki Barber rushed for a franchise-record 234 yards on 23 carries (10.2 yards per carry).
*The Giants were penalized just twice for 15 yards Sunday compared to 11 penalties for 91 yards for the Lions. It was the first time the Giants had at least nine fewer penalties and 75 fewer penalty yards than their opponents since Sept. 30, 2007, when they were penalized four times for 15 yards, while Philadelphia was flagged 15 times for 91 yards.
*The Lions had 20 third down conversion attempts (they succeeded on nine of them), the most by a Giants opponent since Dec. 24, 2006, when New Orleans had 20 (converting five).
*The Giants are second in the NFL in total defense (allowing 264.8 yards a game) and passing defense (172.0) and are first in yards allowed per play (4.3).