EAST RUTHERFORD, N.J. –** They were consigned to the background by the officiating controversy, Justin Tuck's four sacks and an inspiring comeback, but quarterbacks Eli Manning and Robert Griffin III threw the ball impressively Sunday night when the Giants defeated the Washington Redskins, 24-17.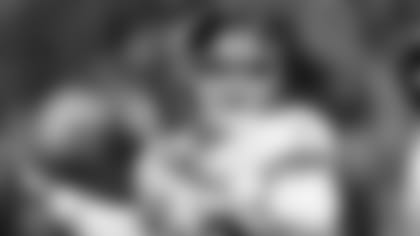 Shaun O'Hara's Giants grades](http://www.giants.com/photos/photos/Shaun-OHara-grades-Giants-performance/7286ac3d-68ee-49e5-b0b7-79d7adef92f0) Manning completed 78.6 percent of his passes (22 of 28), while RG3 lagged slightly behind at a mere 75 percent (24 of 32), an uncommon display of accuracy.
How uncommon? According to the Elias Sports Bureau, it was the first time since the 1970 merger that each of the starting quarterbacks in a Giants game completed at least 75 percent of their passes.
It was the second time this season an NFL game featured two starting quarterbacks with such high completion percentages. On Oct. 7, Atlanta's Matt Ryan (36 of 45) and the Jets' Geno Smith (16 of 20) each hit 80 percent of their pass attempts.
Thirty-four seconds into the fourth quarter, running back Andre Brown gave the Giants a 21-17 lead on a one-yard run. The Giants remained in front for the remainder of the game, giving the team its fifth victory in six games. Manning, meanwhile, was credited with a game-winning drive, which Elias defines as a victory in which a quarterback rallies his team from a fourth-quarter deficit or tie.
It was Manning's first such victory since Oct. 28, 2012 in Dallas and the 24th of his career. That places him fifth among active quarterbacks, behind Peyton Manning (50), Tom Brady (34), Drew Brees (31) and Ben Roethlisberger (28).
With four games remaining, Manning has been sacked a career-high 31 times this season. His previous high was 30 sacks in 2009. Last year, Manning was sacked just 19 times.
In his 10-year career, Manning has been sacked 244 times for losses totaling 1,726 yards. Among active quarterbacks, Manning is sixth in times sacked and seventh in sack yardage. The home/away breakdown is almost perfectly symmetrical. In 74 starts at home, Manning has been sacked 120 times for 863 yards. In 73 starts on the road, Manning has been sacked 124 times for 863 yards.
The game in Washington was Manning's 18th against the Redskins. The Giants will end the regular season on Dec. 29 with a home game against Washington. Here is Manning's statistical breakdown against the Giants' three NFC East opponents:
**Team**
**GMS**
**ATT**
**CMP**
**YDS**
**TD**
**INT**
**RECORD***
Dallas
19
645
389
4,881
38
22
10-9
Philadelphia
20**
659
384
4,729
36
21
9-10
Washington
18
596
341
4,102
15
16
12-6
*Regular season
**Includes one game as a reserve in 2004.
Manning has thrown for far fewer touchdowns against Washington than the other two teams, and the Redskins are the only one of the three against whom he has more interceptions than touchdowns. But his won-loss record against Washington is his best vs. division foes.
The Giants have committed an NFL-high 31 turnovers (19 interceptions, 12 lost fumbles). Their opponents have scored 102 points off those giveaways. The team that has given up the most points off of turnovers at 117 is, surprisingly, Denver, which has an AFC-best 10-2 record. The Broncos have 25 giveaways, tied with Detroit for the league's third-highest total after the Giants and Jets (27).
The Giants have had at least one giveaway in each of their 12 games. The last season in which they committed a turnover in every game was 2007.
According to Elias, the Giants have started 45 different players this season. The most ever used by the Giants is 49 in 1980 (not counting 1987, when each team played three games with strike-replacement players). The NFL record of 50 starters is shared by three teams: Buffalo and Philadelphia in 2010 and Jacksonville in 2012.
Hakeem Nicks' two catches in Washington left him with 299 for his career. He needs one catch to become the 10th player to catch 300 passes in a Giants uniform. Kyle Rote finished his Giants career with exactly 300 receptions.
Nicks' 34 receiving yards on Sunday increased his career total to 4,380. That moved him past Bob Tucker (4,376) and into ninth place on the Giants' career list.
Victor Cruz's team-high six catches in Washington increased his career total to 234. That vaulted him over David Meggett (231) and Lionel Manuel (232) and into 17th place on the franchise's all-time list.
Guard David Diehl played in his 161st regular-season game in a Giants uniform on Sunday. That ties him with Charlie Conerly and Dave Jennings for 14th on the Giants' games-played list. Hall of Famer Rosie Brown is 13th with 162.
The victory in Washington evened Tom Coughlin's career regular-season road record at 71-71.
The Giants are 4-0 this season when they are leading or tied at halftime and 1-7 when they trail after two quarters.