EAST RUTHERFORD, N.J. –** The Giants have allowed 32 touchdowns this season, a figure exceeded by only eight other NFL teams. But more than a quarter of them were not the responsibility of the defense.
Upon Further Review
The Giants players are still motivated to compete and win the final games...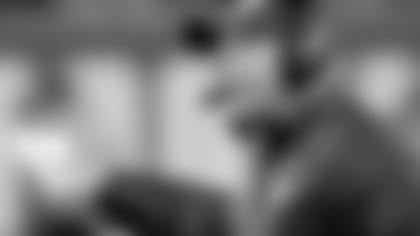 View Gameday Photo Timeline](http://www.giants.com/photos/photos/Photo-Timeline-Giants-vs-Cowboys/05d4f7df-0c0b-4bcf-8980-aa2a8f49d9e3) Opponents have scored nine return touchdowns – three apiece on interception, fumble and punt returns. The latest of what the Elias Sports Bureau also calls "miscellaneous" touchdowns occurred Sunday, when Victor Cruz was stripped of the ball by Orlando Scandrick after a five-yard reception. Dallas rookie safety Jeff Heath recovered the fumble and returned it for the first touchdown in what became a 24-21 Cowboys victory.
The nine miscellaneous touchdowns is the highest total given up in the NFL this season; the Houston Texans have allowed eight. And according to Elias, it is the most ever allowed in a season by the Giants. The previous franchise high was eight in 1999 (five interception returns and single punt, kickoff and fumble returns). The NFL record of 12 was set by the St. Louis Rams in 2002.
The Giants have given up at least one return touchdown in eight of their 11 games. They allowed three in two games vs. the Cowboys and lost by five and three points.
Four teams (Carolina, Dallas, Kansas City and San Francisco) have not surrendered a return touchdown this season. They are a combined 30-14. If the Giants had somehow matched them, their opponents would have scored 23 touchdowns – which is the precise number of touchdowns the Giants have scored this season.
The Giants' defense has allowed 23 touchdowns in 11 games. Only seven defenses have been scored on less frequently; Carolina leads the league with 12 touchdowns allowed. Arizona, New England and Tennessee have also given up 23 touchdowns by opposing offenses. The Giants are ranked 24th in the NFL in points allowed, but that doesn't indicate the improvement made since early in the season by the defense, which has allowed four touchdowns in the last five games – a period in which the Giants gave up four return scores.
The Giants lost to the Cowboys Sunday despite running for 202 yards. It was their highest rushing total in a loss since Dec. 17, 1995, when they ran for 244 yards, but lost 21-20 – in Dallas.
On Sunday, the Giants rushed for 202 yards and passed for 154. It was the first time they had at least 48 more rushing than passing yards since Sept, 27, 2009, when they ran for 226 yards and passed for 171 in a 24-0 victory at Tampa Bay.
The Giants averaged 6.7 yards on their 30 rushing attempts, their highest average on so many carries since Oct. 7, 2012, when they had 34 attempts for 243 yards (7.1-yard avg.) vs. Cleveland. The last time they had at least 30 attempts and a 6.7-yard average and lost was Dec. 1, 1985, also a home game vs. the Browns.
Andre Brown ran for a career-high 127 yards and Brandon Jacobs added 75. It was the first time the Giants had two runners with at least 75 yards apiece since the 2012 season finale vs. Philadelphia, when the backs were Ahmad Bradshaw (107 yards) and David Wilson (75).
Philadelphia's DeSean Jackson and Green Bay's Jordy Nelson are the only two opposing receivers to gain 100 yards vs. the Giants this season. The Giants are tied with five other teams for the third-fewest total in the league, behind New Orleans and Houston (one apiece).
Steve Weatherford had a 51.6-yard net average on five punts Sunday. That was the highest net average for a Giant with at least five punts since the NFL began tracking net average in 1976.
The Giants lost Sunday despite outscoring Dallas in the second half, 15-10. That's a relatively rare occurrence. The Giants are 67-11 under Tom Coughlin when they score more points than their opponents after halftime. Coughlin is 112-29 in his career in such games.
The Giants and Cowboys each had 11 accepted penalties on Sunday. The 22 combined infractions was the highest total in a Giants game since Oct. 19, 2008, when the Giants (11) and San Francisco 49ers (13) combined for 24 penalties.
Eli Manning's 174 passing yards vs. Dallas increased his career total to 34,287 and moved him past Steve DeBerg (34,231) and into 22nd place on the NFL's career list. DeBerg was a Giants assistant coach under Dan Reeves in 1995-96.
The Giants fell to 37-12 in games in which Manning is not intercepted. They are 45-52 in starts in which he has been picked off.
The Giants on Sunday will visit Washington, which lost to San Francisco last night. Since 1990, the Giants are 8-16 against teams that played the previous Monday night.
With his four-yard score on Sunday, Louis Murphy became the 29th different receiver to catch a Manning regular-season touchdown pass.