EAST RUTHERFORD, N.J. – Still searching for their first victory of the season, the Giants face a considerable challenge this week when they travel to Kansas City to face the undefeated Chiefs. Coach Andy Reid, who coached 30 games against the Giants (including two in the playoffs) in his 14 years in Philadelphia, has revived the Chiefs in his first season in Missouri. Last week, Kansas City beat the Eagles to become the fifth team in NFL history to start a season 3-0 after losing 14 or more games the previous season (the Chiefs were 2-14 in 2012). Kansas City leads the NFL with 15 sacks and did not commit a turnover in its first three games. The Chiefs' plus-9 turnover differential leads the NFL.
The Giants have won their last four games against Kansas City and lead the series, 10-2. The teams last faced each other on Oct. 4, 2009, when the Giants earned a 27-16 victory in Arrowhead Stadium.
Kansas City has eight rookies on its 53-man roster and is the league's sixth-youngest team.
---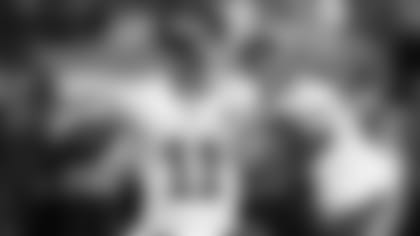 ---
KANSAS CITY CHIEFS OFFENSE

In 2012, the Chiefs tied with two other teams – ironically, one of them was Philadelphia - with 37 turnovers and tied with the Eagles for an NFL-worst minus-24 differential. Now they have a chance to tie the 1995 St. Louis Rams (four games) for the longest streak without a turnover to begin a season in NFL history. Kansas City strives for offensive balance. They have 90 rushes and have thrown 105 passes. Typical of a Reid team, they use a lot of formations and do a lot different things in attempting to keep the opposing defense off-balance.
Quarterback Alex Smith was acquired in an offseason trade with the San Francisco 49ers. Smith has completed 61 percent of his throws and thrown four touchdown passes – and, of course, no interceptions. A better athlete than he's generally perceived to be, he is also the Chiefs' second-leading rusher with 114 yards. Smith is precise on short and intermediate routes and he likes to spread the ball around to numerous teammates; he targeted 10 different receivers in Philadelphia. Smith's backup is fifth-year pro Chase Daniel.
The Chiefs are 11th in the NFL in rushing yardage (127.0 yards per game), thanks largely to their top playmaker, running back Jamaal Charles. An every-down back, Charles leads the team in both rushing (224 yards and Kansas City's only two touchdowns on the ground) and receiving (18 catches for 151 yards and another score). Reid, who calls the plays, likes to use Charles in multiple ways, as he did with Brian Westbrook in Philadelphia. Charles is quick to the line of scrimmage, he's explosive and he has a knack for falling forward upon contact. The coaches are developing a role for rookie backup Knile Davis, who has speed, agility and quickness – and 10 carries. Cyrus Gray gets limited snaps. Fullback Anthony Sherman has good receiving skills and gets up the field quickly after catching the ball.
Injuries have depleted the Chiefs' tight end corps. Starter Anthony Fasano, a free agent pickup from Miami, did not play last week because of an ankle injury. Backup Tony Moeaki is out for the season with a shoulder injury. Rookie Travis Kelce, who is more of a blocking tight end, has not yet played because of a left knee injury he sustained in the final preseason game. Sean McGrath was claimed last month after being waived by Seattle. Kevin Brock, whom the Chiefs cut at the end of training camp, was re-signed last week.
Dwayne Bowe is Kansas City's most-targeted receiver. He is a big, physical receiver with a wide strike zone. Bowe works the middle of the field, where he can post up defenders and out-muscle them for the ball. The other starting wideout is Donnie Avery, who has very good speed, but does his best work on shorter or intermediate crossing routes. Dexter McCluster is a jack-of-all trades who lines up in the slot – though Reid is designing different plans for him. Because of the injuries at tight end, the Chiefs dressed six wide receivers last week in Philadelphia, including A.J. Jenkins, Chad Hall and Junior Hemingway.
A persistent issue in Kansas City has been the line's protection of Smith, who has been sacked 10 times. The Chiefs' best and most powerful lineman is left tackle Branden Albert, who has long arms and athleticism. He is also smart and alert. The right tackle is Eric Fisher, the first overall selection in the 2013 NFL Draft. Like all rookies, he has been inconsistent, but Fisher is improving each week. Right guard Jon Asamoah is a tough competitor who missed the season opener with a calf injury. The left guard is Jeff Allen, who has not practiced this week because of a groin injury. If he can't suit up, Geoff Schwartz will start. Center Rodney Hudson is a first-year fulltime starter with good upper body strength and initial quickness.
---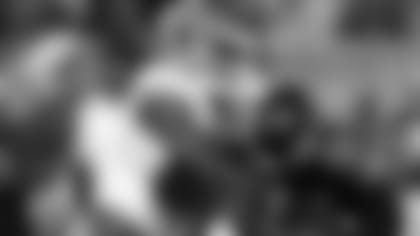 ---
KANSAS CITY CHIEFS DEFENSE

New coordinator Bob Sutton inherited a defense with four 2012 Pro Bowlers and has installed an attacking 3-4 scheme with a lot of overloads and blitzes. The unit also has three new starters. In addition to leading the league in sacks, the Chiefs are tied for eighth in the NFL by allowing 309.0 yards per game and are tied for second with only 34 points allowed. Kansas City also has one of the league stingiest third-down defenses; opponents have succeeded on only 11 of 40 opportunities (27.5 percent).
The Chiefs seldom rotate their defensive linemen. Starting ends Tyson Jackson and Mike DeVito are physical and aggressive two-gap run defenders. Nose tackle Dontari Poe, a former first-round draft choice, is very athletic for a 6-3, 346-pounder. He factors all along the line and is second on the team with 3.5 sacks. Allen Bailey contributes as a pass rusher in some sub packages.
Left outside linebacker Justin Houston has been the NFL's best defensive player in the season's first three weeks. He leads the NFL with 7.5 sacks, three more than any other player in the league. Last week in Philadelphia, he had a career-high 4.5 sacks with seven tackles, two fumble recoveries and one forced fumble to earn his second AFC Defensive Player of the Week award of the season. Houston was selected to his first Pro Bowl last year, when he led Kansas City with 10 sacks. The right outside backer is two-time Pro Bowler Tamba Hali, a 6-3, 275-pounder who returned an interception 10 yards for a touchdown in the Chiefs' season-opening victory in Jacksonville. Akeem Jordan, who played for Reid in Philadelphia, is a competitive run stopper at inside linebacker. He is removed in sub packages. Derrick Johnson, another two-time Pro Bowler, is a consistent producer who leads the Chiefs with 21 tackles (19 solo). The reserves, who contribute on special teams, include Frank Zombo, James-Michael Johnson and rookie Nico Johnson.
Strong safety Eric Berry is a terrific player who lines up all over and creates havoc wherever he is. He'll often move up close to the line to help bottle up the run, he blitzes in sub defenses and can cover tight ends. Free safety Kendrick Lewis is the last line of defense, though he is battling an ankle injury. With Berry near the line of scrimmage, Lewis plays back, where he is a smart and steady contributor. Brandon Flowers is listed as the left cornerback, but he often covers the opposition's best receiver. However, he currently has an injured knee. Sean Smith is a big (6-3, 218) corner who likes to play close to the line of scrimmage and challenge the receiver. Backup corner Dunta Robinson started 16 games last year for the Atlanta Falcons. If Flowers can't play, Robinson will start for him. The backup safeties are Quintin Demps and Husain Abdullah.
---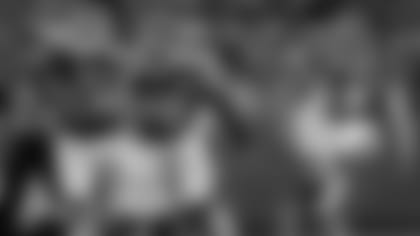 ---
KANSAS CITY CHIEFS SPECIAL TEAMS

The Chiefs have a pair of outstanding specialists in kicker Ryan Succop and punter Dustin Colquitt. Succop has hit 81 percent of his 126 career field goal attempts and has 11 touchbacks in 13 kickoffs this year. Colquitt, a 2012 Pro Bowler, was second in the NFL last season with 45 punts downed inside the 20-yard line. This year, he's dropped 13 inside the 20 against just three touchbacks. McCluster is averaging 11.1 yards as the punt returner. Demps has three of the Chiefs' five kickoff returns, including a 57-yarder.