EAST RUTHERFORD, N.J. –**
The Giants will face one of their fiercest rivals in a critical game for both teams when they host the Dallas Cowboys Sunday in MetLife Stadium. Four consecutive victories have improved the Giants' record to 4-6, one game behind Dallas and 1½ in back of first place Philadelphia in the NFC East. The Cowboys are 3-0 in division games, including an opening-night 36-31 triumph over the Giants in AT&T Stadium. The Giants are 1-2 against NFC East opponents. Dallas leads the regular-season series, 58-42-2. The Cowboys are 2-1 vs. the Giants in MetLife Stadium.
Dallas lost two of its last three games before having a bye last week. Four of the Cowboy's five losses have been by nine points or less, including one-point defeats to Kansas City and Detroit and a 51-48 shootout with Denver. Their most recent game was a 49-17 defeat in New Orleans.
---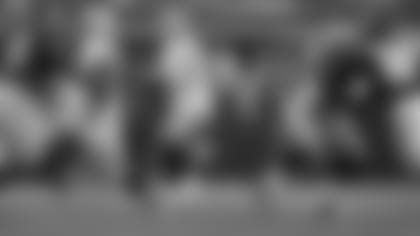 ---
Dallas is ranked 18th in the NFL with an average of 327.8 yards per game. The Cowboys are tied for 28th in rushing yards (77.0) and are 13th in passing yards (250.8). Dallas is fifth in the league with an average of 27.4 points per game. The Cowboys have struggled on third down, converting 32.8 percent of their attempts (38 of 116). They were zero-for-nine against the Saints. But they are second in the NFL with a plus-11 turnover differential and tied for second with a 66.7 touchdown percentage (20 of 30) from inside their opponents' 20-yard line.
The Cowboys have been more of a running team of late, but 80 percent of their snaps are still out of the shotgun formation. Quarterback Tony Romo remains their most indispensable player. Romo, who has 19 career fourth-quarter comebacks, is playing as well as he has in a long time, with 21 touchdown passes and only six interceptions this season. He is completing 65 percent of his passes and is getting the ball to the Dallas playmakers, notably Dez Bryant and Jason Witten, who are targeted on a combined 40 percent of Romo's passes. Dallas' backup quarterback is veteran Kyle Orton.
Dallas employs an edge rushing attack designed to get their fast running backs to the perimeter. The lead back is DeMarco Murray, who has 111 of the Cowboys' 199 carries this season.
He missed two games with a sprained knee, but when healthy he is a terrific runner with speed, quickness, power and toughness. His 175-yard outing vs. St. Louis is Dallas' only 100-yard rushing game of the season. Murray was the lone Cowboy with a rushing attempt in their most recent game, in New Orleans. Rookie Joseph Randle and two former undrafted backs, Lance Dunbar and Phillip Tanner, share the backfield with Murray. Randle is a first and second down back with good vision and patience.
Bryant has become one of the NFL's most productive receivers. He has scored eight touchdowns while catching 52 passes for 749 yards. Bryant is big and fast and his strong hands enable him to come up with contested passes. Miles Austin had 10 receptions against the Giants in the season opener. But he missed the previous three games and five overall with a hamstring injury and has not caught a pass since Sept. 22. Austin has practiced this week and is expected to play on Sunday. Rookie Terrance Williams has 29 catches and five touchdowns, including an 82-yarder vs. Denver. Williams has athleticism, speed and uncanny acceleration after catching the ball. Second-year pro Cole Beasley, who is 5-8 but quick, lines up in the slot while Dwayne Harris, who scored the game-winning touchdown with 35 seconds remaining against Minnesota, is more of a vertical route-runner.
Witten is one of the most accomplished tight ends in NFL history. His 47 catches this season have increased his career total to a Cowboys-record 853. The eight-time Pro Bowler set the single-game tight end mark with 18 receptions vs. the Giants on Oct. 28, 2012. Witten is extremely durable (he's missed just one game in his career, and that was as a rookie 10 years ago), he runs precise routes and has soft hands. He is also a good positional blocker. James Hanna is an improved blocker who the Cowboys are trying to get in space in their passing game. Rookie Gavin Escobar has played little. Hanna and Escobar sometimes line up in the backfield, because Dallas does not have a fullback on its roster.
Left tackle Tyron Smith has been the Cowboys' best offensive lineman. Strong and athletic, he is playing at a Pro Bowl level. Right tackle Doug Free briefly moved to guard in the preseason, but has remained outside. Free has played well for stretches this season. Left guard Ronald Leary is a heavy-legged box area wrestler with a strong upper body. Mackenzy Bernadeau started the first three games at right guard, was replaced by six-time Pro Bowler Brian Waters for five games and returned to the lineup when Waters went on injured reserve with a triceps injury. Bernadeau has a powerful upper body. Rookie first-round draft choice Travis Frederick has started every game at center and is quick to get to the second level of the defense.
---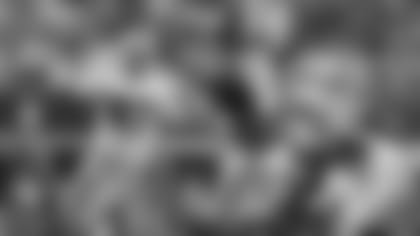 ---
The Cowboys have had to tap their depth because of injuries on defense, one reason the unit ranks 32nd and last in the NFL, allowing an average of 439.8 yards a game. The Cowboys are also 32nd defending the pass (313.0 yards a game) and 29th against the run (126.8). They are 25th in points allowed at 25.8 a game. The strength of the defense is forcing turnovers – Dallas has at least one takeaway in every game but one and 14 in its last six games.
The defense has several new faces since the first Giants-Cowboys game. Some players are returning, but other key contributors remain sidelined, notably linebackers Sean Lee (Dallas' leading tackler and interceptor) and Justin Durant, both with strained hamstrings.
Dallas has made 24 roster moves involving the defensive line since the final preseason game – 10 signings, nine cuts, three players going to injured reserve and two trades. The good news for the Cowboys is their entire starting line should be on the field together for the first time since Oct. 13. The group is comprised of ends DeMarcus Ware and George Selvie and tackles Jason Hatcher and Nick Hayden. Ware strained his right quadriceps that October night vs. Washington and missed the next three games. A seven-time Pro Bowler, Ware moved from linebacker to end when the Cowboys switched from a 3-4 to a 4-3 when they brought in Monte Kiffin to be their defensive coordinator. Selvie was signed when Anthony Spencer underwent season-ending knee surgery early in training camp and has been a valuable acquisition. He has been a consistent pass rush presence (6.0 sacks), which was particularly important with Ware sidelined. Hatcher has become the lead dog on the line; his 7.0 sacks lead the Cowboys and all NFL interior linemen. Hayden, who was out of football last year after injuring his ankle in Cincinnati's training camp, has been strong against the run. The backup ends are Kyle Wilber and Everette Brown with Drake Nevin and Jarius Wynn – both acquired during the season -- as the reserve tackles.
Lee and Durant were both hurt in New Orleans and they will be missed. The revamped linebacker group is expected to have Ernie Sims in the middle, Bruce Carter on the weak side and rookie DeVonte Holloman on the strong side. Holloman missed the last four games with a neck injury. Sims is listed as Carter's backup on the depth chart, but he will fly around the field and create havoc around the ball. Carter is third on the team with 78 tackles (59 solo). Holloman, a sixth round draft choice, is an aggressive player who is still learning the pro game. Kyle Bosworth, whom the Giants released at the end of training camp, and former practice squad player Cameron Lawrence will provide the depth.
Cornerback Morris Claiborne has returned to bolster the secondary after missing two games with a hamstring injury. Claiborne, a 2012 first round draft choice, struggled in the opener vs. the Giants and did not start the following week. Orlando Scandrick has started at right corner and has been Dallas' best defensive back. He is expected to play in the slot with Claiborne's return to the field. The left cornerback is Brandon Carr, who clinched the Cowboys' win in the opener with a 49-yard interception return for a touchdown. He is a physical corner with good hands. Safety Barry Church plays in the box and is quick to come up and strike ballcarriers. He is second on the team with 87 tackles (63 solo). Rookie J.J. Wilcox has improved in each game since becoming the other safety starter in Week 3. He missed the last three games with a knee injury, but is expected to start this week. He is a downhill run support player. Another rookie, B. W. Webb, was the nickel back when Claiborne was sidelined.
---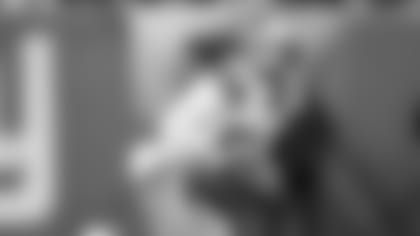 ---
DALLAS COWBOYS SPECIAL TEAMS

The Cowboys' special teams have been outstanding all season. They are second in the league in kickoff return average (28.9 yards), third in punt returns (14.3), seventh in kickoff coverage (opponents have averaged 21.5 yards a return) and eighth in punt coverage (7.1). Harris has become their primary returner. He is second in the NFL in both kickoff return (32.3 yards, with a long of 90) and punt return average (15.1, including an 86-yard touchdown). Kicker Dan Bailey has hit 17 of 19 field goal attempts, including four of five from 50 or more yards. Punter Chris Jones has a 40.3-yard net average and is second in the NFL with 23 punts down inside the 20-yard line. Harris and Bosworth are tied for the team-lead with 11 special teams tackles.