EAST RUTHERFORD, N.J. –** The Giants will attempt to further entrench themselves in the NFC East race Sunday when they host the Green Bay Packers, the teams' third meeting in MetLife Stadium in as many seasons. Last year, the Giants defeated Green Bay, 38-10. In 2011, the Packers pulled out a last-second 38-35 triumph, though the Giants enjoyed revenge with a 37-20 victory in an NFC Divisional Playoff Game. The Packers lead the regular-season series, 27-22-2 and the postseason series, 4-3.
Green Bay is arguably the most injury-ravaged team in the NFL. Standouts such as tackle Brian Bulaga, tight end Jermichael Finley and wide receiver Randall Cobb are on injured reserve (though Cobb is designated for return). The Packers lost their starting quarterback on their first offensive series in each of the last two games, Super Bowl XLV MVP Aaron Rodgers two weeks ago and Seneca Wallace last Sunday. Their offensive line and linebackers have also been hard hit.
---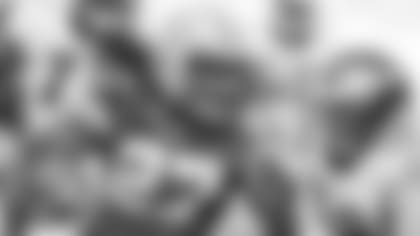 ---
GREEN BAY PACKERS OFFENSE

Green Bay has had one of the NFL's most productive offenses this season. The Packers rank third in yards per game (420.0), sixth in rushing yards (143.1) and fifth in passing (276.9). Green Bay is fifth in the league in scoring, averaging 27.2 points a game. The Packers are 29th in the NFL with a 42.9 touchdown percentage inside the 20-yard line (15 for 35).
Of course, the Packers compiled most of those numbers when Rodgers, one of the NFL's premier quarterbacks, was in the lineup. Rodgers is sidelined with a broken collarbone suffered on Nov. 4 vs. Chicago. The injury has also cracked Green Bay's traditional stability at quarterback. Wallace started last week, but suffered a groin injury 10 plays into a loss to Philadelphia. He was replaced by Scott Tolzien, who spent the previous two seasons as the San Francisco 49ers' third-string quarterback. Tolzien completed 24 of 39 passes for 280 yards, a touchdown, two interceptions and a 70.5 passer rating and will make his first NFL start vs. the Giants. He was not with the Packers in training camp. Tolzien is a good ball-handler with solid arm strength and the ability to stick the ball into tight spots. He will likely be backed up by Matt Flynn, a former Packer who was re-signed this week.
Without Rodgers, Green Bay coach Mike McCarthy, who is the play-caller, has relied more on the ground game. In the last four games, the Packers have a 130/130 run-pass ratio. They've run for more than 100 yards in seven of their nine games. Rookie Eddie Lacy, a second-round draft choice from Alabama, has carried most of the running load. He had at least 22 rushing attempts in each of the last five games and leads the team with 669 yards and four touchdowns on 158 carries. Lacy is a big, punishing, every-down back with the strength to drag tacklers. He is tough to knock off his feet. Backup James Starks attacks the line of scrimmage and runs with both speed and power. He is averaging 5.7 yards a carry. Another rookie, Johnathan Franklin, is an explosive change-of-pace back.
Fullback John Kuhn is a terrific blocker who takes good angles to locate his target. He is also a dependable receiver.
The losses of Cobb and Finley have left the Packers without their two best receivers and with a younger and much less experienced group of pass-catchers. Jordy Nelson has helped fill the void with his finest NFL season. The six-year veteran has team-high totals of 49 receptions for 772 yards and seven touchdowns. Nelson is a big, strong, athletic playmaker who has three 100-yard games this season and is a constant big-play threat. He is also the team's best blocking wide receiver. James Jones missed two games after hurting his knee vs. Baltimore. He is an athletic, thickly-built wideout. Jarrett Boykin, normally the third receiver, started the last four games. He has a large catch radius and is athletic enough to make adjustments on balls thrown to his back shoulder. Myles White has eight receptions as a reserve receiver.
The Packers had to reshuffle their tight ends when Finley was lost for the season with a neck injury. The new starter is Andrew Quarless, who has good height and a knack for finding soft spots in zone defenses. He is also the group's best blocker. Brandon Bostick does the majority of the H-back work and has the speed to run vertical routes. Ryan Taylor and Jake Stoneburner get limited snaps.
This is the Packers' situation in a nutshell: Last week vs. Philadelphia, center Evan Dietrich-Smith left the game with a knee injury, forcing right guard T.J. Lang to move to center. Lang had never before played center at any level – and he was snapping to Tolzien, who was seeing his first NFL action. Dietrich-Smith returned to practice Wednesday on a limited basis. If he plays, he will make all the line calls. Dietrich-Smith is a tough, alert player who is a solid pass protector. The Packers switched guards this season with Lang moving from left to right and Josh Sitton going the other way. Sitton, a 2012 Pro Bowler, is the team's best offensive lineman. He is a mauler in the run game. Lang is a punishing player with a powerful upper body. Rookie left tackle David Bakhtiari has good quickness and has played with smarts and toughness. Right tackle Don Barclay suffered a knee injury vs. the Eagles. He is an undersized tackle with good foot speed. Backup tackle Marshall Newhouse has made 47 career starts. Rookie free agent Lane Taylor has been used an extra tight end/lineman.
---
---
GREEN BAY PACKERS DEFENSE

Don Capers' 3-4 defense is ranked 18th in the NFL, allowing 352.8 yards a game. The Packers are 12th against the run (106.7) and 20th vs. the pass (246.1). They are 16th in the league in scoring defense, giving up 23.6 points a game. Green Bay has just eight takeaways, putting it in a three-way tie for the league's third-lowest figure, and a minus-4 turnover differential. The Packers have allowed 27 points in each of their losses.
Five defensive players suffered injuries last week: cornerback Casey Hayward re-injured the hamstring that forced him to miss the season's first six games; corner Davon House, who took over for Hayward before hurting his shoulder (he is practicing this week); middle linebacker Brad Jones (elbow); end Johnny Jolly (groin); and outside linebacker Nick Perry, who missed three games after breaking his foot vs. Baltimore and was re-injured upon his return last week.
All-Pro linebacker Clay Matthews returned last week after missing four games with a fractured thumb. He played with a large padded club on his hand, though he is not expected to need that protection this week. Another linebacker, Andy Mulumba, was inactive last week with an ankle injury suffered vs. Chicago.
Capers presents a lot of looks in both his base and sub packages. He likes to keep the offense guessing, create mismatches and manufacture sacks any way he can get them.
Green Bay has one of the NFL's biggest defensive lines in nose tackle Ryan Pickett (6-2, 338), left end B.J. Raji (6-2, 337) and right end Johnny Jolly (6-3, 325). Pickett is the anchor in the middle of the line and an exceptionally strong defender at the point off attack. Raji, a 2011 Pro Bowler, locates the ball quickly and is outstanding against the run. Jolly has made an improbable and successful comeback after missing the 2010, 2011 and 2012 seasons while under suspension for violating the league's substance-abuse policy. He is a smart, aware and competitive player, First-round draft choice Datone Jones and Mike Daniels are the top reserves. Daniels leads the Packers with 4.5 sacks.
Inside linebacker A.J. Hawk is Green Bay's leading tackler with 92 (67 solo) and has 3.0 sacks. An every-snap player, he reads schemes quickly and is an inspirational leader of the defense. Next to him inside is Brad Jones, who attacks ballcarriers and has stepped up his production with 49 tackles. Mike Neal took over for Perry on the outside and has been productive against the both run and pass. Matthews, a four-time Pro Bowler, lines up all over the defense and is an instinctive, relentless attacker off the edge. Reserve Jamari Lattimore, who started when Jones was hurt, is an improving young player. Rookie Nate Palmer has been forced into action because of all the linebacker injuries.
Safety M.D. Jennings is the defense's centerfielder and keeps everything in front of him. He has good range and runs well. Morgan Burnett is a good communicator with ball awareness. Left cornerback Tramon Williams is a solid player who has started every game. He has 22 career interceptions, though somehow does not have one in 25 consecutive games. But he is a savvy veteran with good cover skills and ball awareness. Sam Shields leads the team with 15 passes defensed and has one of the secondary's two interceptions (the other is by Davon House). Shields moves smoothly, closes quickly to the ball and has strong hands to knock the ball away from receivers. Hayward had six interceptions as a rookie in 2012. If he is healthy, he will be the nickel back. If not, Williams will go inside to play the nickel and House comes in as the third corner. Micah Hyde has been an impressive first-year playmaker in the dime package. Chris Banjo is a core special teams player who has provided depth in the secondary.
---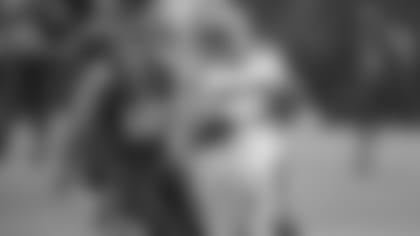 ---
GREEN BAY PACKERS SPECIAL TEAMS

Hyde has assumed both the punt and kickoff return duties. He had a 93-yard punt return touchdown at Minnesota and is averaging 19.8 yards a kickoff return. Kicker Mason Crosby was the NFC Special Teams Player of the Month in October, but missed two field goal attempts last Sunday. This season, he is 21-for-25 and is third in the NFL with 89 points. Punter Tim Masthay has a 44.8-yard gross average and a 39.9-yard net average on 32 kicks. House leads the team with seven special teams tackles. The Packers have allowed opposing kickoff returners to average 29.3 yards per return, the league' s highest figure. They did block punts against Baltimore and Chicago.