EAST RUTHERFORD, N.J. –** The Giants and Carolina Panthers will bring matching 0-2 records into their meeting Sunday in Bank of America Stadium. The Panthers have lost games to Seattle and Buffalo by a total of six points, including a heartbreaking 24-23 defeat last week in Buffalo, where the Bills scored the game-winning touchdown with just two seconds remaining. The Giants have won the last two games played between the teams, including a 36-7 rout last season in Charlotte, and lead the regular-season series, 4-3. Carolina won the only postseason game between the teams, in 2005.
---
---
CAROLINA PANTHERS OFFENSE
The Panthers have a new offensive coordinator this season in Mike Shula, who is conservative in his play-calling and game management. The offense is ranked 27th in yards gained (280.5) and 28th in points scored (30) in this young season. In 2012, they finished 12th in total yards (360.7) and tied for 18th in scoring (22.3 points per game). Carolina won its last four and five of its final six games in 2012. The Panthers' issue has been holding leads. They top the NFL over the last two seasons with six losses in games in which they held a lead at any point in the third quarter. Carolina is 6-14 in games decided by eight points or less under third-year coach Ron Rivera.
Quarterback Cam Newton is a special talent. His 7,920 passing yards in 2011-2012 were the most in history by a quarterback in his first two seasons. In 2012, he also led the Panthers with 741 rushing yards. A strong 6-5, 240-pounder, Newton is hard to tackle. Although he runs well, Newton is a better passer when he stays in the pocket. The first overall selection of the 2011 NFL Draft, Newton has started every game in his career; his record is 13-21. He has an explosive throwing motion and the quickness to spin away from a pass rush. Newton's backup is Derek Anderson, once a starter in Cleveland.
The Panthers are trying to re-establish their power running game and be a more balanced team and they have several backs to carry the ball. But the rotation is missing Jonathan Stewart, who is on the physically unable to perform list after undergoing ankle surgery on July 26. Fullback Mike Tolbert missed the preseason, but is now healthy. He is a versatile player who is used in a variety of situations and is exceptional in pass protection. Tolbert is also tough to stop at the goal line. DeAngelo Williams is a rugged first- and second-down back who has the speed to go the distance. He also has good receiving skills. Rookie Kenjon Barner is an undersized change-of-pace back who missed the first two games with a foot injury. The Panthers hope to get him back this week. Richie Brockel lines up all over the formation and is a good lead blocker.
Five-time Pro Bowler Steve Smith remains the team's best wide receiver in his 13th season. He is a feisty, aggressive playmaker with strong hands. Smith must be accounted for on every snap. The other starter is Brandon LaFell, who has a large catching radius. Free agent acquisition Ted Ginn, Jr. has explosive straight line speed and big play ability; he scored a touchdown on an 87-yard reception against Pittsburgh in the preseason. Armanti Edwards is a jack of all trades. Former Giant Domenik Hixon has been limited to two snaps because of a hamstring injury.
Tight end Greg Olsen leads the Panthers with 13 receptions. He is always on the field and lines up in numerous spots. A favorite target of Newton, Olsen is a good route runner who knows exactly where the markers are on third down. Ben Hartsock is a sturdy blocking tight end. Brandon Williams is a former basketball player at Portland Bible College. He caught two passes for Oregon in 2010 before being diagnosed with a narrow spinal canal and a bulging disk in his back. He is now learning the pro game.
Carolina has had stability at tackle, but injuries have jumbled the interior of their offensive line. That's one reason Newton was sacked six times last week in Buffalo. Guard Garry Williams started the season-opener vs. Seattle, but tore his ACL and is out for the season. Rookie Edmund Kugbila is also done for the season. With Williams sidelined, Chris Scott, who was signed midway through training camp, moved from left to right guard and Amini Silatolu, who was battling a hamstring strain, took over on the left side. Scott alternated with Travelle Wharton, who re-joined the team on Aug. 26. A 10-year veteran, Wharton spent his first eight years in Carolina. Left tackle Jordan Gross, a two-time Pro Bowler, is a smart, savvy veteran who can make all the blocks. On the right side, Byron Bell has long arms and gets out quickly on speed pass rushers. Center Ryan Kalil has played in three Pro Bowls and is tough, competitive and smart.
---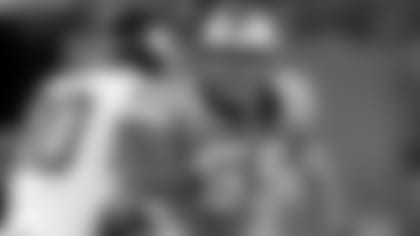 ---
CAROLINA PANTHERS DEFENSE
Carolina's defense has been a bend-but-don't-break outfit through the first two games. The Panthers are 26th in the league in yards allowed (403.0), but 10th in scoring defense (36). Neither Carolina nor its two opponents have scored a point in the first quarter. The Panthers have been outscored in the second half, 30-16.
The strength of the defense under coordinator Sean McDermott is the front seven. The secondary has been weakened by injuries. Carolina's first two opponents completed 72.2 percent of their passes and threw for 320 and 287 net passing yards.
Left end Charles Johnson had 12.5 sacks last season and is the master of the strip sack (he forced five fumbles in 2012). Strong and persistent, Johnson is a solid player against both the run and pass. Greg Hardy has size, length and strength. He is a good penetrator who makes a mess on the line. Hardy moves inside in sub packages. Ten-year veteran Dwan Edwards is a smart and instinctive player at left tackle. The starter on the right side is Star Lotulelei, the Panthers' first-round draft choice this year. He is a fighter with athletic ability. Frank Alexander is an active pass rusher in the nickel defense. Mario Addison plays about 10 snaps a game and on special teams. Second-round draft choice Kawann Short attacks blockers. Colin Cole is another contributing backup.
The Panthers have an outstanding group of linebackers. Middle linebacker Luke Kuechly led the NFL with 164 tackles as a rookie in 2012, when he was named the AP Defensive Rookie of the Year. Opposing offenses must account for Kuechly on every play. The quarterback of the defense, he is an instinctive every down player with good speed and a quick burst. Kuechly is a good wrap tackler. Jon Beason moved from the middle to the weak side to accommodate Kuechly. Beason was limited to four games last year because of shoulder and knee injuries. He has range and explosiveness, though he is removed in nickel situations. The strongside backer is Thomas Davis, a solid run-stopper with good cover skills. Chase Blackburn, who spent his first eight seasons with the Giants and started 15 games in 2012, played only on special teams in the first two games. Jordan Senn and rookie A.J. Klein are the other backups.
Carolina's secondary suffered a big loss last week when free safety Charles Godfrey suffered a torn Achilles tendon. Cornerback Josh Thomas suffered a concussion and D.J. Moore played the entire second half with a sprained knee. Miscommunication between Moore and Josh Norman left Buffalo receiver Stevie Johnson wide open in the end zone on the deciding play last Sunday.
Mike Mitchell, a free agent signee who played last season in Oakland, is expected to start for Godfrey. He is an aggressive run defender who plays with an edge and seeks contact. Quintin Mikell, an 11-year veteran who was signed on Sept. 2, is arguably the secondary's best player, though he is battling an ankle injury. Mikell, who played his first eight seasons for Philadelphia, started 16 games for St. Louis in 2012. He is a dependable veteran who is always around the ball and is capable of getting to the quarterback on a blitz. Backup Colin Jones has good range and ball skills. His potential game-clinching interception last week was nullified by Kuechly's pass interference penalty. Thomas will be the left cornerback if healthy. He is best as a physical press corner. The other starter is 5-8 Captain Munnerlyn, who is feisty in run support and has good recovery quickness. He moves inside in the nickel, when Norman takes over at corner. Moore plays safety in some sub packages.
---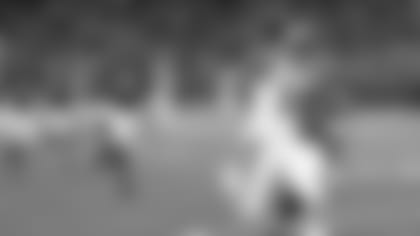 ---
CAROLINA PANTHERS SPECIAL TEAMS
Ginn is one of the NFL's most dangerous punt and kickoff returners. He has speed, explosiveness and awareness of where the defenders are. Graham Gano has kicked off eight times this season and all have been touchbacks. Punter Brad Nortman has a powerful leg and frequently gets hang times greater than five seconds and kicks longer than 50 yards. He is much-improved this season as a second-year pro.