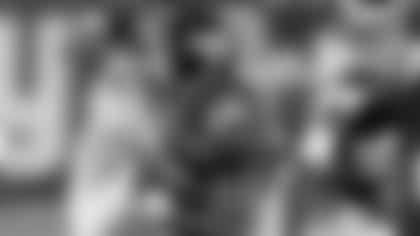 View Gameday Photo Gallery](http://www.giants.com/photos/photos/Photos-Giants-vs-Cowboys/55b8dcab-6122-48a8-bd83-71e75dc2f2b6) After the Giants tied the game late in the fourth quarter, the Cowboys responded with a 14-play, 64-yard drive on the final possession of the game to set up a 35-yard field goal as time expired, giving Dallas a 24-21 victory.
WHAT WE LEARNED ABOUT THE OFFENSE
The run game carried the offense on Sunday while inconsistency through the air and more red-zone problems did the Giants in against the Cowboys. Andre Brown and Brandon Jacobs averaged 6.7 yards per carry for 202 yards, outgaining the 174 yards Eli Manning threw for in the loss. The Giants twice worked inside the Dallas five-yard line in the first half but settled for field goals on both, proving costly in a close divisional game. The Giants' only turnover came on a strip of Victor Cruz that safety Jeff Heath returned 50 yards the other way for a touchdown. It was his only catch through three quarters. The Giants lost their starting center, Jim Cordle, in the first half. Kevin Boothe slid over from guard to replace him for the remainder of the game.
WHAT WE LEARNED ABOUT THE DEFENSE
The Giants made their night on third down until the most critical drive late in the fourth quarter. Previously 1 of 8 on third-down conversions, the Cowboys converted three to keep their final game-winning drive alive. The Giants did pressure Tony Romo with four sacks – all from defensive linemen – but a few big plays and untimely penalties put a dent in the defense's performance. They couldn't get the Cowboys off the field at the most crucial times.
WHAT WE LEARNED ABOUT SPECIAL TEAMS
Weather was a factor on Sunday, especially early in the game, and that meant the special teams unit had to be on its game. Steve Weatherford certainly was, booting five punts for an average of 54.6 yards, including tying a career-high 68-yarder and another one that went 67 yards. He landed two inside the 20-yard line.
Andre Brown had 21 carries for 127 yards while Brandon Jacobs rushed for 75 yards on nine attempts (long of 37). Cullen Jenkins had two sacks, two tackles behind the line of scrimmage, and two quarterback hits. Antrel Rolle had six solo tackles and an interception in the first half.