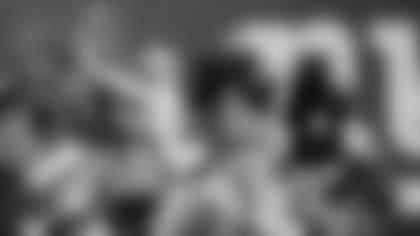 Giants-Raiders Gameday Photo Gallery](http://www.giants.com/photos/photos/Photos-Giants-vs-Raiders/d79dc48e-82ce-4695-8d4e-57ea810e863c) TURNING POINT
With the momentum in Oakland's favor in the third quarter, cornerback Terrell Thomas turned it around for the Giants with a 65-yard interception return down to the Raiders five-yard line. Andre Brown eventually punched it in with a short touchdown run to put the Giants back ahead for good en route to a 24-20 victory.
WHAT WE LEARNED ABOUT THE OFFENSE
Andre Brown couldn't have written a better return to action. The running back, who was activated this week after spending the first half of the season on injured reserve/designated to return, established the run early for the Giants, carrying the ball 14 times for 65 yards in the first half and finishing with 115 yards on 30 carries. Meanwhile, the passing game had mixed results. Eli Manning threw a pick-six right before halftime and misfired on a few others, completing 12 of 22 passes on the day for 140 yards and a touchdown. The Giants did find success on third down, however, with a balanced attack, allowing them to control the clock.
WHAT WE LEARNED ABOUT THE DEFENSE
Spotting seven points to Oakland after a special teams turnover on the opening kickoff (more on that below), the Giants buckled down on defense. Raiders quarterback Terrelle Pryor was able to extend some plays, but Oakland converted just 2 of 12 third downs, including a key goal-line stand by the Giants in third quarter. Culminating with Thomas' long interception return, the defense boosted the Giants when the other two phases of the game struggled at times.
WHAT WE LEARNED ABOUT SPECIAL TEAMS
The Giants have been in the middle of big special teams plays all season, and Sunday was no different. Jerrel Jernigan fumbled the opening kickoff, which Oakland recovered deep in New York territory and turned into a quick touchdown. However, the Giants evened it out with Damontre Moore's blocked punt, which Cooper Taylor scooped and returned for a score. Punter Steve Weatherford struggled at times on a windy day at MetLife Stadium, including a 27-yarder in the third quarter and a partially blocked one in the fourth quarter that went seven yards.
S Cooper Taylor returned a blocked punt 21 yards for a touchdown in the first quarter; DT Johnathan Hankins played in his fourth game and saw action on defense; Justin Pugh started at right tackle, where he has all season; QB Ryan Nassib was on the inactive list and did not dress.