EAST RUTHERFORD, NJ - The Giants will try to end their two-game slide Sunday when they host the Jacksonville Jaguars in New Meadowlands Stadium. Both teams are 6-4, but while the Giants have lost to Dallas and Philadelphia the last two weeks, the Jaguars have won three in a row. The Giants and Jaguars have met four times previously and Tom Coughlin has been on the sideline for all four games – the first three with Jacksonville and the most recent one with the Giants. The series is tied, 2-2.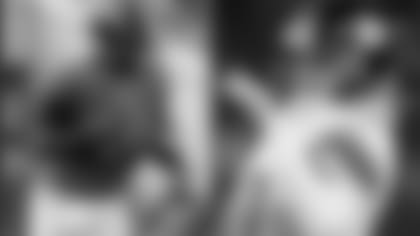 Offense
The Jaguars are ranked 20th in the NFL in offense, averaging 335.6 yards a game. They are sixth in rushing (135.3 yards a game) and 25th in passing (200.3). Jacksonville is 18th in scoring with an average of 22.0 points per game. The Jaguars are the league's second-youngest team. They are 2-2 on the road, with victories in Buffalo and Dallas. Two of their victories have come in dramatic fashion. Jacksonville beat Indianapolis on a last-play 59-yard field goal and Houston on a Hail Mary pass as time expired. The Jaguars defeated Cleveland last week despite committing six turnovers.
Jacksonville is a run-first outfit. The Jaguars have had more than 30 rushing attempts in a game five times and they outrushed their opponent in every one of their victories. They are 6-1 when they rush for more than 100 yards. Jacksonville runs the ball between the tackles more than any team in the NFL. But the Jaguars also keep their opponents off balance with screen passes and gadget plays. On the debit side, Jacksonville's minus-11 turnover differential is the league's second worst. And they have lost 10 of their last 11 regular season road games after Thanksgiving, including seven in a row.
Quarterback David Garrard has had a hot hand of late. Strong and athletic, he has the arm to throw deep, accurate passes. Garrard is very good at using shoulder and pump fakes to freeze defenders. He has completed 67.8 percent of his passes (third in the NFL, just ahead of Eli Manning) and his touchdown percentage of 7.92 (17 touchdowns in 214 passes) is the league's best. Garrard also has an NFL-high fourth-quarter passer rating of 129.3. Garrard is the Jaguars' second-leading rusher with 140 yards. His backup is former Buffalo starter Trent Edwards.
Running back Maurice Jones-Drew is fourth in the NFL with 878 rushing yards, fifth with 1,141 yards from scrimmage and third with 62 first downs. He had a career-high 219 yards from scrimmage against the Browns and his 75-yard catch and run set up his game-winning one-yard touchdown run. A 2009 Pro Bowler, the 5-7 Jones-Drew is a smart, savvy, instinctive runner with the strength to go inside and the foot speed to hit the edge. Rashad Jennings is Jacksonville's biggest back (at 6-1, 228), so it's no surprise that he's a powerful inside runner who picks up many of his yards after initial contact. Rookie Deji Karim is a more explosive runner.
Greg Jones is one of the NFL's finest fullbacks. He is a rugged blocker with good receiving skills. Backups Montell Owens and Brock Bolen contribute primarily on special teams.
Wide receiver Mike Thomas leads the Jaguars with 46 catches. He is a crafty route runner who is most dangerous operating from the slot. Thomas is explosive coming out of his break and is a dangerous receiver on screens. The other starter, Mike Sims-Walker, has been battling a high ankle sprain but returned to practice yesterday. When healthy, he is a strong, quick and fluid receiver with soft hands. Tiquan Underwood has a wide catching radius and a knack for coming up with the ball in a crowd. Kassim Osgood is Jacksonville's best blocking wide receiver and a big target on crossing routes.
Tight end Marcedes Lewis, a former first round draft choice, is a big red zone threat, as evidenced by his team-leading eight touchdown catches. Big, strong and athletic, Lewis has all the tools to be one of the NFL's very best tight ends. He creates constant mismatches in the passing game. Backup Zach Miller was a quarterback at Nebraska-Omaha. He is a good end line blocker and an improving receiver who has a 52-yard touchdown among his 17 catches. Zach Potter converted from defensive end and is a strong blocker.
Jacksonville has a solid offensive line. Left tackle Eugene Monroe is a talented young player who sets up with exceptional quickness in pass protection. Vince Manuwai is a powerful left guard who can shock an opponent on contact. He displays athleticism in the run game. Center Brad Meester has been in Jacksonville for so long (11 years) he played three seasons under Coughlin. He plays with smarts and leverage. Right guard Uche Nwaneri is a competitive player with a strong punch. Jordan Black took over at right tackle when Eben Britton suffered a season-ending injury. Black is a quick and aware tackle who has also been tough in the run game.
Defense
The Jaguars' defense is ranked 27th in the NFL, giving up 376.8 yards a game. They are allowing a league-high 6.2 yards a play. Jacksonville is 19th in rushing defense (112.2 yards a game) and 28th against the pass (264.6). Since giving up 236 rushing yards to Kansas City on Oct. 24, the Jaguars' run defense has stiffened, allowing 73 yards per game against the Cowboys, Texans and Browns.
The Jaguars are 27th in scoring defense, allowing 27.0 points a game. Youth has been served on Jacksonville's defense; six of the 11 starters are in their first or second season. But the unit is arguably missing its best player, defensive end Aaron Kampman, who tore his ACL in practice two weeks ago.
Although he has a broken right hand, five-year veteran Jeremy Mincey has replaced Kampman as the starter at right defensive end. The team's most powerful end, he locates the ball quickly in the run game and also has 3.0 sacks. Tackle Terrance Knighton plays more snaps than any Jacksonville defensive lineman and leads the team with 4.5 sacks. He has good movement for his size (6-3, 336), is a strong anchor against the run and he has the power to collapse the pocket on his pass rush. The other two starters on the line are rookies. Tackle Tyson Alualu plays with a high motor, has good range and is strong on his feet. He has 3.5 sacks. Fifth-round draft choice Austen Lane has replaced Derrick Harvey as the starter at left end. Tough and competitive, Lane has good straight line speed off the edge. Harvey started the first seven games and now contributes as a reserve. Another rookie, Larry Hart, is a pass rusher in the sub defenses. Former Giant Leger Douzable plays about 15 snaps a game. C.J. Mosley, signed on Oct. 15, played the last two games. Nate Collins was signed off the Giants practice squad when Kampman was placed on I.R.
Middle linebacker Kirk Morrison, who joined the Jaguars in a trade with Oakland, has started 90 consecutive games. He has outstanding lateral quickness along the line of scrimmage and is a good wrap tackler. Daryl Smith plays the weak side and leads the team with 96 tackles (61 solo). He attacks lead blockers and has good awareness in pass coverage. Justin Durant plays the strong side, where he has been Jacksonville's steadiest linebacker. Russell Allen plays in the sub defenses.
Cornerback Rashean Mathis is the senior member of the Jaguars' secondary. He has a quick backpedal and reactions and strong hands to knock away the ball. Derek Cox is quick to read and react and is a good tackler on screen passes. William Middleton is the nickel back. David Jones, acquired in a trade just prior to the season, replaced Cox as a starter for four weeks. Strong safety Courtney Greene is a relentless, hard-hitting player. Don Carey, a college cornerback, has made a nice comeback after spending the 2009 season on I.R. He has good movement skills and anticipation. Former Eagle Sean Considine started the first three games and now contributes in the sub defenses.
Special Teams
The Jaguars have one of the NFL's best special teams units, a group with no glaring weakness. Middleton leads the team with nine special teams tackles. Josh Scobee has hit 15 of 17 field goal attempts, including 54- and 59-yarders. He has 10 touchbacks this season. Punter Adam Podlesh is having a career year, with a 43.3-yard gross average and a 38.0-yard net average. Mike Thomas is 10th in the league with a 10.2-yard punt return average and Karim is averaging 25.2 yards on 13 kickoff returns.