EAST RUTHERFORD, N.J. – On Dec. 1, Jake Fromm officially joined the Giants, who signed him off the Buffalo Bills' practice squad. He has since spent most of his time at the Giants' facility in meetings and practicing, or in his hotel room, studying the team's offensive playbook. On Sunday, he threw 12 passes in his NFL debut on the Giants' final drive against the Dallas Cowboys.
"It's been crazy," Fromm said Wednesday. "It sure has. There's no other way to really put it. I'm super thankful to be here, I'm just ready to go, so excited. I'm ready for Christmas this week, this is awesome. Yeah, it's just a great time of year and so thankful I'm here in New York."
The last Sunday of the month could bring even more craziness. Fromm could make his first professional start when the Giants face the Philadelphia Eagles in Lincoln Financial Field, home to one of the league's most rabid and vocal fan bases.
"I heard a lot about the environment and for me, it's just preparation and making sure everybody's on the same page," Fromm said. "Really, it's just going out and executing whatever the plan is and just trying to tune it out the best you can and go play football."
Coach Joe Judge has not said whether veteran Mike Glennon or Fromm will open the game in Philly.
"We're going to watch the guys practice throughout the week, and we'll see where they are at the end of the week," Judge said. "I wouldn't expect any announcement until maybe the end of the week at the earliest."
Glennon started the last three games in place of Daniel Jones, whose sprained neck forced him to go on injured reserve Monday. The Giants scored just three touchdowns in those games and two of them were in the fourth quarter in Los Angeles. They were held to two field goals in their 20-6 loss to Dallas three days ago.
Asked if he will play Sunday, Glennon said, "I'm not sure." Is he in a quarterback competition this week? "I'm just going to go out and prepare to be ready to go," he said. "We're going to support each other and be there for one another."
Fromm completed six passes for 82 yards against Dallas, but after leading the Giants from their seven-yard line down the field, the drive stalled at the Cowboys' nine. But Judge reiterated today that the excitement Fromm created in his brief stint guarantees nothing in the future, including Sunday.
"There's a drastic difference between starting an NFL game and just coming in at the end," Judge said. "There's a lot of things you're going to see structurally, defensively, the situations in the game that pop up. Playing the entire game is a lot different than coming in at the end of the game and just playing a snapshot for us as a team to see."
If Fromm does play, the Giants will be the sixth NFL team to start three quarterbacks this season, joining Carolina, Cleveland, New Orleans, the Jets, and Washington, which started its third, Garrett Gilbert, last night in, ironically, Philadelphia. It will also be the first season in 29 years in which the Giants start three quarterbacks. In 1992, Phil Simms, Jeff Hostetler and Kent Graham all started.
Though Fromm has scant NFL experience, he played impressively at the University of Georgia from 2017-19. He entered the first game of his freshman season as a reserve, led the team to a victory against Appalachian State, and went 35-7 as a starter in the next 42 games.
As a freshman in 2017, Fromm led the Bulldogs to the 2017 CFP national championship game, where they lost to Alabama in overtime. He also quarterbacked Georgia to three consecutive SEC championship games (winning once). Under Fromm, the Bulldogs won a Rose Bowl and were 1-1 in the Sugar Bowl.
In three seasons, Fromm completed 621 of 982 passes (63.2%) for 8,224 yards, 78 touchdowns and 18 interceptions. He also rushed for 402 yards and scored three touchdowns on 134 carries.
The Bills selected him in the fifth round of the 2020 NFL Draft, No. 167 overall. As a rookie, Fromm was inactive for all 19 regular-season and postseason games for a Buffalo team that advanced to the AFC Championship Game. This year, he was released on Aug. 31 and signed to the Bills' practice squad the following day.
Three weeks ago today, he suddenly had to meet new teammates and coaches and learn a new offense, which can be a solitary process. Fromm did try to avoid late-night study sessions.
"I love my wife to death, but I do have to say, there may be some advantages of being locked away in a hotel by yourself and studying your life away," Fromm said. "No one o'clock nights because as athletes, we do need our rest. Definitely spent a lot of time up here with our assistant (offensive quality control coach) Nick (Williams) and he's the bomb at helping me learn everything and just the guys, too. Especially, Daniel and Mike, they've been guys I've been leaning on heavily and learning from them, a lot from them."
Fromm's diligence paid off when he entered the Dallas game with 3:41 remaining. He completed his first two passes, for eight yards to Sterling Shepard and 14 yards to Darius Slayton. Fromm soon connected on two throws with Kenny Golladay covering 36 yards; entering the drive, Golladay had just one reception for seven yards.
"He really just came in and made the most of an opportunity," Golladay said. "Things weren't going well, so I think he kind of just went in there fearless really and kind of, 'Let me sling it around a little bit.' He did a hell of a job."
Can he do the same if he faces the Eagles, who are 11th in the NFL in total defense, allowing 329.4 yards a game? Fromm believes he can.
"I would say I'm very confident in myself and what I can do," he said. "Winning football games is winning football games. Sometimes it may be pretty, it may not be, but at the end of the day, all that matters is a 'W' in the column. However we can do it, however, it happens, let's just go do it. Looking to go 1-0 this week."
That would be a great way to end the month.
*As is their Wednesday custom, the Giants conducted a walk-through, so their injury report reflected a projection of the players' involvement.
Running back Gary Brightwell (neck) and offensive lineman Ben Bredeson (ankle) did not participate.
Six players were limited: running back Saquon Barkley (ankle), fullback Cullen Gillaspia (shin), tight end Kyle Rudolph (ankle), tackle Andrew Thomas (ankle), and defensive linemen Leonard Williams (triceps) and Austin Johnson (foot).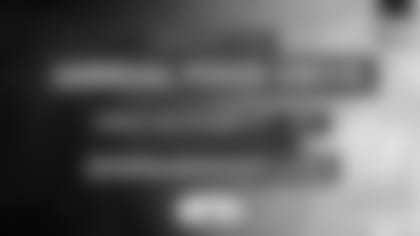 GIANTS FOOD DRIVE
Donate to Food Bank for New York City when shopping online at StopandShop.com