It is only fitting that Michael Strahan, arguably the most persistent tormentor of the Eagles, will have his No. 92 jersey number retired on Sunday. The Giants (3-7) host Philadelphia (5-6) for a 1 p.m. kickoff at MetLife Stadium.
"First of all, it doesn't matter, they could retire my jersey – the Giants could do it in Philly," Strahan said on a conference call this week. "That wouldn't bother me. I'm used to Eagles fans and it's very fitting to have it done against the Eagles. But if there are Eagles fans there booing, that's what I want them to do because if they're not booing, that means I wasn't very good at my job. If any team knows, it's the Eagles, that the most sacks I ever had out of any quarterback of any team, is theirs. So, if they boo, it's an honor for me that they're booing. I'll take it as that. I always loved playing the Philadelphia Eagles. They were always good for a few sacks a game."
Here are three ways the Giants can honor the Hall of Famer with a victory:
Contain Jalen Hurts and the run game
No one is running the ball better than the Eagles right now. Since Week 8, they have averaged 43.5 carries and 217.5 yards rushing per game. They also have 17 rushing touchdowns this season, tied with the Browns and Cardinals for the most in the NFL entering Week 12. Incredibly, the Eagles have gained 175+ rush yards without having any individual player having over 100 rush yards in four consecutive weeks, the first team to do that since the 1978 Patriots.
Much of the success can be credited to second-year quarterback Jalen Hurts, who has run 114 times for 618 yards and eight scores this season. To put that into perspective, the Giants have 929 yards and seven touchdowns on 233 carries – as a team.
This will be a matchup of dual-threat quarterbacks as Hurts and Daniel Jones are two of six signal-callers with 250+ rush yards this season (Lamar Jackson, Josh Allen, Justin Fields and Taylor Heinicke are the others). Hurts and Jones are two of 13 players since 1970 to average 200+ pass and 25+ rush yards per game in their career as a starter (minimum 15 starts).
The Giants relieved Jason Garrett of his duties as offensive coordinator following Monday night's 30-10 loss in Tampa Bay, where the Giants converted just one of nine third downs (and one of three fourth downs). It resulted in just two trips to the red zone and a season-low 10 points overall. Philadelphia ranks 21st in red-zone defense (41.5 percent).
When the Eagles have the ball, however, it's a different story. Only Kansas City, Buffalo and Tampa Bay have a better conversion rate than Philadelphia (46.1 percent). The Giants rank 11th in red-zone defense (38.9 percent).
Don't let Darius Slay make a big play
Eagles cornerback Darius Slay returned an interception 50 yards for a touchdown last week and became just the third player since 2000 (Sheldon Brown and Vincent Fuller) with 50-yard defensive touchdowns in consecutive games. He is the first player since Eddie Jackson (2018) with three defensive touchdowns in a four-game span. While Slay was limited in practice this week with a concussion, the Eagles have plenty of other disruptive players. Linebacker T.J. Edwards had a interception and fumble recovery last week, and perennial Pro Bowl defensive tackle Fletcher Cox recorded his 13th career forced fumble. The Giants turned over the ball three times last week, and Jones has thrown six interceptions over the past five games.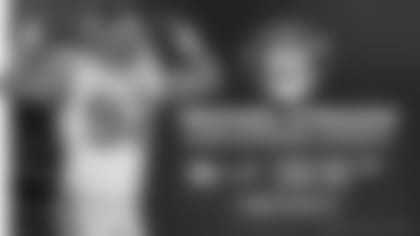 Tickets for Michael Strahan Ceremony
Limited tickets are available for Michael Strahan's jersey retirement game on November 28th