EAST RUTHERFORD, N.J. – When Jason Garrett joined the Dallas Cowboys in 2007, he was given the title of offensive coordinator and the duty of calling the team's plays, neither of which he surrendered when he was named head coach midway through the 2010 season.
Garrett continued to call plays until the end of the 2012 season, when he gave the job to a succession of coordinators – in order, Bill Callahan, Scott Linehan and Kellen Moore.
This year, Garrett has returned to his roots, both with the Giants (he was a backup quarterback here from 2000-03) and as a coordinator (hired by Joe Judge). On Monday night, he will call plays in a game for the first time in almost eight years when the Giants host the Pittsburgh Steelers. Garrett is excited for the opportunity, just as he's been for every assignment given to him as a player or coach.
"I've been really fortunate in my player and coaching career to really enjoy every role that I've been in, whether it's been a backup player, a number three guy, a backup quarterback, I started games, position coach, coordinator or head coach," Garrett said this week. "There really has never been any role that I've had that I haven't really tried to embrace and try to grow and develop in. That's really my mentality now as the offensive coordinator. Obviously, a lot of responsibility, big picture responsibility, on the offensive side of the ball. But also, some hands-on coaching opportunities.
"When you're a head coach, you try to do those same things. Obviously, you're involved with the comings and goings and the functioning of the entire football team. But even when you're in that role, I always felt it was important to get involved and coaching guys individually, technically and fundamentally, and certainly getting involved with conversations with the coordinators talking about schemes. Every person on a team has a different role. My experiences have been to dive in and embrace what your role is and do it to the best of your ability."
Garrett inherited a group that returns its top ballhandlers from the 2019 season, including quarterback Daniel Jones, running back Saquon Barkley, tight end Evan Engram and wide receivers Sterling Shepard, Golden Tate and Darius Slayton.
"We have a lot of guys who can make plays," Jones said. "All those guys bring something different to the table and allow us to attack defenses in a lot of ways. We'll look to utilize guys' strengths. It'll be exciting to get back out there on the field."
Because of injuries, that group was never together for one game last season. This year, they had to learn Garrett's scheme remotely, had just three weeks of padded practices and will take the field Monday night without having had an opportunity to test and amplify the attack in a preseason game. But the players and coaches are confident and enthusiastic and believe this will be a high-scoring offense.
"Oh, we're excited about this group," Garrett said. "Obviously, it's been a very different and challenging offseason for everybody in pro football. But our guys have embraced every experience we've had, starting back in the spring with our Zoom meetings, and then once we got together in training camp. I'm excited about the group that we have. It's a mix and a blend of some guys who have some experience and then we have some young guys. The common theme is that everyone is new together. It's a new system, but guys have worked hard to learn it, to understand it, understand the x's and o's but beyond that, the nuances.
"Really, the way you grow as a player, as a unit and as a team is just having experience together. Again, without preseason games, that becomes a challenging situation. But we did have scrimmages. We did have training camp practices. Their approach from day one has been outstanding. Excited to work with this group, excited to see them play, really proud of how they've worked up to this point."
But the Steelers will present a formidable challenge. Last year, Pittsburgh led the NFL with 54 sacks and 38 takeaways while finishing in the top five in points, total yards and passing yards allowed per game. The group has several outstanding players, such as tackle Cam Heyward, inside linebacker Devin Bush, outside linebackers T.J. Watt and Bud Dupree (26 combined sacks last year) and safety Minkah Fitzpatrick.
"You look at their defense, it starts up front with those guys," Jones said. "Watt and all those guys up front can make plays. As an offense, as a quarterback, we have to make sure we're executing, that I'm understanding where to go with the ball, getting the ball out on time, and making sure we're sharp from that perspective. They're good players. They cause you to study what you're doing, make sure you're prepared going in and I think we will be."
Garrett will make sure of that.
*Linebacker Markus Golden, who did not practice yesterday, and defensive back Adrian Colbert, who was limited, both because of illness, worked fully today. Wide receiver Golden Tate, tight end Levine Toilolo and rookie linebacker Tae Crowder continue to be limited with hamstring injuries.
"(Tate) is moving well right now," Judge said. "We've been mixing him into some of the things we have been doing in practice. Individuals, a little bit of team work, some group work. He looks like he's coming along nice. He's working hard every day and doing what he can to get back."
*Judge wore a black FDNY to commemorate the 19th anniversary of the 9/11 terrorist attacks.
"This is always a significant day in American history," Judge said. "We talked to the team this morning about it's not about what happened to the country on 9/11, it's about how the country responded. I think that's the lesson everyone has to take with how resilient this country is. You look at a lot of the things going on across the country, how divided a lot of people seem. It's amazing how much this country can truly work together and respond when needed. I think watching from afar, at the time I was down south, I was a thousand miles away, you watch the way the city of New York came together in this time of crisis. Now, I'm looking across the river at a city right there exactly where the tragedy happened. If you listen to the stories of today of the guys who were in the building the day it happened and how they could see the smoke coming from the city, it puts a much different perspective on it.
"To me, it's a significant day. I'm very big into American history, I'm very big into what the people who came before us have done, fighting for our freedom, the first responders, how they are there and they have our back. To me, today is a day we need to have appreciation for what everybody does, for the sacrifices they make. We can't forget what happened on 9/11, we can't forget the people who are willing to respond, the Todd Beamers of the world and the action they took on the flight to bring down the third plane and save more American lives. I think it's significant, people have to remember it's not just a day. There were actions taken on that day that brought this country close together. I think if we can focus more on how we can respond as a nation and work together, we will get past a lot of this crap (divisiveness) that we are dealing with right now."
*Judge had a little fun with the media when he was asked about yesterday's practice, which he halted after 20 minutes, lit into the players and ordered the workout restarted.
"It really wasn't much," he said. "Sometimes I schedule a second stretching period after the first couple periods of individuals, so a normal day for us right there… No, hey, listen, I thought the guys responded really well. We actually had a really productive, really good practice. I was happy coming off the field. Sometimes we just have to go ahead and keep in mind that it's important that we lock in and start fast."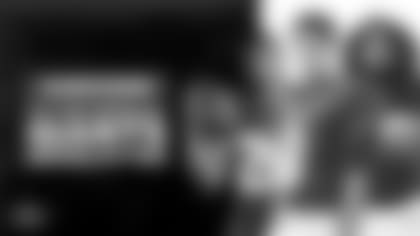 Sign up for the Giants Newsletter
Breaking news and exclusive content direct to your inbox