EAST RUTHERFORD, N.J. –** Jason Pierre-Paul has never missed a game in his four-year career.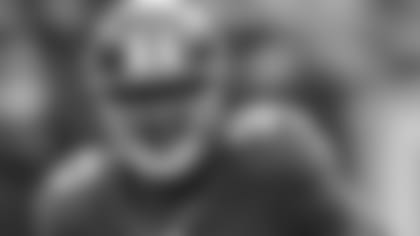 Know Your Opponent: Packers Roster The two-time Pro Bowl defensive end did not practice today and said he doesn't expect to practice tomorrow and admitted that he is unsure of what is status will be for the Giants' home game Sunday vs. the Green Bay Packers.
"Nope, I'm not practicing tomorrow," said Pierre-Paul. "I don't know about the game, either."
Pierre-Paul hurt his shoulder last week in the Giants' 24-20 victory over the Oakland Raiders. He returned to the game and finished with four tackles (two solo) and his second sack of the season.
"I'm just going day-by-day," Pierre-Paul said. "Once it stops hurting me, I'll play. As of right now, I'm taking it day-by-day."
JPP said the game against Oakland was his best of the season. He had started slowly after missing training camp while rehabilitating from back surgery on June 4.
"I'm back, there's no question about that, I'm back," he said. "Last Sunday's game, I think I had a great game. That was probably one of my best games in a while. I had one sack, I could have gotten more, but I got hurt. I'm taking it day-by-day right now and that's all I can do."
Pierre-Paul declined to specify the exact nature of the injury.
"It just hurts, that's all," he said. "I can't be giving you too much information, you know what I mean? My shoulder just hurts, that's it. Who knows if I'm going to play Sunday? I don't know yet. I'm taking it day by day and that's it."
Pierre-Paul has played in all 57 regular-season and four postseason games since joining the team as a first round draft choice in 2010. That ties him with Antrel Rolle for the third-longest streak on the team, behind Eli Manning (144) and Zak DeOssie (105).
Also missing practice today were running back Brandon Jacobs (hamstring/knee), tight end Bear Pascoe (ankle) and cornerbacks Terrell Thomas (knee) and Corey Webster (groin/ankle). It was Thomas' normal day off and Coughlin said both he and Jacobs should work tomorrow.
Six Packers missed practice, including quarterback Aaron Rodgers, who is sidelined with a broken collarbone. The others were offensive lineman Don Barclay (knee), defensive tackle Johnny Jolly (groin), defensive end/linebacker Mike Neal (abdomen), cornerback Casey Wayward (hamstring) and linebacker Nick Perry (foot/ankle).
Asked on a conference call if Rodgers had any chance to play Sunday, Green Bay coach Mike McCarthy said, "He did not participate in practice. He actually did some throwing today for the first time on the field. We'll stay with that status."[
10 THINGS TO KNOW FOR SUNDAY
](http://www.giants.com/news-and-blogs/article-1/10-things-to-know-about-Giants-Packers/88d71c5f-b3c1-47df-9b8f-aa6b2fcb6367) *
Manning said the return of Andre Brown to the backfield should help the Giants' play action passing game. Brown rushed for 115 yards against the Raiders.
"It was great getting Andre back," Manning said. "He rushed the ball 30 times and over 100 yards and was big in finishing out that game when we had to run it six straight times and he had two first downs and didn't give Oakland the ball back. He did a great job of just getting positive yardage, putting us in a lot of third and manageable situations, running it down in the red zone. I think that was big, and hopefully he can continue to play well. That can slow down that pass rush a little bit to get the ball down the field."
The starting time of the game on Sunday is 4:25 p.m. The game was originally scheduled for prime time, but was switched to a late-afternoon start so NBC can televise the Denver-Kansas City game in prime time.
"Anytime you get flexed out of prime time, it's a bad thing," linebacker Jon Beason said. "Everybody wants to play prime time games, but at the same time, you look at who they're taking you off for, what is it, Broncos and Chiefs, (Kansas City) undefeated, division game. So you understand, but we're hoping to do that later on this season and get that game back."
The Giants are scheduled for one more Sunday night game on Dec. 1 in Washington.