Pat Flaherty sets the bar high for his offensive line.
So do the players at his position, but that doesn't mean those looking from the outside do.
---
RELATED NEWS
Papa's Perspectice
The Giants will need resilience and the support of their fans...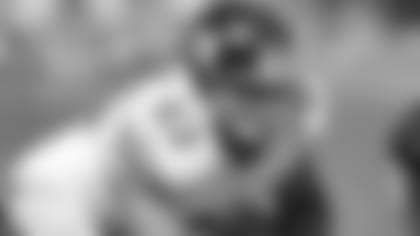 Know Your Opponent: Eagles Roster That was true last week when the Giants started center Jim Cordle and right guard James Brewer, who made their first and second career starts, respectively. Possibly in line for another start on Sunday against the Philadelphia Eagles, Cordle knew the expectations going into the Week 4 loss on the road to the Kansas City Chiefs.
"We didn't hold up to how we expected," Cordle said Thursday. "But as players, sometimes we read some things, and it seemed like the expectation was very low. So we could only beat expectations…but [Tom] Coughlin said it was 'OK.' But we'll get better."
The head coach echoed those sentiments the day after the game.
"Those two guys [Cordle and Brewer] that everybody speculated about, they did OK," Coughlin said. "They played against a very good front, and, for the most part, they did a good job. We did have a holding penalty up there, and there were some occasions where we could have obviously done a better job or finished a block better than we did. They scrapped, and I was pleased with what they accomplished. I wish, obviously, it would have been perfect, but they did OK."
But "OK" has to be "better" in order for the Giants to get their first win.
They will attempt to do so without veterans David Baas (neck) and Chris Snee (hip), whom Cordle and Brewer filled in for. Baas and Snee have yet to return to the practice field. But longtime Giant David Diehl returned to practice and is slotted at right guard.
None of this is set in stone as Coughlin gave his usual "we'll see" response today, but if the rest remains the same, Cordle will be at center again on Sunday.
This time it will be in front of an offense-friendly home crowd at MetLife Stadium.
"I wasn't nervous, but I knew it was going to be a challenge," Cordle said of making his first career start last week. "I knew it was going to be such a challenge that I think I just kind of focused in and -- 'This is what we have to do.' Arrowhead [Stadium] was loud. There were a lot of things, but I was just, hey, I've been here a long time, I'm ready to play and help. The result wasn't what we wanted, but I did feel comfortable with everything going on."
Cordle, who signed with the Giants as an undrafted rookie out of Ohio State in 2010, said Arrowhead Stadium was as loud as any road game he played in college, whether it was at Michigan or Penn State.
But it wasn't as boisterous as the man now to his right.
"[Diehl is] a loud guy, so he's always talking, which is good," Cordle said. "He's always communicating before the play, during the play, after the play. So I think it's going to help us…We can pick it up, and he knows what he's doing and he knows what I'm supposed to do. So he'll help us with his vocals."