EAST RUTHERFORD, N.J. – Judge's Chambers, Giants.com's weekly interview with head coach Joe Judge:
Q: How was your Thanksgiving? Did you watch football, not only the NFL, but Mississippi State?
Judge: "I caught the second half of the Cowboys game through overtime, and I'd say I caught roughly the first half of the Mississippi State game (vs. Ole Miss). I ended up catching the final score when I woke up this morning, so it didn't turn out the best."
Q: Did (tight end) Evan (Engram) and you have a little bet?
Judge: "We did have a bet, which he has not brought up yet, but I'm not going to welch on that."
Judge: "No, I had a good one if we had won, so I'll make sure I follow through with his deal."
Q: There was a big change on your staff this week (the dismissal of offensive coordinator Jason Garrett), which changes the dynamic and division of labor. You talked about working collaboratively. How is that going so far? Are you pleased with how everyone has stepped up?
Judge: "I'm very pleased with how the staff has worked together. In terms of the break down of assignment responsibilities, there wasn't really a significant amount of change from what had been done, but the guys have done a good job of working together, having input, and talking through situations and scenarios. We're looking at different ways to keep our players involved to make sure we have some answers, so I'm pleased the way they have worked together."
Q: Did (quarterbacks coach) Jerry (Schuplinski) get something specific to do because Jason is not here? Did you give (wide receivers coach) Tyke (Tolbert) something to do? Did every coach get a little more to do?
Judge: "No, everyone already had specific parts of the game plan that they're responsible for, in terms of breakdowns, presenting ideas and evaluations. So, there wasn't a tremendous amount of difference this week in terms of the prep work."
Q: Have you been more involved with the offense this week because of the change?
Judge: "To a degree, yes. Well, I'd say this, I'm always in all the meetings anyway. We're always constantly communicating. I'd say that the conversations may have been a little bit different because some people have evolved, and we involved some more people than in the past. But I'd say, overall, I'm involved in all three phases, and I remained doing that this week."
Q: As a rule, have you always encouraged (quarterback) Daniel (Jones) to give his input into the game plan, his thoughts on the opponent, and what to do in certain situations? Has that continued this week as well?
Judge: "Yeah, absolutely. My thing is the offense has to flow through the quarterback. I've got to know what he's comfortable with play-wise and what he doesn't like, if there's something in the game plan that he didn't feel comfortable with. Then, it's either our job to adjust it and make him comfortable, or get it out and get something else in for him. To me, it always has to come through those signal callers, those players, and the guys have to do it on the field, so the communication has to be consistent."
Q: You've said more than once that it's a players' game. No matter what's going on with the coaching staff, in your opinion, does it ultimately come down to the players having to win?
Judge: "We have to put players in position to win the game, and they have to go out and execute to win the game. That's as simply put as what the game is and what the dynamics are."
Q: Offensively, your goal is to obviously score points, but you want to see the playmakers get the ball more often than they have. Is that fair to say?
Judge: "All I want to see is we put ourselves in position to capitalize on some opportunities. Obviously, the player is the most important part of the game plan, so that's a large focus of what we're looking for."
Q: Specifically with (wide receiver) Kenny Golladay, you said last week about his lack of targets, "We're going to make sure we correct that." When he was signed, he was touted as a big red zone target. You look at the play like (Buccaneers wide receiver) Mike Evans made in the end zone the other day. Can Kenny Golladay make that kind of play for the Giants?
Judge: "I think Kenny has a great skillset. I think he has a wide net of what he can do. He's demonstrated that in practice. He's demonstrated that before in competition, as far as playing for other places. We'd like to go ahead and get him as involved as we can as a focal point."
Q: How did you think (running back) Saquon (Barkley) looked the other night after missing four games (with an ankle injury)?
Judge: "I'm pleased with the way he's looking. That's not an evaluation of it, it's just he's out there, he's playing confident, and he's moving well. Obviously, when anybody comes off an injury, you always wait to see how they respond to things, and how their body responds after consecutive days of work. He's done a good job. He's been very active for us and doing a lot of things for us."
Q: And (tackle) Andrew Thomas, did he show any rustiness (after missing three games)?
Judge: "I thought he had a good game. I think that he went out there and competed well, blocked well. There are always some things you can coach to improve on, and things the player has to improve on. You never really arrive, and you're never peaked out. There are obviously things we've worked on this week with him to keep on pressing him forward. He's going to have a big challenge this week. They have some very good rushers over him, and we have to get him ready for this week."
Q: Do you have a tryout with the offensive linemen to see who can catch the ball best?
Judge: "It does come up in the conversation when you design a play like that (Thomas' two-yard touchdown reception). You talk through who you want to use. There are different reasons you may use one guy instead of another. It's not always 100 percent based on just pure hands. The scheme has to measure up, in terms of where guys will align. However, Andrew is an athletic guy. He's a big guy, and you saw it last week with that catch he made going up there. It was a pretty good play."
Q: He caught the two-point conversion last year, too.
Judge: "That's right. Last year, he kind of double caught it a little bit. This year, he went up there and snagged it, so he's improved (laughs)."
Q: We have spent so much time talking about the offense. Statistically, the defense is similar to the offense. Are you having discussions that are, for lack of a better word, as intense about the defense and what you can do to improve there?
Judge: "We evaluate every part of our organization every week."
Q: We talked a lot about (safety) Julian (Love) last week and how he stepped in for Logan (Ryan, who is on the Reserve/COVID-19 list)). How did Julian play in your estimation?
Judge: "I thought Julian did some good things in the game. Overall, like we said last week, it wasn't good enough, but there are some bright spots to build on. I'm pleased with the way Julian works and prepares. He'll continue to have a role for us on this team obviously."
Q: At the same time, it's very unusual not to have Logan on the field. Did you miss Logan last week?
Judge: "I've said it a number of times, you want to have all your players. We've lost a number of players on this team, captains, and significant players throughout the course of the year. It's our job to have players prepared, and their job is to step up and execute. Whatever the reason is for someone not being available, whether it's an illness, an injury, or something else, we have to prepare everyone, next man up."
Q: (Linebacker) Quincy Roche was inactive in first couple games after he arrived, but he's played 50 snaps each of the last three games. What does he give you specifically that you like so much?
Judge: "I like that he's a high motor guy who has good strength. He has some good instincts in the rush game. He's really learning how to use his toolset, and that's every rookie pass rusher across the board. He's got good physicality, strength, and hold in the run game, but he's really learning the techniques and how to use his body within those techniques. It's allowed him to be more productive. He's a guy that throughout the course of his career has been kind of see ball, get ball. That's productive, and it's helped him. However, you've got to keep on being consistently productive and really become a technician. I see him improving on that throughout the year. I see that jump the last few weeks, and I see the production following it."
Q: A league question: The road team swept all three games on Thanksgiving. Home teams are seven games under .500 this season. Why do you think the home field advantage is disappearing?
Judge: "I really don't have an answer for that. Those are things that we've looked into. We think more internally in terms of different factors, how we set a schedule for our own team, timing of a game, the home and away schedule leading into games, and things of that nature. I would just be guessing on an answer for that. I think last year, obviously with the COVID situation and empty stadiums, it eliminated a lot of the road noise, distractions, or some things like that, but I don't think there's one reason for all 32 teams."
Q: The Eagles changed their offense this season. In their first seven games, they averaged 34 passes and 23 runs. In their last four games, it's 43 runs and just 20 passes. Does your defense have to change against such a run intensive team?
Judge: "No, we have a different game plan obviously every week based on who we're playing. The focus remains on stopping what they do well. Obviously, Philadelphia does a lot of things well. Their offense is really improving and playing at a high level right now. It's really fueled and started by the run game. So, there's a lot of teams that we've played this year that have been run heavy, some pass heavy, and some teams, like the Raiders, have been very balanced. So, based on who you're playing, you've got to make sure you approach the game plan accordingly."
Q: (Quarterback) Jalen Hurts rushed for three touchdowns last week. Does it put extra pressure on the defense when it must account for the quarterback every play as a potential runner?
Judge: "I think that is an element of the game that's very important. There are more athletic running quarterbacks now in the league than there were when go back in time. There's different skillsets of runners, too. You talk about obviously (the Ravens') Lamar Jackson, who is just as freakishly athletic and productive as you can be. Then, there's other elements of guys who are more traditional drop back passers, who still have the ability to pull the ball, run, and be very productive. There's different shapes and sizes of these guys, and there's different skillsets. I think coaches are doing a good job of identifying what's effective with their skillsets, and they're using them. I don't think the mindset is really the same anymore. It used to be that you would do everything you can not to run your quarterback. You avoided situations to get them hit. Everyone is finding out now that these guys come through the game in high school and college running already, that's a natural part of the game. They've been so effective because of how they do that.
"I think specifically with Jalen, you watch what he's done throughout his career in high school, in college, and now in the pros, it's the same game for him. I'm not saying all the plays are the same, but it's the same type of game for him. He can use his skillset. He can run, he can throw, he can think on his feet, and he can move and put pressure on you, so there's definitely a different element you have to account for. Now that being said, you still have guys like (Buccaneers quarterback) Tom (Brady) who are effective as can be sitting in the pocket. They don't have to use their legs. However, we just saw last week that when the lanes open up, he can run. He can plow forward, get the necessary yards, and slide and get down. It's all about how you play to your players' strengths. I think a lot of coaches are doing a good job now of playing to their players' strengths, using their quarterback's ability to run. That's something we've tapped into as well with Daniel. That's something he does that's a strength."
Q: For many years, they had (tight end) Zach Ertz. They don't have him now, but they seem to have compensated with a lot of different weapons. Would you agree with that?
Judge: "I think (tight end Dallas) Goedert has done a really good job. Obviously, I'm not going into their personnel decisions, but to move on from a guy like Ertz, you have to have some kind of comfort with the guys you have. Goedert has been a good tight end. He's really emerging as a top player. Then, there's a lot of explosive players on the perimeter. You talk about (wide receivers DeVonta) Smith, (Quez) Watkins, and (Jalen) Reagor. I mean, these guys are explosive players. With the backs, (Miles) Sanders and Boston Scott are really, really good players. (Running back Jordan) Howard is a very good player, too, he's just injured. They've got a lot of dynamic playmakers. Then, you throw the quarterback on top of that with his legs and his ability stretch it out, and everyone is at the point of attack on every play."
Q: You faced a very good offensive line Monday night. Do you think the Eagles' line is also on par with that one?
Judge: "I think (run game coordinator/offensive line coach) Jeff (Stoutland) does a great job coaching the line down there. It's been stout for a long time. I worked with him at Alabama for several years. I have a lot of respect for him. He's a friend of mine, so we've kept in touch throughout the years and communicate a lot. I think he's done a really good job through different systems and schemes that he's been a part of in that organization. He keeps evolving and adapting to the players around him and adjusting accordingly with what the offensive scheme is. I think he does a good job with anyone he gets a chance to coach. Jeff's a great coach."
Q: Defensively, they still have a lot of familiar names, like (defensive tackle) Fletcher Cox, (defensive end Derek) Barnett and (cornerback Darius) Slay, but a lot of their contributions are from guys that we haven't heard a lot about in the past, like (linebacker) T.J. Edwards, (defensive tackle Javon) Hargrave and (linebacker Alex) Singleton.
Judge: "I've known a lot about those guys for some time, to be honest with you, but I think Hargrave is definitely an issue inside. This guy is extremely powerful. He's very quick, he's got great instincts. He's very disruptive and productive inside. He's a guy that you turn the tape on, and he jumps out. Having him and Fletcher inside is definitely a two-headed monster. Then, Singleton is a guy that I've known personally for some time now. We actually had him in a rookie minicamp a few years back, and I got to get to know him personally and get a look at his skillset. Now competing against him, he's a guy that really plays with his athleticism and a high motor. He can find the ball, he's very active. He's a guy that's made a lot of contributions in the kicking game and on defense, so space is not something that's foreign to him. He plays that game very well, so they've got a lot of good players, they really do. They've done a great job of assembling a lot of talent down there. Really, we would expect a team with as much talent as they have to have a lot of success."
Q: Slay has three touchdowns in the last four games, all of them pretty long. Do you have to be aware of his ability to do that?
Judge: "You absolutely have to. He's playing very, very confidently and very aggressively right now. I think that's something that when players kind of get that 'blood in the water' taste, they start really jumping at things and playing aggressive. You have to be conscious where he is on the field because he's a playmaker. He's been a playmaker for some time."
Q: With their specialists, (kicker Jake) Elliott is having a tremendous year, but the guy who doesn't get a lot of attention and might have more special teams tackles than anybody in the league is (linebacker) Shaun Bradley. Do you see him popping up on tape a lot?
Judge: "Yeah, Shaun really plays fast. He's very active to the ball. He's one of the top tacklers for a reason. He's one of the top cover specialists in the league. I remember this guy coming out of college. He was on a list of guys coming out that year from the same school (Temple). You kind of looked at them, and they all stood out, but he definitely stood out above the rest. You could see this guy is going to really be a good player. He's going to take some time to grow, develop, and all of that stuff, and he really has. He's done a really nice job of that."
Q: Lastly, everyone remembers the last game of the season last year when the Eagles didn't try to win, costing the Giants a chance to win the NFC East. Are there any lingering feelings about that, or have you brought that up this week?
Judge: "No, nothing that happened last year is relevant to anything that is going to happen Sunday."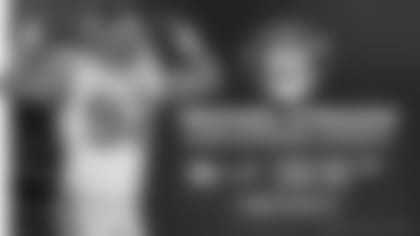 Tickets for Michael Strahan Ceremony
Limited tickets are available for Michael Strahan's jersey retirement game on November 28th