EAST RUTHERFORD, N.J. – Judge's Chambers, Giants.com's weekly interview with head coach Joe Judge:
Q: Last week's game (a 25-3 victory against Carolina) was easily the largest margin of victory since your arrival. You got contributions from the offense, defense and special teams. Was that the most complete game you've played since you've been here?
Judge: "I don't know in terms of just mapping out the most complete game we've played; we've had some other games where we put some things together. To me, the most important thing is that we got contributions from all three phases, and we played good, complementary football. That was the way we wanted to play the game. We knew it was going to be very important playing against a team like Carolina, in terms of how good their defense is, especially. We wanted to keep establishing and maintain the field position to get our offense into position. Then, the offense finished drives when we had the opportunity. I was pleased how all three phases came together and played. There were some stretches throughout the game where we really were able to show to our players examples of how everyone was playing off each other's drive before, and how it complements and leads to success."
Q: Last week, you said you were working on fundamentals in practice, and that you changed practice a little bit. Given the success that you had, has that continued this week?
Judge: "It has. We always place an emphasis on fundamentals. Last week, due to the nature of some of the injuries we had, what really was established was we had to find a different way of preparing for the Panthers schematically, but we couldn't short the fundamentals and lose that part of practice. So, we went out and did some fundamentals practice stuff. That's definitely something we worked on this week in practice. We had a good day Thursday of doing a lot of things that we've done in the past and did last week as well. Of the fundamentals you work on each week, some apply day-to-day, and some change a little bit, based on what you're going to see or do based on the opponent you're going to play. So, I want to make sure we stay on those fundamentals as they come up."
Q: John Mara said after the game that it was a great game, but we're looking forward to getting back all these injured players. The narrative in the public is we want to see what happens when the Giants have all their guys back. Does the head coach ever feel that way, or are you so locked in on today's task and the next game?
Judge: "To me, it's always about who's available and them coming up, being productive, and getting everybody ready. That's really my focus. I've said before, when I was a coordinator and when I was an assistant, sometimes you get so focused on your group that when somebody gets hurt or removed, you dwell on that a little bit. I learned working for a couple head coaches that as injuries happened, it almost seemed bizarre how they could see past that. Not that they were ignoring the status of the team or players' health, but you just keep moving on knowing that games are going to be played anyway and that we have to get everybody ready. It's funny how when you change chairs, very quickly your mindset changes. Whatever comes up adversity-wise, you just keep on moving forward and do whatever we have to do to go ahead and be successful. That's we have to work on."
Q: You've lost three captains to season-ending injuries. This week it was Jabrill Peppers, who is a fiery player. You spoke about how he wears his heart on his sleeve. You have other captains, but do you need guys like that, the vocal guys, the loud guys, the get-in-your face guys?
Judge: "I think everybody has to bring their own kind of leadership. You can't manufacture it, and you can't be fake. We talk all the time about how we can't have fake juice. You can't be out there and just be a cheerleader. Pep's very natural in terms of the vocal leadership he gives. We have a lot of other guys that have a lot of vocal leadership. (Quarterback) Daniel (Jones) is very vocal. He doesn't always go around out there rah-rahing and cheering, but when he has something to say, he'll say it. When he has something to say to the team, he'll make it known, but there's different types of that. To me, it's important that leaders put the team first and do their job well. It's really two qualifications. What we've talked to the team about from the beginning is we need leadership from all aspects. We need second-year guys to be able to affect rookies positively. We need veterans who are established in this program to reach out to the new guys that come in the program, get them on our page and kind of bridge the gap a little bit. So, we need everyone to be leaders.
"It is unfortunate when you lose captains. These are guys who are obviously very valued by their teammates. They were voted captains and voted to a leadership position. We keep these guys involved. (Running back) Saquon (Barkley), (linebacker) Blake (Martinez), (offensive lineman) Nick (Gates) and Pep still come to all the captains meetings when they're available. Nick has had a couple things that have kept him out in terms of recovery, but when he's available and healthy, they're in all the meetings. They still give me feedback about the team. I still bounce ideas off them. There have been a couple of other guys that we've incorporated. (Defensive back) Nate Ebner was voted captain last year. He joined the team late. He's a guy that we lean on very heavily for leadership and influence on the team, as far as feedback. There are some other guys in key positions who have all stepped up and done a good job for us."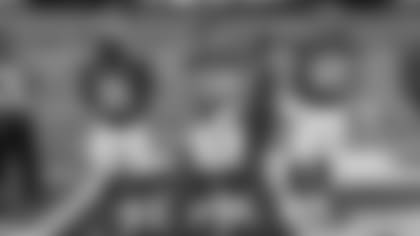 Q: In terms of the lineup, the game that Pep missed in Dallas, Julian (Love) had his highest snap total of the season. I assume he'll play some part in taking Pep's role. Is Julian your most versatile defensive back and why is he able to do what many other players can't?
Judge: "I'd say as a group, we have good versatility, but I think it's fair to say that because of all the hats Julian wears, that's a fair statement in terms of what we ask him to do. He transitions from deep field safety, to box safety, to the star position, which is our nickel, to the perimeter corner. This guy plays on special teams as an interior penetrator. As a safety, he plays the signal caller position. He does a really good job of preparing for a lot of different things, and that's a lot easier said than done. When a guy comes in, he's got all these things on his plate when you tell him, 'Hey, you're the starting this, you're the next this, you're the backup this, and you're the emergency that.' He has to know them all. He has to know the entire defense, so his intelligence helps him there. He's got a good skillset athletically that helps him play different spots, but I think it's a fair statement."
Q: I want to talk to you about the first quarter. Your defense has been terrific. You've allowed the second fewest points in the league (six) in the first quarter, but you've scored the second fewest points (13), and even last week you were down 3-0 at the end of the quarter. Are you at all, I don't know if frustrated is the right word, but I would assume you'd like to see faster starts in the early going?
Judge: "We had an opportunity last week, and we didn't finish on the drive down on the goal line, so we've had some drives where we've been in position. We have to make sure we finish them. We're obviously trying to score every time we have the ball. We have to make sure that we limit the mistakes that stop us. We've had some things early in games, whether it be penalties or, at times, turnovers that have limited us. We have to make sure that we improve on that. I've seen the offense improve. I think that (offensive coordinator) Jason (Garrett) and the staff have done a really good job. The players have done a very good job adapting to some different things schematically we've done over the last few weeks as some of the roster has changed and some players' availability for the game has changed. But I think that they've done a good job adapting. I think last week there was a little bit of a settling in period for some of the new things we had to do. But, when they got their feet settled under them, we started moving the ball effectively. I was pleased really from the middle of the third quarter to the end of the fourth quarter on how we finished it out."
Q: The big play last week was the throw from Dante Pettis to Daniel. When you have a gadget play like that, do you rep it enough in practice so that when it's called, the players don't think, "Oh, the gadget play," and instead consider it just part of the game plan? Do you try to familiarize it that much?
Judge: "Yeah, absolutely. We're going to practice anything we have to do multiple times, so I don't think our guys get too anxious if it's a gadget play or something different. I think they just understand that it's an opportunity for us, and we have to execute. You want to do it to the point where they execute in all the situations. We try to give different variables that come up in practice, so they can practice making the right decisions and plan the right techniques."
Q: Based on what you already study for the opposing defense, do you try to have a couple or three of those types of plays that may be used in any given week?
Judge: "I think sometimes you may have more than other times. Everyone carries something up their sleeve into every game. We're not necessarily going out there looking to trick everybody. But there comes a point in time where you see an opportunity based on what the opponent gives you that you try to create a play for your offense, or even defense and special teams."
Q: It looks like you may have the same starting offensive line for two games in a row for the first time this year. Are you happy to see that continuity at least for a week?
Judge: "I think it's nice for those guys to be playing with each other as a continuous group. But again, we still roll and rotate everybody in there through practice and games. In terms of if there's any emotion from me, honestly, no. Whoever is at the game we expect to play and be productive, so I don't really look too much into the multiples or the different variations of groups. That's going to happen naturally."
Q: (Tackle) Matt Peart had three consecutive games in which he didn't play an offensive snap. Now, he's become the starter at left tackle, obviously a very important spot. Was he the same person then as he is now that he's playing?
Judge: "Yeah, I see Matt come to work every day and prepare very hard. I've seen him be a team-first player who works hard on his technique to improve. I've seen improvement throughout the year, and I'm pleased with the progress he's making. I haven't seen any difference in Matt, and I say that in a very complementary way. This guy always comes to work."
Q: What are his physical attributes that convince you he's going to be a good NFL lineman?
Judge: "I think the obvious thing is he's long and athletic. When you look at somebody with that kind of length and athleticism, he's got a toolset you can work with. He has gotten stronger since he's been in the league, the lower body strength and upper body for the punch aspect of it. He's really learning the technique. He's built his versatility to play on either side effectively. That's something we continue to work with him on, and he's an intelligent guy who works very hard at his craft to be mentally prepared."
Q: I've asked a variation of this question this year, but the way Graham (Gano) is kicking long field goals (five-for-six this year), when you get to the 35-yard line, he's in his range. Has that changed your thinking on some game management decisions?
Judge: "Absolutely. You've got to always know what your range is for field goals. We have a lot of confidence in Graham, so different games based on situations, it could be the wind, it could be a variety of things, it helps you make decisions. As you get close in the short yardage situations, fourth-and-one, fourth-and-two, fourth-and-three, or whatever it may be in some of those ranges, we ask, 'Are we going for it, is it far enough back where we have to punt it, what's the situation here?' I would say that, and I've told the team this, when you have a kicker like Graham who's been very productive and a consistent force, not only consistent in his results on the field, but consistent in how he prepares, and the team has confidence in seeing him do it every day in practice, that allows you to play on a shorter field. I've been very fortunate in my career that I've had some good kickers with big legs that you feel that way. There have been other times that you maybe move a guy in here due to injury or a different circumstance or situation where you have to go further to get points, or to get a chance to get points. Your field is a little bit longer. When you play against quality teams with quality specialists, both kicker and punter, the field position is critical. When you feel like you're on that longer field, it is a disadvantage."
Q: (Kansas City coach) Andy Reid said that one of the things the Titans did to (quarterback Patrick) Mahomes last week was rush him on his throwing arm side, so that he couldn't step up in the pocket. I've always thought it was advantageous to rush the quarterback from the blind side. Do you have a preference? Do you think one or the other is better?
Judge: "I think there's value in both. There's value in the matchups, who you have and also who you're playing against. I think that the basic principles we look for in pass rush is playing within the rush lanes of the pocket and not opening up lanes for a guy like Mahomes, because if he does step forward to pull the ball down and run, where he's been very effective, you want to make sure you have lane integrity. You're really talking about two contain rushers that have to make sure he can't escape out of the edge of the pocket. You need two middle push rushers. We're going to basically take away that A to B gap area and make sure that he can't step up. You want to have something in his face to obstruct his view and vision. A lot of teams will scheme it based on who the quarterback is to get more pressure in their face because that may rattle them. Some teams know that when you're playing a more experienced quarterback, you play the Tom Bradys or Aaron Rodgers of the world, they can stand back there and have a guy come right in their face, and they've seen it a million times. They still get that ball out accurately and don't really fret about the rush too much. Then, maybe that's better to get them from the backside. A lot of times it comes down to matchups more than anything else. But I understand exactly what Andy was saying there, and we could see it on the tape as well."
Q: The Chiefs' offensive players are very impressive. They're first and second in passing yardage and completions. You always say the first goal on defense is stopping the run. Does that change when you play a team like this with so many weapons in the passing game?
Judge: "The base principle is always the same. You still want to stop the run and make sure that this team can't play as balanced as they want to, or any offense wants to. This team is very, very explosive. There have been games where they don't run it very much at all, and there have been games where they run a lot. They've been equally effective, so you have to make sure whatever their game plan is that you can hold up with good, sound defense. You have to play the entire 60 minutes because this is a team that no matter how well you play, and this been proven over time, they're going to make plays. That's just what happens. This team is going to make plays. There are times where you may flush him (Mahomes) out of the pocket and think you're covering as well as you can, and he somehow threads a ball in there while scrambling out, and the ball is 40 yards down the field for a completion. You've got to line up and play the next play. There have been a lot of teams that have had success against them where you see a number of those plays happening in the game. The teams that continue to have success continue to play the game. They don't let the emotion of the game, the momentum of the game, or whatever you want to establish it as bring them out."
Q: Does their speed jump out on tape?
Judge: "Without question. You watch these guys run down the field, it's not just how fast they run down the field, it's how fast the ball gets on them, so that's a different thing. When he puts that ball down the field on the long ball, it gets there in a hurry, so when (wide receivers Tyreek) Hill, (Mecole) Hardman, (Byron) Pringle or any of those guys who really get down the field and get a little separation, he can still zip it and put it right on them. I've watched this guy in person and in warmups, and he'd sit there and flick the ball 75 yards. It looked almost effortless. You've got a healthy respect for seeing this guy in person, how he can throw the ball and the kind of talent he has. That's very, very impressive that he can truly make any throw he wants to. This guy has no limits on what he can do with his arm talent."
Q: The Chiefs have played in the last two Super Bowls. But they've lost two of their last three games and they're hearing nationally and locally, "What's wrong with the Chiefs?" Do you have to say to the players, "They're hearing how bad they are and they're looking to make amends Monday night on national television?"
Judge: "Our job is to make sure that we don't ever overlook or underestimate anybody. I think once you turn the tape on as a coach or player, you don't need anybody to remind you how talented and explosive they are. I mean, it jumps out all over the tape. There's been some games that they lost, but they made a ton of plays down the field. They made a lot of plays that were very, very productive. As you start looking at punt returns, one of the first things you notice is they don't punt very much."
Judge: "That's it - 12 times at this point in the season. They don't punt the ball a lot, so how much do you want to invest in that phase of the game? There are things like that you've got to estimate. They score a lot. They don't punt a lot. They move the ball. They have a very good kicker (Harrison Butker). They play on your side of the 50 a lot. You've got to be able to just stay committed and grind out through the game."
Q: Their defensive numbers are not great, but they have some notable players. (Linebacker Nick) Bolton is listed as a backup on the depth chart, and he's far and away their leading tackler.
Judge: "They have a lot of young, talented guys, but I think it really starts with guys like (safety) Tyrann Mathieu, (defensive tackle) Chris Jones and (defensive end) Frank Clark. These guys have been impact players in this league for a long time. You've got to understand who they are and how they play. These guys demand your attention within how you game plan against them, making sure that you have a healthy respect for how you approach them. I don't care what something may have looked like in a previous game. You have to expect everybody's best, and these guys are very, very talented." Single Game Tickets
A limited number of Giants 2021 single game tickets are on sale now