East Rutherford, NJ - John Mara is not considering the nuclear option as a response to the Giants' 7-9 season in 2013.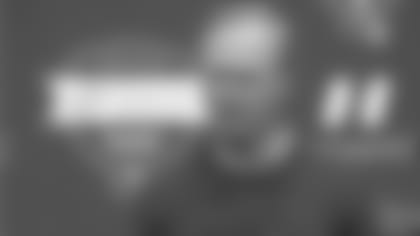 "I just don't think that merits cleaning house and blowing the whole thing up and bringing a whole new staff in here," Mara said today in a radio interview. "I just think in the long run that hurts you. There comes a time when you have to do that. I don't think this is the time. I think people just have to be patient and accept the fact that we had a lot of injuries this year and, yes, we have missed on some of our draft picks and some of our free agent acquisitions haven't worked out in the past year or two. But I still have a lot of confidence in our staff here and in our coaches and I think that we will get it turned around."
Mara stressed two themes in a 27-minute interview on New York station WFAN: the importance of improving an offense that finished 28th in the NFL in both yards gained and points scored and upgrading the talent on the roster.
"We obviously know what our task is going forward," Mara said. "We have to improve some of our personnel. We absolutely have to have a strong draft this year. I do like our 2013 draft class. I think those guys, particularly the first three players (Justin Pugh, who started every game at right tackle; defensive tackle Johnathan Hankins; and defensive end Damontre Moore), they are going to be very good players for us for a long time and we need to do that again. We've missed on a few guys of late, particularly in the middle rounds, and we need to do a better job of that. Everybody is aware of that here."
Mara was asked if the problems on offense were due to personnel, coaching, injuries or turnovers.
"I guess you could say it was all of the above," Mara said. "I think (general manager) Jerry Reese said that everybody has a different theory and probably everybody is right about it. Our offense certainly did not play well; it was not a great year for Eli (Manning). The offensive line had injuries and then injuries on top of injuries. The receivers didn't have a great year. Victor (Cruz) had a pretty good year, but the other guys really did not play up to what our expectations were of them. The running backs all got hurt. So it was a lot of different things. But I'm not hiding from anything. We're not blaming it all on injuries. There's no excuse for starting out 0-6. We know that we need to make improvements in our personnel, particularly on the offensive side of the ball, and that's going to be our goal going into next season."
Mara discussed several issues in the radio interview:
*On why the season was so disappointing to him:
"I said (in training camp) that I thought this was as talented a team as we've had in recent years, at least on paper," Mara said. "So it was very disappointing to start off 0-6 like that. Nobody saw that coming, least of all me. We were just never able to dig out of that hole. Obviously, we overvalued some of the personnel that we have here and we need to get some better players in here. But I certainly did not expect to start the season 0-6 and to turn the ball over so many times (an NFL-high 44 giveaways). And then I didn't anticipate the number of injuries that we had, which really was staggering."
Mara cited an annual study by Rick Gosselin of the Dallas Morning News on NFL injuries that showed the Giants had an NFL-high 91 games lost by starters because of injury. Indianapolis was second with 83.
"That's not an excuse for starting out 0-6, because there is no excuse for that," Mara said. "But it certainly had an effect on us and we were never able to quite dig out of it. But there's no question that we have to make some significant improvements in our personnel moving into next season."
*On whether former offensive coordinator Kevin Gilbride voluntarily retired last week or was forced to leave the organization:
"Well, he retired and fortunately it didn't come to any type of situation where he had to be forced out," Mara said. "Kevin did an outstanding job for this franchise and I told him that when he came to see me the other day. People have short memories; they forget that he called two Super Bowls for us. The most unpopular guy on any football team is always the offensive coordinator. It doesn't matter how much success you have, the minute things start to go bad, everybody jumps on him. They think the play calling is too conservative, too predictable or whatever the case. Again, people have short memories in regard to Kevin because he did a great job for us.
"But there's no question that our offense did not play well this year. Really, in a number of games (it) just put us in a hole that we could not climb out of. I think going forward, having a change is probably going to be good for us. But I don't want to diminish in any way what Kevin accomplished for this franchise because, as I told him when I saw him the other day, we would not have won two Super Bowls without him."
*On when a new offensive coordinator will be hired:
"I don't know that you'd see it this week," Mara said. "We are talking to at least four individuals and their names have been in the paper and there may be some more at some point. So I'm not sure how soon you'll see that."
On whether it's important adding new coaches with different ideas and approaches.* **
"I think there are times where you have to do that, yes," Mara said. "Nothing lasts forever. Teams adjust to what you're doing and sometimes you have to have some new ideas in there. I know (head coach) Tom (Coughlin) is thinking about that right now. He's interviewing offensive coordinator candidates right now along with Jerry, and I think that that is a good thing to do every once in a while."
*On players who have helped the team win one or two Super Bowls and have expiring contracts, notably defensive end Justin Tuck, who led the team with 11.0 sacks.
"Very tough decisions," Mara said. "It's the worst part about this business. Guys who have been great players and loyal players, you do have to make tough decisions and it's all about allocation of resources. You have only so much money under the (salary) cap that you can spend and if you spend too much on any one player, it limits your ability to improve your team in other areas. Obviously, we need some help on offense. But we'd love to have Justin back. It's going to have to be at the right number and that will get sorted out at some point during the offseason."
*On whether he considers Hakeem Nicks' subpar season an abberation or a cause for alarm?
"I think it's a little bit of both," Mara said. "He was a great player for us his first three years. This was not his best year, for sure, but I still think he could be a very good player in the National Football League, and hopefully, it'll be with us. But if it's not, then hopefully he'll do it for somebody else. It certainly was not his best year. He had a lot of company in that regard on the offensive side of the ball. I still think he's a quality NFL receiver, though."
On when he will have to start thinking about a potential successor to head coach Tom Coughlin:* **
"There will come a time when we have to look at that," Mara said. "I don't think the age (Coughlin will be 68 when the 2014 season opens) is so much a factor. I think we'll both know when it's time. He still has the energy of a much, much younger man and he still has the desire and the motivation to win. He wants to win as badly as anybody, he still works just as hard and I think the players still listen to him. I go to practice and I watch him and I watch how he teaches and I watch whether the players are playing attention or whether they're tuning him out. And I think he still has the ability to motivate them and teach them. That's something I've observed with my own eyes. Obviously, the results this year were not what we expected. I think we do need to make some adjustments, particularly with getting some better players in here at certain positions, namely the offensive line among others, and give him a chance to build on that and see what he can do. He's won before. He didn't all of a sudden forget how to coach, as some of my letter writers seem to think. The guy is still as good of a coach as there is out there. Let's see if we can help him by getting him some better personnel."
*On whether the Giants have the nucleus to rebound quickly next season:
"I think we have a lot of work to do, but in this league, you can go from last to first or first to last in one year," Mara said. "We've seen that over and over again with teams. You look at what Kansas City and Carolina, among others, did this year. There's no reason we can't be in contention next year if we make the right decisions in the offseason.
"For the Patriots to do what they have done, when they're in the playoffs every single year and making a run at the title, is just unbelievably impressive. We all strive to get to that level, but it's tough to get there. That's what our goal is. You're never happy when you're eliminated from the playoffs as early as we were. It's something that's going to sting the entire offseason. But again, we've got some good people here. We're going to get this thing turned around."