EAST RUTHERFORD, N.J. – Soon after the Giants ended the 2012 season without a postseason berth, John Mara said the Giants would be a better team in 2013. With training camp beginning tomorrow, the team's president and chief executive officer was asked today if he still believes that.
"I do," Mara said. "We signed a lot of players. We have a lot of guys on one-year deals who have a chance to reinvent themselves and reestablish their careers and they're going to be highly motivated, and I think we filled in some needs for ourselves. I think we had a good draft. So yeah, I'm excited about it. I think we have a very solid organization, a very solid team. Hopefully we'll stay healthy, and I think we can be as good as anybody."
Mara made his remarks to a small group of reporters following a news conference at which the Giants announced a new partnership with Quest Diagnostics, which includes the renaming of their office complex and practice facility as the Quest Diagnostics Training Center.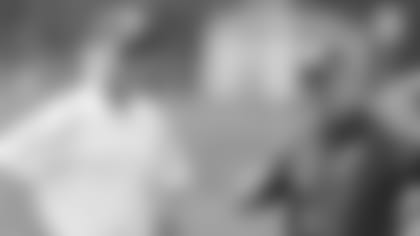 READ UPDATED JOHN MARA BIO](http://www.giants.com/team/staff/john-mara/15eb23ae-ef4f-4fb6-87f9-265a7cc8c5e4) 2012 Giants finished with a 9-7 record. That was the same mark the 2011 Giants had. The huge difference, however, was that the 2011 team won four playoff games, including Super Bowl XLVI, while last year they were eliminated from postseason consideration on the final day of the season.
Mara believes the new group compares favorably with the team that captured the Lombardi Trophy 18 months ago.
"I look at us on paper and I think we're every bit as good as that team, but there's a long way to go between the paper and proving it on the field," Mara said. "But we have enough talent to compete with anybody."
The Giants might also have some extra motivation, because Super Bowl XLVIII will be played MetLife Stadium on Feb. 2. No team has ever played in a Super Bowl on its home field.
"I would hope that's in the back of their minds," Mara said. "But I wouldn't think you'd need that to motivate you to play. There's enough motivation during every NFL season."
During the offseason the Giants added several veteran free agents, including tight end Brandon Myers; wide receiver Louis Murphy; defensive tackles Cullen Jenkins and Mike Patterson; linebackers Dan Connor, Aaron Curry and Kyle Bosworth; safety Ryan Mundy; and kickers Josh Brown and David Buehler, among others. Their first-round draft choice was offensive lineman Justin Pugh of Syracuse.
The Giants set out to beef up their offensive and defensive lines after the 2012 season.
"That certainly was a goal in the offseason and I think through the draft and through some of the free agent signings, we have accomplished that," Mara said. "But they're going to have to prove it on the field."
Many of the newcomers are working on one-year contracts. Mara disagrees with the premise the Giants limited the years on so many deals because they think their championship window with the current group of players is beginning to close.
"I don't look at it that way," Mara said. "Listen, winning in this league still comes down to drafting well and developing younger players, but you also have to fill in your needs in free agency. Sometimes you do that with one-year deals and it's been a successful model for us in the past and hopefully it will be again. But you have to draft well, and I think we've done that recently, But we'll see what this year's draft class does."
Mara is always optimistic prior to a season, largely because no matter how much the roster changes, the quarterback doesn't. Eli Manning returns for his 10th season, firmly established as one of the NFL's very best quarterbacks.
"We obviously have a quarterback in place who has won a couple of Super Bowls, who is in his prime," Mara said. "But he needs a little bit of help and we need to play better on defense and we need to play better up front and we think we've added some pieces that are going to allow us to do that. But I don't look at it like our window is closing and we better do something now. We're never going to change how we operate. We still focus on the draft and on adding free agents, be it short term or long term, that are going to help us.
"As long as he's behind center, yeah, we have a chance to win and compete. He's got to have some help and I think we have enough players to give him that help and we've put together what I think is a good team. It comes down, like it does every year, to staying healthy and guys playing up to their potential. We have a lot of players with a lot of pride in that locker room, and I think they're ready to get going and put last year behind them and play like Giants."