EAST RUTHERFORD, NJ - Given the increasingly intense rivalry between their two teams, it would be understandable if the relationship between Tom Coughlin and John Fox was chilly enough to freeze the Hudson River. Coughlin's Giants and Fox's Carolina Panthers – who meet in Sunday's season and New Meadowlands Stadium opener - have dealt each other memorably costly defeats in recent seasons, so no one would be surprised if these two highly successful coaches could scarcely stand in the same room together.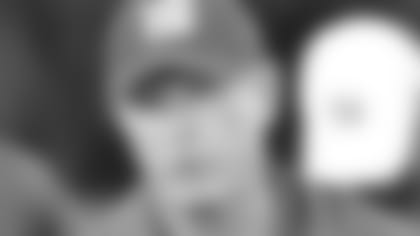 But there was Coughlin last May 16, navigating his way around and through tables at his Jay Fund Foundation dinner in Jacksonville so he and Fox could embrace and slap each other's back as they said hello. It's become an almost-annual rite of spring. Fox has attended several of Coughlin's dinners and while the two men admire each other as fierce competitors, they are also loyal friends who enjoy spending time together.
"First of all, I have such tremendous respect for John," said Coughlin, who seldom talks publicly about opposing coaches. "Everybody loves John Fox. When he comes to an event, he has fun. He enjoys people. He is sitting at a table with total strangers and when they leave that table they feel like they have known him all of their lives. He is knowledgeable in a lot of subjects. I heard him sitting at the breakfast table and he is commenting on whatever the sports news of the day is. They asked him, 'John, will you be on the radio show?' He said, 'Yeah, I'll be on the radio show.' He does everything. He contributes in every way that he possibly can. And he is there to help.  John certainly is a celebrity but when he comes he is your next door neighbor. He is there to support.  He bids on stuff.  He spends money. He does it all."
Fox's standard operating procedure at the Jay Fund dinner is to enter the large room where the silent auction items are displayed, approach the volunteers and ask, "What should I buy?" He's purchased any number of items, not because he needs a signed photograph or helmet or jersey, or a unique bottle of wine, but because he wants to do whatever he can to help Coughlin's foundation.
"His attitude is, 'Whatever you need, I'll sign up for it,'" Coughlin said. "That is what he does. But he is really wonderful. When he is not there, we miss him because of what he brings. He brings that vitality and that enthusiasm. He never asks for a thing. He is always there where he is supposed to be. People come away saying, 'Gee, that was fun. I really enjoyed being around John.'"
Why does Fox go the extra mile - and dollar - for someone with whom he has regular professional skirmishes, some that have left him suffering the infamous agony of defeat?
"First of all, Tom and Judy are wonderful people," Fox said of Mr. and Mrs. Coughlin. "My wife Robin and I have gotten to know them over the years and know their family.  We have a family and I think it is unique that Tom coached in Jacksonville, is no longer in Jacksonville and now he is the New York Giants head coach and he still supports the charity in Jacksonville. And you know somebody has a great passion for something in that scenario. I think the world of both Tom and Judy and the meaning this has for them and how he has been able to bring that from Boston College to Jacksonville and now it is in New York and he still supports this charity here in Jacksonville.
"Look, it's not like I'm coming from San Diego. I come from Charlotte, N.C. But I think I would come if I was in San Diego. I would come here anyway just because of what I think of he and Judy and what they are doing here."
Fox was the Giants' defensive coordinator from 1997-2001, predating Coughlin's arrival in East Rutherford. Since he became head coach of the Panthers, Carolina and the Giants have taken turns breaking each other's hearts. In December 2006, the Giants traveled to Charlotte and punctured the Panthers' playoff aspirations with a 27-13 victory. Two years later, the teams met in prime time in the penultimate game of the season with home field advantage throughout the NFC playoffs on the line. The Giants overcame an eight-point fourth-quarter deficit to win in overtime, 34-28.
But the Panthers pinned on the Giants two of the most disappointing defeats Coughlin suffered in Giants Stadium. On Jan. 8, 2006, Carolina shut out the home team, 23-0, in an NFC Wild Card playoff game. Last Dec. 27, the Giants' final appearance after 34 years in the stadium was ruined when Fox's team stormed to a 41-9 rout.
Certainly Coughlin and Fox well remember those clashes, the euphoria they felt in victory and the disappointment they endured on the losing end. One of them will walk off the field Sunday with a bitter taste in his mouth. So how can they go so hard at each other professionally in the fall and winter and come together as friends for a good cause in the spring?
"The thing about the competition – you put it aside for this," Coughlin said of the Jay Fund. "This is bigger than that, this is more important. This is something that we all strive to be able to do but unfortunately a lot of times – it takes a lot of time and patience to see these things come through. I think that everybody at this level wants to give back.  John does his own charity classic. And he does try to get around and help others, too. So that is where we leave that."
Coughlin founded the Jay Fund Foundation in Jacksonville in 1996 to honor the memory of Jay McGillis, a former player of his at Boston College who died at age 21 of leukemia on July 3, 1992. The reasoning behind the birth of the Jay Fund resonates with Fox.
"As coaches, we all have dealt, most of our lives, with raising other people's kids," Fox said. "Obviously, Jay McGillis had a great impact on him as a man, and probably on them as a family. And to see that support carry on is wonderful."
As younger coaches, Coughlin and Fox might not have been so amenable to putting aside their rivalry on the field to supporting each other in a social setting off of it. But Coughlin has coached for 42 years, 23 in the NFL. Fox has coached for 33 years, 22 in the league. They have learned to separate their professional and personal lives.
"I think the longer you are in this – it is very competitive, there is no question about that," Fox said. "That part never goes away. But aside from all of that there are still a lot of great human beings. There are wonderful people in sports, there are wonderful people in the National Football League and there are a lot wonderful head coaches. And I think Tom Coughlin is one of them."
The outcome on Sunday will not change that opinion.
*Rookie linebacker Phillip Dillard (hamstring) will not play Sunday. Cornerback Aaron Ross (foot), who practiced on a limited basis, is doubtful. Linebacker Gerris Wilkinson (groin) is questionable. He practiced fully. Center Shaun O'Hara (ankle/Achilles), defensive tackle Chris Canty (groin), cornerback Corey Webster (groin) and linebacker Chase Blackburn (knee) all practiced fully and are probable.
Three Panthers have been declared out of the game: running back Tyrell Sutton (shoulder), tackle Jeff Otah (knee) and linebacker Jordan Senn (ankle).
Ross said he has not given up on playing Sunday.
"I've been working hard to get back so I can be in the game on Sunday," Ross said. "I really don't know. I'm getting better and better every day. By now, I'm just leaving it up to the coaches and leaving it in their hands.
"I'll get to rest it tomorrow and Sunday. Hopefully I'll be ready."
Ross said he suffered the plantar fascia injury in the second quarter of the preseason game against Pittsburgh on Aug. 21.
"I really don't know what play, what happened," he said. "It felt like it was tight because of the blood. The blood was flowing too much to my toes. I cut off the tape, and that's when I realized it was my heel. Pretty painful.
"It wasn't the tape job. It was probably the way I planted. I just didn't feel it until I took the shoe off."
Asked if Ross will play Sunday, Coughlin said, "We'll give him every opportunity."
*The Giants' record on Kickoff Weekend is 48-32-5. The 48 victories is the third-highest opening day total in NFL history, behind Chicago and Green Bay (50 apiece).
*The Giants are 47-35-3 in home openers and 16-11 in season-opening home games. The 47 victories are the third-most in league history, behind Chicago (61) and Detroit (48).
*The Giants are opening at home for the third season in a row, the first time that's happened since they did it five years in a row from 1994-98. They defeated Washington in each of their two previous season-opening games. The Giants have never started three consecutive seasons with home victories.
*Coughlin is 9-5 in season openers, including 3-3 with the Giants.
*NFL franchises have had mixed results when they host stadium openers. The Giants will be the 21st NFL franchise since 1995 to open a new stadium (including Chicago, which began playing in a completely remodeled Soldier Field in 2003). The previous 20 franchises were 10-10 in their stadium openers. The Panthers were the visitors in one of those games, losing to Washington in FedEx Field, 19-13, on Sept. 14, 1997. Last year, the Giants defeated the Dallas Cowboys in the first regular season game in their new stadium, 33-31. Nine years ago today, the Giants were the first visitors in Denver's Invesco Field at Mile High. The Broncos won, 31-20.
*The Giants are 8-0 in their last eight September games. In those games, Eli Manning threw 11 touchdown passes and five interceptions. The Giants last lost in this month on Sept. 16, 2007, a 35-13 defeat to Green Bay.
*Special ceremonies will be held prior to the game and at halftime to commemorate the opening of the new stadium. Legendary Giants players will participate in both ceremonies.
Weather permitting, a parachute team from West Point will deliver the game ball to the field, where Hall of Famer and Giants legend Frank Gifford will receive it. There will also be a flyover by four F-16s by the 62nd Fighter Squadron from Luke Air Force base in Arizona.
On the day after the ninth anniversary of the 9/11 terrorist attacks, the Giants will honor the memory of those who perished. A huge United States flag in the shape of the USA will be unveiled on the field. Also, a flag rescued from Ground Zero will be presented during the national anthem by the New York Says Thank You Foundation. The flag was stitched back together in 2008 by tornado survivors in Greensburg, Kansas.
The halftime show will welcome Giants fans to their new stadium with a video highlighting previous Giants homes: the Polo Grounds, Yankee Stadium and Giants Stadium. A huge banner will be unveiled and Hall of Famer Harry Carson will offer a special thank you to Giants fans.