Jason Pierre-Paul knows how to fill up a stat line when it comes to playing the Dallas Cowboys, especially in their building.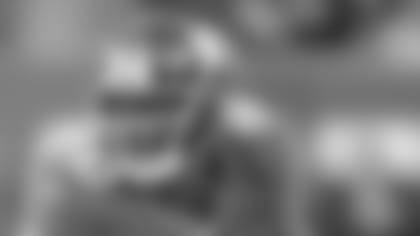 But the sheet everyone had their eyes on all week leading up – and even further back – was the inactives list. After the flight to Dallas, the treatments, and the warm-ups, the defensive end, however, was not on it. He was cleared to play in the 2013 season opener a little more than three months after undergoing back surgery to repair a herniated disc.
Sidelined during the preseason, the Pro-Bowl defensive end came off the bench in Sunday night's loss to Dallas and recorded the second of back-to-back sacks for the Giants midway through the fourth quarter. They were the only ones of the night for New York and forced the Cowboys to punt at the time, giving the ball back to the offense with the team down by six.
"I came through all right," said Pierre-Paul, who recorded a sack and returned an interception for a touchdown in his 2012 visit to AT&T Stadium. "I'm just trying to get better as the season goes. It felt like a preseason game for me. I haven't been out there for three months, and just getting the feel for a football game, it meant a lot. So I didn't do as well as I thought I would do, but through it all, I still was capable to produce something."
The Giants were unable to capitalize on the plays, but the acclimation of Pierre-Paul back to NFL action bodes well for their chances in the future.
They will need all of their playmakers when Peyton Manning and the Denver Broncos visit MetLife Stadium in Week 2, fresh off their 49-27 victory over the defending Super Bowl champion Baltimore Ravens.
By now everyone has heard or seen the news of Eli's older brother throwing for seven touchdowns in the game.
"My body is a little bit sore right now, but I'll be OK," Pierre-Paul said. "I'll take care of it, and the only thing now is to move on. We've got Peyton Manning coming in next weekend. That's going to be a big one. This was a big game, but that will be a big one, too... If we don't correct the stuff that we made mistakes on, he will embarrass us."