EAST RUTHERFORD, N.J. –** Victor Cruz and Jason Pierre-Paul both participated in the Giants' Labor Day practice, and afterward the former expressed confidence he will play in the season opener Sunday night in Dallas, while the latter was non-committal.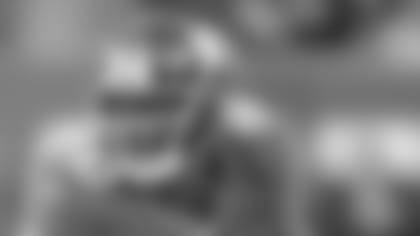 View Unofficial Depth Chart "As of right now, if everything continues to feel good in the morning and doesn't swell up on me or anything crazy, I'll be good to go," Cruz said.
"I feel good, (but) we're not there," Pierre-Paul said. "Ran off tired. I was completely tired. I wasn't like I expected to be my first day out there, but I feel great."
Later, regarding the Dallas game, JPP said, "I don't know. I'm going against one of the best players in the league, (Will) Beatty; he gets me good. It all depends if I can take on a double team, if I'm ready for that. It's only been the first day so we'll see how it goes. We have a whole week ahead of us."
Cruz practiced for the first time since suffering a heel contusion on Aug. 18 in a preseason game vs. Indianapolis.
"It was good to see, obviously, Victor work," coach Tom Coughlin said. "He felt good.
"He took as many reps as was planned for him to take. Usually when they first come back, that word (limited) appears anyway. Limited, but it looked to me like he took probably half, maybe more."
Pierre-Paul is still working his way back from June 4 surgery to repair a herniated disk in his lower back. He began practicing a week ago after spending training camp on the physically unable to perform list.
Asked about Pierre-Paul, Coughlin said, "He practiced pretty well. We'll see. They obviously have a ways to go there. He's got to practice. Practice every day. Put the uniform on. Play in the pads. See how he feels the next morning. Those are the things that he has to go through.
"(Conditioning) is one of the things we tried to work with today and I think his bursts were good. Now how many of them? I can't tell you that, but in a short practice like that, it was well spirited and he matched up well and he did what I was worried he would do. There's no pads on and he's coming like he's got them on. So that's a good sign."
But when pressed about Cruz's and Pierre-Paul's availability for the Dallas game, Coughlin gave his customary answer: "We'll see."
Cruz, whose only preseason reception was a 57-yard touchdown against Pittsburgh, is pleased with his progress.
"I'm a little ahead," he said. "They were predicting a couple more weeks, but I was diligent in the treatment room and at home, doing the things I needed to do. Icing it and getting ready and things like that. I'm pretty much ahead of schedule and I'm happy about that.
"My main concern was those hard breaking routes, curls and really digging my foot into the ground. I ran a couple of those and it didn't feel bad at all and it felt good to get out of them. Made a curl catch and got a little bit of a burst out of it, so it felt good."
Barring a setback, the Giants should have all their receivers, including Hakeem Nicks and Cruz, available to take on the Cowboys.
"It's good to have all your weapons out there and one of your top receivers," Eli Manning said, "so it's good to get him back running around and I'm excited that he will be back for this opening game."
*Tight end Adrien Robinson has a foot injury that will sideline him for an undetermined time period.
"He's going to be a while," Coughlin said. "I'm not giving you (a timetable). He's got a sore foot, so we'll see. Those things usually are very unpredictable anyways. Hopefully, he'll get back as fast as he can because he needs to."