JERSEY CITY, NJ – Giants DE Justin Tuck and Jets S Erik Coleman may not normally be considered teammates, but that didn't prevent them from teaming up to do something wonderful for the Boys and Girls Club of Hudson County on Tuesday. The two NFL stars made a visit to Newport Centre in Jersey City, NJ, to sign autographs for holiday shoppers who were willing to donate a new, unwrapped toy to the cause.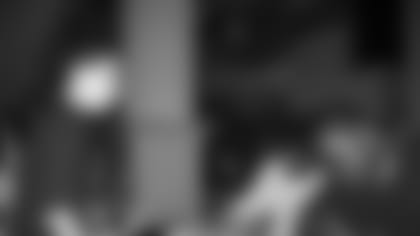 Giants DE Justin Tuck joined Jets S Erik Coleman to sign autographs for anyone who donated a toy for the Boys and Girls Club of Hudson County.
The Keystoners, high school age students who are part of The Boys and Girls Club program, were on-hand to help collect the more than 100 toys that were donated, making it a special day for football fans, shoppers, and the eventual recipients of the toys.
About The Boys and Girls Clubs of Hudson County
By reaching children at an early age and providing positive activities and encouragement, B&G Clubs provide a compelling alternative to youth crime, gang membership, drugs, and other negative influences that effect our youth today. B&G Club programs promote the development of young people by instilling a sense of competence, usefulness, influence and belonging. When this strategy is fully implemented, self-esteem is enhanced and an environment is created which helps our members achieve their full potential. Please visit www.bgchc.org for more information. ](http://www.jointheteam.com/)