LANDOVER, MD- Justin Tuck entered the Giants' game here Sunday night with 3.5 sacks in his last 18 games dating back to last season. He topped that total in one half, a sackfest that keyed a dominant defensive performance which helped the Giants overcome an early two-touchdown deficit and defeat the Washington Redskins, 24-17, in FedExField.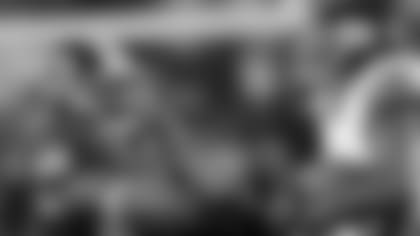 View Gameday Photo Gallery](http://www.giants.com/photos/photos/Game-Photos-Giants-vs-Redskins/dd0e49e3-433b-4494-a983-8d3c7b9cffc7)
Tuck had a career-high 4.0 second-half sacks of the normally-elusive Robert Griffin III. But in the postgame locker room, the nine-year veteran and defensive captain wouldn't say if it was the best of his 123 career regular-season games.
"Honestly, sometimes sacks can be misleading," Tuck said. "I've had games where I feel like I should have had 10 sacks. I only feel like I should have had four tonight. It goes up as one of the more memorable games I've played, because it was a game that we needed. We were down 14-0 and this team continued to fight and be resilient and fight back. In that way, considering that we really needed a big performance out of somebody tonight, it is definitely going to be one of those memorable football games for me."
The Giants won for the fifth time in six games and improved to 5-7. Several Giants played key roles – Andre Brown scored two touchdowns, Eli Manning completed 78.6 percent of his passes and Jon Beason was credited with 17 tackles. But Tuck was the catalyst.
"That was fun to see Justin get four sacks and getting back there and causing some issues," Manning said. "And getting some sacks on first and second down, get them into some third-and-longs and some big plays. It was fun to see our defense rally and play really well in the second half."
Just as baseball hitters get on hot streaks, basketball shooters sometimes can't seem to miss and quarterbacks complete almost every pass, Tuck got in a groove – a sack groove.
"Everybody gets in the zone," he said. "It seems like every rush you start seeing the offensive lineman better and what they're trying to do to you, hand placement is better and things like that. Tonight was one of those nights where everything I countered with seemed to be the right counter. A lot of times that's just the unconsciousness. A lot of time, you come off and get a sack and people will be like, 'What did you beat him with?' And I'll say, 'I don't know.' That's fun. When you get in a groove like that it's fun to go out and play the game."
His teammates and coaches enjoyed watching him. After Cullen Jenkins picked up the first of the Giants' season-high five sacks, Tuck began tormenting Griffin. He sacked Washington's dynamic second-year quarterback for an eight-yard loss late in the third quarter, added sacks of three and seven yards on the Redskins' first possession of the fourth quarter and finished with another three-yarder on the next Washington series.
Griffin completed his first 12 passes, but by the middle of the fourth quarter he had one eye downfield and the other on Tuck lookout."(Tuck) is the guy that when we refer to the number of sacks that we've missed where the quarterback has escaped on us, Justin has been a guy in that circumstance," coach Tom Coughlin said. "But you just keep coming. That's the whole thing about playing hard and knowing what you're in for and you just keep coming. Early on, we didn't have much pressure on the quarterback. He stood back there and did what he wanted to do and then we eventually started to get some pressure. When that pressure came, the quarterback tried to pull it down and run, Justin was there."
Tuck's feat was even more impressive considering the Giants' other starting end, two-time Pro Bowler Jason Pierre-Paul, was inactive with a shoulder injury. Presumably, that meant Washington could focus its blocking schemes on Tuck. If that was the plan, it didn't work.
"We just kept fighting," said Mathias Kiwanuka, who started for JPP. "That's a credit to the guys that we have here, the guys that we brought in. Things weren't going well, but we knew that we were going to be in for a battle, we knew that they were going to come out with something that we hadn't seen before and that we would get it corrected. The coaches did that. We just kept fighting and then the offense just started clicking. It was a team effort so I'm just happy about getting the win."
In many ways, Tuck has personified the team, because he fought through some tough times. He had just 2.5 sacks in the first 11 games and some reporters and message board devotees speculated that his best days were behind him. It's a premise his teammates disagree with.
"If you watch the film, he's there on almost everybody else's sacks throughout the season," Kiwanuka said. "The only thing I've been telling him is that it's been a long time coming. But he's back and he got the sacks that he finally deserves. I'm happy for him and happy that we got a win in the game that he had a breakout game in."
Tuck was a big part of the defense that gets much of the credit for that. After the Redskins jumped out to a 14-0 lead, the Giants limited them to a field goal the rest of the way. The defense held Alfred Morris, the NFL's third-leading rusher, to 26 yards on 11 carries (including a one-yard touchdown). Pierre Garcon, whose 75 receptions was the league's second-highest total entering the game, caught nine passes – for only 61 yards. In the third quarter, Washington took possession at the Giants' 12-yard line after Brandon Meriweather intercepted a Manning pass. But the Redskins gained just two yards, forcing Kai Forbath to kick a 33-yard field goal. Because of that, the Giants were able to take the lead on Brown's second touchdown, early in the fourth quarter.
"It was huge," Beason said of the defensive stand. "Any time you can stop a team off a turnover, it's demoralizing."
No one did more to drain Washington's faith than Tuck. This was the sixth time in Giants history a player had at least 4.0 sacks in a game. Osi Umenyiora had a team-record 6.0 sacks vs. Philadelphia on Sept. 30, 2007. Linebacker Pepper Johnson had 4.5 at Tampa Bay on Nov. 24, 1991. Hall of Famer Lawrence Taylor twice had 4.0 sacks in a game (Sept. 23, 1984 vs. Tampa Bay and Oct. 12, 1986 vs. Philadelphia) and Michael Strahan did it once (Oct. 14, 2001 at St. Louis). Sunday night, Tuck joined some very good company and perhaps quieted the chatter that his game has regressed.
"Hopefully after tonight, they see that I can play the game at a high level," Tuck said. "Like I always tell you all, I do not care what other people say. As long as those (52) people (in our locker room) understand that I pour my heart and soul in this team every week, the most important thing is going out there and getting wins."
They got one Sunday night and Tuck deserves a lot of credit for that.