Like every fan, Graham Gano looked at potential targets for the Giants leading up to last month's draft.
Kayvon Thibodeaux's name kept coming up … and so did his number.
"I was like, man, I guarantee if we draft him, he's going to want my number," the kicker said during a phone interview on Tuesday morning.
When the Giants selected the edge rusher out of Oregon fifth overall, Gano, who wore No. 5 during a pair of record-setting seasons with the Giants, put his arms up and said, "Well, here we go." Soon after, Gano got a call from Giants director of football communications Dion Dargin, who was with Thibodeaux.
"It was expected for sure," Gano said.
The veteran of 174 NFL games, including a Super Bowl appearance, wasn't surprised by all the attention it received, especially after the incoming rookie in his introductory press conference talked about all the "zeroes" it would cost to buy the number. Gano had some fun with it publicly, but in private, his attention immediately turned to how he could be a good teammate and citizen.
The number swap led to a $50,000 donation from Thibodeaux to Puppies Behind Bars, which provides service dogs for wounded war veterans and first responders, in addition to explosive-detection canines for law enforcement.
"When he said he was willing to give to that, I can be No. 9 and maybe in 10-15 years when he retires and I'm still kicking, I can get No. 5 back," joked the 35-year-old Gano, who also wore No. 9 during his Pro Bowl run in Carolina. "The opportunity to give to something is exciting, and the number is obviously very special to Kayvon. While it is special to me as well, there's a whole lot of meaning in that No. 5 to him. I just wanted to be a good teammate and also be able to support others throughout the whole process."
Gano and his wife, Brittany, first got the idea during a Giants home game in which a service dog was presented to a soldier during a timeout. Gano comes from a rich military tradition that runs through his family. His father, Mark, served in the U.S. Navy for 30 years, and he has numerous other siblings and relatives in the military.
"So I've seen the sacrifices that are made in those families," Gano said, "and also the traumatic events that happen that take a toll on some people's lives."
The healing in Puppies Behind Bars also happens on the other end as the dogs are trained by incarcerated individuals. The puppies enter prison at the age of 8 weeks and live with their incarcerated puppy-raisers for approximately 24 months. According to its mission statement, as the puppies "mature into well-loved, well-behaved dogs, their raisers learn what it means to contribute to society rather than take from it. PBB programs bring the love and healing of dogs to hundreds of individuals every year. The dogs bring hope and pride to their raisers, and independence and security to those they serve."
"I feel like it was where the money that Kayvon was donating would be able to make the largest impact and help the most people throughout him giving that money," Gano said. "The whole idea behind the number five being special to myself and being special to Kayvon was being able to help five people get the five dogs and be able to make an impact in five people's lives for the better. That was the whole goal behind that. I'm really excited about it."
While Gano doesn't characterize himself as the stereotypical kicker bound by superstition – "It doesn't matter what number you throw on me" – it still was not easy to part with No. 5.
Gano wanted his number to have meaning when he signed with the Giants on Aug. 19, 2020. At the time, it had been more than 20 months since he last kicked in a regular-season game. Gano missed the final four games of 2018, his seventh year with the Panthers and 10th in the NFL, and the entire 2019 season because of injuries to his left plant leg.
His family, which includes five children (Bryson, Ryder, Kayden, Riley, and Brynlee) ranging from 10 years old to twins under the age of 3, kept him going through that time.
"It was kind of a second chance at football after I had my bad injury in Carolina," Gano said. "The Giants gave me another chance, and I was able to continue playing the game. And my kids had another opportunity to watch their dad play, so I wanted to honor them and remember them while I was away from my family up there."
The number served him – and the Giants – well.
In just two years with the team, Gano set franchise records in consecutive made field goals (37) and career 50-yarders (12). Now he hands it off to Thibodeaux, who wore the number when he became the first-ever defensive player to earn unanimous All-America status in Oregon history.
But No. 9 will do just fine. Brittany Gano wore it as a star softball player at Florida State, and the number carries special meaning on her side of the family.
"She's probably the better athlete of us two," said Gano, who won the Lou Groza Award as the nation's top kicker while wearing his "assigned" No. 43 on the Seminoles football team.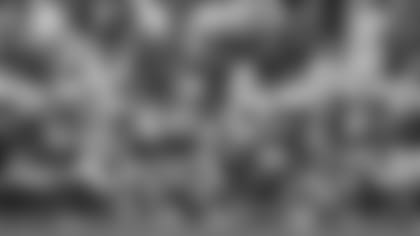 The number was also worn by postseason hero (and fellow Scotsman born on a military base) Lawrence Tynes.
"He had texted me about it," Gano said. "I've known Tynesy for a long time and our paths are extremely similar. He was asking me what it took to get the number because I think everyone saw Kayvon's press conference. … We get to play a kid's game for a living, and it's an honor to be able to wear that uniform, no matter what number is on it. I'm just thankful to have the opportunity. I'm definitely excited to be wearing nine again, but at the end of the day, almost having football taken away from me for a long period of time and potentially my career at one point, I'm just thankful to be playing the game."
On Thibodeaux, Gano added, "As NFL players, we've been given such a great platform to make a difference in the community. There are so many people, kids and families, that look up to us as professional football players that whenever you're given an opportunity to make a difference, I feel like you have to jump on it and make the most of it. I also understand this job won't last forever, so I want to make sure we're making the most out of it while we can and also teach these younger guys that it is a privilege to be able to play in the NFL. At the same time, whenever you have a chance to give back, make sure you take full advantage of it and make a positive impact in other people's lives as well."
View the jersey numbers for all 11 members of the Giants' 2022 draft class.