EAST RUTHERFORD, NJ - What did Giants linebacker Keith Bulluck think when his former teammate at Syracuse, Donovan McNabb, was traded from the Philadelphia Eagles to the Washington Redskins?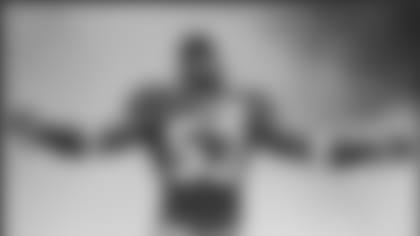 "Oh (word that cannot be repeated here)," Bulluck said.
How about Tom Coughlin – another Syracuse alum - who saw a six-time Pro Bowl quarterback move from one NFC East team to another.
"My thoughts can't be expressed at this time," Coughlin said.
Yes, the Giants had a visceral reaction to McNabb's switch from Eagles green to Redskins burgundy and gold. On Sunday, they will face him for the first time since the trade – which was announced on Easter – when the Redskins (5-6) face the Giants (7-4) in New Meadowlands Stadium.
McNabb is wearing different colors now, but to the Giants he is the same dangerous quarterback that gave them fits so many times in the past. McNabb still possesses an extraordinarily strong throwing arm and the ability to make plays with his feet.
"He looks like the same Donovan McNabb to me," said defensive tackle Chris Canty, who has played his entire six-year career in the NFC East. "You can see he still has those leadership qualities. He still has the ability to extend those plays with his legs. When he runs, he always has his head downfield until the very last moment because he's looking to make the big play. He breaks down the defense, he's looking to make the big play downfield, especially with what they like to do - a lot of their bootlegs, get him on the edge, get opportunities to put defenses in tough situations where they have to defend run-pass options. He's just a tremendously talented player obviously. With their scheme, they try to build on his talents and what he likes to do. So it's tough."
"They still run bootlegs with him, he's still dangerous with his legs," defensive end Justin Tuck said. "He's not running as much as he used to, but it's there. We're going to approach him the same way. The only thing different about him now is he's in a different uniform. He's still the same great player he was when he was in Philly. He's going to know this defense and he knows us as a team. He has had some success against us, and we have had some success against him. It's going to come down to who plays the best as a football team. We're not going to make it a McNabb/individual type thing. We have to play well as a team."
Aside from the new colors, the big difference for McNabb is that he is playing in a different offensive system, one designed by new Washington Coach Mike Shanahan and not Philadelphia's Andy Reid.
McNabb's numbers aren't what he'd like them to be. His completion percentage of 57.8 is 28th in the NFL, his passer rating of 76.0 is 27th and he has thrown more interceptions (13) than touchdown passes (11). But McNabb has also had some very productive games, passing for 426 yards against Houston, 357 vs. Green Bay and 376 two weeks ago in a victory at Tennessee. The Redskins are a game under .500, but they have beaten division leaders Philadelphia and Chicago (both on the road) and playoff contenders Green Bay and Tennessee.
"Obviously, it's a different offensive system for him," defensive coordinator Perry Fewell said. "I still see the savvy veteran quarterback that has a strong arm and he's able to break you down. If he wants to scramble, then he can look all over the field and throw the ball from one side of the field to the other. I see the veteran leader as a quarterback, and he's willing to carry his football team if he has to. I see nothing different from Donovan himself except it's not the offense that he's been comfortable with for a number of years."
That offense helped him enjoy a lot of success against the Giants. Since 2001, McNabb's record vs. the Giants is 11-4 (.733), including the playoffs. In his career, he has thrown 25 touchdown passes and only six interceptions vs. the Giants. McNabb has a personal four-game winning streak against the Giants and his passer rating was above 100.0 in each of the last two games.
Because of numbers like those, the Giants would have preferred the Eagles to trade McNabb to a team in another division – or perhaps a different league.
"I couldn't believe that Philly would trade him within the division, but it seems as if it's working out for both teams," Bulluck said. "It's just like one of those things that when it happens you don't understand it because we're all on the outside looking in, and only those people who make that decision can really fully understand it. It just seems to be working out for Philly now because they're winning, but I'm sure it would be different headlines if they weren't."
When the weather gets cold at this time of year, McNabb usually heats up. He has a career record of 22-9 in regular season games in December and January. In regular season games in those two months, McNabb has thrown 50 touchdown passes and only 23 interceptions. His career passer rating is 85.7. After November, it's 88.9.
"Donovan has plenty left," Bulluck said. "I know he's hampered with injuries and whatnot so that's to our benefit, but a healthy Donovan McNabb has plenty left. He makes people around him better. So we definitely have to be on our P's and Q's and we're going to be ready though. It really doesn't matter who we're playing this week. We know what's at stake, and we know what we have to do as a team. So we're going to be ready."
For as much as McNabb has accomplished in uniform, Bulluck admires his former college teammate just as much for how he has carried himself out of uniform. When he was in Philadelphia, McNabb was often the target of virulent criticism, which began the day he was drafted. But McNabb never expressed bitterness or anger, nor did he let it affect his performance on the field.
"He's an ultimate pro in that sense, for sure," Bulluck said. "As much as he's been attacked personally - as a professional football player, as a quarterback - I think it's probably been more than any player that I've seen in my time playing. So I think that his positive energy and his approach to the game is really what does it. The best thing I can say is he's just a professional, because I know a lot of guys that if they took verbal shots and jabs and everything that Donovan receives, they probably would have a different reaction toward it. I actually have asked him about it, and I just commend him for how he handles it."
Bulluck and McNabb remain close friends who have helped each other navigate tough circumstances, such as overcoming serious injuries like Bulluck's torn knee ligament last year.
"We train every year, every offseason, together," Bulluck said. "He was a big, mental part for me this offseason. Him being through ACL surgery, and May and June and July I was out in Arizona training with him and some other guys. So times that I was down and I didn't know what was going on as far as my health, he was definitely there to be a motivator and lend a helping hand."
That friendship will be set aside for three hours on Sunday because the Giants need to stop McNabb and win a crucial football game.
"We can't afford to lose anymore, especially within the conference," Bulluck said. "We can't afford to lose any conference games, and there are five weeks left in the season and there's no guarantee that we're in the playoffs. So we're definitely jockeying for position, and the best thing we can do for ourselves as a team is go out and win on Sunday."
*Wide receiver Hakeem Nicks reiterated today that he hopes to return to action next week in Minnesota. Nicks underwent a fasciotomy last week to relieve pressure caused by compartment syndrome in his lower leg.
Nicks hopes to run Monday and practice Wednesday. But he must first get his stitches removed. Asked when that will occur, Nicks said, "Hopefully Sunday, if they let me come to the game."
The Giants' other injured starting wide receiver, Steve Smith, said he is unsure if he will play in Minnesota. "I don't know – it's day-to-day," said Smith, who has a partial pectoral tear.
*One of the Redskins' most explosive players is rookie Brandon Banks, their kickoff and punt returner. He is averaging 11.3 yards on punt returns and 27.0 yards on kickoff returns, including a 96-yard touchdown.
"(He's been) running past everybody," Coughlin said. "Going toward the end zone faster than I would like to comment on. They count on field position with him. They had one called back last week when they had the lead in the fourth quarter. He's done a nice job."
The Giants are third in the NFL in kickoff coverage (holding opponents to an average return of 19.9 yards). But they have yet to see Banks.
"Since I came into this league – I played with Dante Hall – it seems like since '04, every team has a returner," kicker Lawrence Tynes said. "The last couple years in this division, you have Dez Bryant and DeSean Jackson. Jackson doesn't do kickoffs but Ellis Hobbs is really good. This kid (Banks) is very, very explosive. We recognize how good he is. I still think we're going to kick the ball to him and we're pretty good at what we do, too. We're top three in the NFL in covering kicks, so it'll be a big challenge and a big part of the game. We're going to have to do a really good job."
*Four Giants have been declared out of the Washington game: Shaun O'Hara (foot), Shawn Andrews (back), Will Blackmon (chest) and Nicks. David Diehl (hip/hamstring) and Smith are doubtful.
Osi Umenyiora (knee), Aaron Ross (back) and Brian Jackson (hand) are probable.
For Washington, safety LeRon Landry (Achilles) and cornerback Carlos Rogers (hamstring) are out.
The Redskins listed 14 players as questionable, including Banks, running back Ryan Torain (hamstring) and defensive lineman Albert Haynesworth (illness).
*The Giants, FedEx and New York Cares will host their 13th annual Coat Drive on Sunday, when the Giants host the Washington Redskins at New Meadowlands Stadium. Fans are encouraged to donate their gently worn coats by bringing them to any of the FedEx trucks and volunteers located at each stadium entrance prior to the game. New York Cares is a non-profit organization that helps warm thousands of men, women and children by providing winter coats to homeless shelters, community organizations, centers for battered women, and agencies serving senior citizens across the metropolitan area.