EAST RUTHERFORD, N.J. –** It seems easy to conclude how the Giants' offense will attack the Carolina Panthers Sunday in Charlotte. The Giants are first in the NFL in passing yards (390.5) and last in rushing (36.5). The Panthers have an injury-depleted secondary and sturdy front seven.
So the Giants will play to both their strength and Carolina's weakness and pass the ball, correct?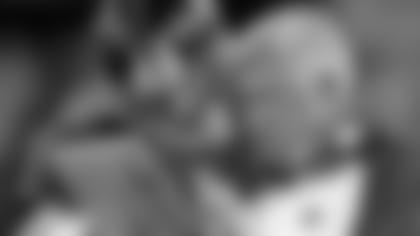 "You're better off when you can do both and when you can dictate to them that we want to run now and when they react to that, it opens up some passing game opportunities down the field," Gilbride said. "It makes your protection easier and everything else. So you'd love to have it, but you've got to play the game as it comes, as it unfolds, and if you're not doing something very well, then you've got to try to take advantage of the thing that is a matchup maybe in your favor. We're definitely going to make an effort to run. We're definitely going to do whatever we can to be as balanced as we can, but most importantly of all, we'll try to win the game."
The standard philosophy in offensive football is that a team will use the run to set up a pass. But Gilbride said he, and has, reversed the equation.
"Many times," he said. "We're just not as in synch right now as we need to be between all the different positions up front and you have a new running back (David Wilson) who's struggling on some of his reads as well. It's a combination, as it always is. It's never just one thing, but it's not good enough, obviously."
Behind Wilson the Giants have Brandon Jacobs, re-signed last week, Da'Rel Scott and rookie Michael Cox. Andre Brown remains sidelined with a fracture in his left leg.
"I think every running back is a little different and you've got to try to find the niche for him and the things that he can do well," Gilbride said. "We lost Andre, which would have been a guy that would have complemented David, and now you're trying to find somebody else that can complement him and then allow him to do the things that he does most easily or most successfully. But in order for that to happen, he's got to make the right decisions, the line has got to block better, the tight ends have got to block better, it's got to be called at the right time. We're all responsible for it; the coaches, players alike. So it's not one area. You wish it was just one thing. Oh good, we'll fix that. It's all better. But it just doesn't work that way."
Like it does with all teams, the Giants' running game begins with the offensive line, whose members have said they must play better.
"I think it's one of those things where all five of us have to execute," left guard Kevin Boothe said. "It's not like other positions where you can get an outstanding play by one player and it kind of masks the other things. We all have to work together in unison and all be successful in order for the ground game to work. For whatever reason, we haven't been as successful, obviously through the first two games. But we're a confident group and we saw a lot of good things out there. We're confident that we will do better."
"I think I see us getting a little bit better each week," Coughlin said. "Is that fast enough? Of course not, but I do see progress. The more the communication goes, the better off we are. You say veteran, but take a look at the snaps and the amount of practice time that (center) David Baas has had, for example. That's almost like moving a new guy in, too, until he gets to where he feels good about it.  I see a little progress every week."
The Giants have two sacks in two games, both in the opener at Dallas. Perry Fewell said that is partly the result of opposing quarterbacks quickly releasing the ball.
"I think the ball is really coming out fast," Fewell said. "If you look at yards per catch right now, it's under seven yards a catch. The ball is really coming out quick. So you can pressure, but if the ball is coming out fast, you're negating the pressure part of it and sometimes we've been pressuring and we've gotten there and we've haven't gotten there. We missed a couple of opportunities the other day. We're working to try to fix that aspect of our defense right now. We feel like if we can fix that aspect then we can definitely get off the field now and not be on the field as much"
Fewell is impressed with Carolina quarterback Cam Newton, who last year against the Giants completed 19 of 33 passes for 242 yards, but threw three interceptions.
"I think he just gets better as the weeks go on," Fewell said. "It seems like he's somewhat of a slow starter. I know we watched him the last four games last year and he was on fire. I'm saying wow. That's a good offense. That's a good football team. Man, that quarterback is really growing and it just seems like as the weeks progress throughout the season, he gets better and better and better."
Four players joined David Diehl on the Giants "did not practice" list: cornerback Corey Webster (hip), guard Brandon Mosley (back), quarterback Ryan Nassib (ankle) and tight end Adrien Robinson. Webster is the only one of those five players who would likely play on Sunday.