EAST RUTHERFORD, N.J. –** The Giants were shutout last week, they're last in the NFL in rushing yardage, first in turnovers and they've struggled to keep Eli Manning on his feet. So yes, offensive coordinator Kevin Gilbride said today in response to a reporter's query, this is as difficult a stretch as he's had in his 10 seasons with the team.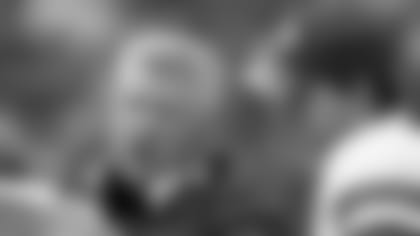 View the best photos from practice "There's no question," Gilbride said. "We went through a tough time our first year here when we made the decision to depart the Kurt Warner era and go into the Eli Manning era. You understood there was going to be some growth and some growing pains and there were. Now it's not the quarterback position, but it's some other spots, in the backs and in the line, you're going through some growing pains as well. It's never pleasant, but the good thing is we're working at it and I think no one has quit and they've hung together. They're doing all of those things right and you hope it pays off."
It hasn't thus far. The Giants lost their first three games, including the forgettable 38-0 defeat last Sunday against the Panthers in Charlotte. Now the Giants, who are 27th in the league in scoring (18 points a game), are preparing to face a Kansas City Chiefs defense that is tied for second in points allowed (11.3 a game).
Gilbride was asked if he is considering using a faster-paced attack to jumpstart the offense.
"We went into (the Carolina) game thinking that we needed to be more balance because of the turnovers and that wasn't as successful as we would've liked it to be," Gilbride said. "That first half was probably about as low as you can be. We went to the two-minute and we moved the ball, but we still didn't put any points on the board. We'll try to do whatever we can to galvanize this group and give them a chance and the big thing is can you intellectually handle the scheme, the schematic challenges that are inherent in their defensive approach, which is quite significant."
The Chiefs have a new defensive coordinator in Bob Sutton, with whom Gilbride is familiar because he spent the previous 13 seasons with the Jets.
"There are a lot of similarities (between the Jets' and Chiefs defenses)," Gilbride said. "It's funny. When you get a system, everybody's personality influences the final expression of what that offensive or defensive scheme might be, but there's no question it's rooted in that system. Just like the Jets, they do a terrific job of going to some odd spacing and give you some unusual, exotic blitzes and blitz packages. If you're not on your toes, they can make life difficult for you."
That's not what the Giants need after their disappointing performance against the Panthers.
"No matter what we tried to do, we couldn't get on track, we couldn't get started," Gilbride said. "The previous weeks, I think we came away saying we have a decent team here, we can do some things, we just need to slow down the turnovers. This past week, this was a different type of game. We were outplayed and we're disappointed with the way we played and we thought, we knew, they certainly had a quality front and we would be challenged by it, but we thought we would do better than we did. There's no question about that."
*Perry Fewell, who has been the Giants' defensive coordinator since 2010, was asked pretty much the same question that was directed at Gilbride: is this the toughest stretch he's been through?
"We've had some tough stretches," Fewell said. "Right now, as a team, we're not playing good team football, so it's tougher that way. We normally complement each other and when we start complementing each other, the offense, defense and special teams, then we'll play better football."
Fewell said he's seen improvement in defensive end Jason Pierre-Paul, who missed training camp after undergoing back surgery on June 4.
"Over the last couple of weeks I've observed that he's getting in better condition and that's a testament to guys talking about preseason games and why do you play preseason games, etcetera," Fewell said. "This is his third contest and so you can see his conditioning level get better and better. He's taking more reps in practice each day and so he's starting to get into his groove a little bit. So I've seen him improve each day and just listening and hearing defenses called and executing the defensive calls without having to think so much in these last three weeks. He's getting more comfortable as a football player again."
Rookie Damontre Moore has yet to make an impact, in part because of a shoulder injury that sidelined him for almost a month. Fewell hopes to get Moore more involved.
"I think his absence with his preseason injury put him behind a little bit," Fewell said. "We're trying to slowly integrate him back into the fold. When I say 'slowly integrate,' we're trying to get him more reps in practice, so he understands the calls, so he knows exactly what we're doing. We're trying to bring him back to the fold to help us in that respect."
Two additional Giants did not practice today, bringing to seven the total of players who did not work. Cornerback Terrell Thomas (knee) and defensive end Justin Trattou (ankle) sat out. Tom Coughlin said yesterday Thomas' workload would be cutback to reduce the stress on his knee, which was surgically repaired each of the previous two years.
Also sitting out were center David Baas (neck), guard Chris Snee (hip), cornerback Corey Webster (hip), linebacker Jacquian Williams (knee) and tight end Adrien Robinson (foot). Regarding Williams, Coughlin said, "Supposedly he's going to be able to practice tomorrow."
Three players were limited: offensive lineman David Diehl (thumb), linebacker Spencer Paysinger (hip) and safety Cooper Taylor (shoulder). Asked if Diehl will be able to play Sunday and provide help for the short-staffed offensive line, Coughlin said, "I don't know about that just yet."
The Giants have won their last four games against the Chiefs, a streak that began in 1998 and continued in 2001, 2005 and, most recently, on Oct. 4, 2009, when the Giants earned a 27-16 victory in Arrowhead Stadium. The Giants leads the series, 10-2, including 4-2 in Kansas City.