Ryan Mundy and Prince Amukamara teamed up on two plays that shaped Sunday night's opener in Dallas.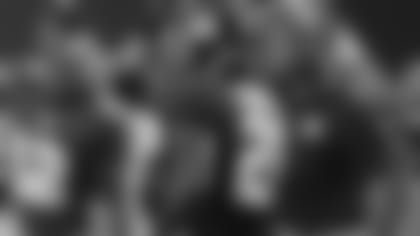 The first was the safety's 91-yard interception return that was tipped up by the cornerback midway through the first quarter, leading to Josh Brown's field goal and the Giants' first points of the night. The second, however, would knock Amukamara out of the game.
Late in the first half, with the Giants trailing 13-10 at the time, Mundy and Amukamara closed in on a short pass from Tony Romo to Terrance Williams. The Dallas wide receiver ducked when he caught it, unintentionally causing Mundy to collide head-to-head with his teammate.
"It's a bang-bang play," Mundy said when asked after the game about the run-in. "It was a quick slant over the middle, and you know anytime a receiver goes over the middle, a collision is likely to happen. And that's what happened on that play. Those plays happen so fast and those receivers get so low just in the nick of time so it's kind of like bang-bang. But fortunately I'm OK, fortunately Prince is OK, and we've just got to go back to the drawing board and get ready for Denver."
Amukamara was later announced as having a concussion and out for the game while Mundy, making his first start with his new team, was able to return.
Aaron Ross, in his first regular-season game back with the Giants after a year with the Jacksonville Jaguars, played in Amukamara's place the rest of the game.
"Like I said from the very start when I got here, I'm not sure what the plan is for me, but I'm going to be ready at all times," said Ross, who played the first five seasons of his career with the Giants. "I'm going to train my tail off, make sure I know what's going on when No. 31 is called. I want them to know they can depend on me. So it's one of those things that happens. Anybody can go down at any time."
Ross played a part in keeping Cowboys star receiver Dez Bryant to just 22 yards on four catches throughout the night.
However, Romo then leaned on his other weapons in tight end Jason Witten (two touchdowns) and wide receiver Miles Austin (10 catches, 72 yards).
"They're a handful," Mundy said. "They've got a trio, and coming into this game, I think we were concerned about all three. Like I said, they're a handful, but I think we did a good job of being physical with them, getting our hands on them, and playing tight coverage throughout the game."
The Giants defense held up considering the circumstances they were put in by six turnovers from the offense and special teams. The defense was on the field for 37 minutes in the game, 21 of which were in the first half alone.
[
READ: TURNOVERS HURT GIANTS IN LOSS](http://www.giants.com/news-and-blogs/article-1/Game-Recap-Turnovers-hurt-Giants-in-loss/c35f0410-5a3a-404a-9b19-2dcd197b5afb)
"It's always tough to win a game when you have so many turnovers," Ross said. "But like coach said in the locker room, it's just something that we have to clean up, take care of the ball, and not shoot ourselves in the foot. We know there's going to be times where the defense needs the offense to lean on, and it was our job tonight to try to help the offense pick up and try to get back on their game and make up for those turnovers."