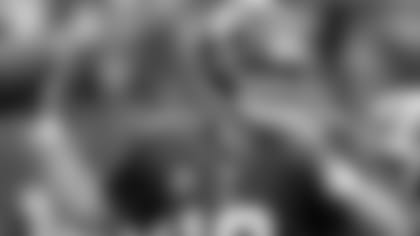 1) Bradshaw's fumble.** Running back Ahmad Bradshaw fumbled on the first offensive play of the game, and the Cleveland Browns recovered in Giants territory at the 22-yard line. Two plays later, Trent Richardson found the end zone for an early score. Furthermore, the Giants couldn't respond and were forced to punt on the next drive, which led to a 62-yard passing touchdown from quarterback Brandon Weeden to Josh Gordon. Five minutes into the game, the Giants found themselves down 14-0 to winless Cleveland.
2) The comeback is on. The Giants usually wait until late in the game to make their dramatic comebacks, but they tried something different this week. A field goal and touchdowns from Victor Cruz and Bradshaw knotted the game at 17-17 in the second quarter. That's when things started to really go the Giants' way. On the ensuing kickoff after Bradshaw's score, Will Hill forced premier returner Josh Cribbs to fumble, and Stevie Brown recovered inside Cleveland's 30. That led to a quick five-play drive, resulting in Cruz's second touchdown. The defense then forced a quick three-and-out (with two Browns penalties), and Lawrence Tynes tacked on a field goal before halftime in part of a 20-point second quarter.
3) Cruz hauls in third TD. With the momentum having shifted to their sideline coming out of the locker room, the Giants went to work and forced a punt on the Browns' first possession of the third quarter. On the ensuing drive, Bradshaw ripped off a 37-yard carry and Manning completed all four of his passes, capped off by a 28-yard strike to Cruz. His third touchdown completed a nine-play, 95-yard drive to give the Giants some breathing room with a 34-17 lead.
4) Chase Blackburn picks off Weeden in end zone. Driving with 12 minutes to go in the game, the Browns had an opportunity to cut the Giants' lead to one possession in the fourth quarter. Weeden took his offense all the way down to the Giants' 5-yard line, but linebacker Chase Blackburn intercepted his pass in the end zone. That led to David Wilson's 40-yard touchdown run on the next possession to extend the Giants' lead to 41-20.
5) Onside kick recovery. Anything can happen in the final five minutes of an NFL game, and the Giants weren't out of the woods yet when the Browns cut it to 41-27 with 3:56 remaining. However, Hill continued his fine special teams performance and recovered the Browns' onside kick attempt. The Giants ate up the final minutes on the clock and ended the game with two kneeldowns and a 41-27 victory at home.
![](http://www.pjtra.com/t/R0BKSkZKQ0BLRkVESEBISEtERw)