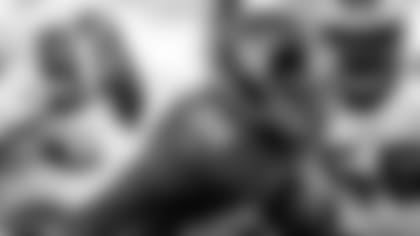 2. Don't break.
The Giants defense can afford to bend against the No. 2 offense in terms of yards, but the reason the Eagles are 1-3 is their inability to punch it in. They are 28th in the league in red-zone touchdown efficiency.
3. Limit penalties.
The flags have been nearly as damaging as the turnovers this season. This includes penalties on special teams that negate big plays.
5. Run on early downs.There were some changes on the offensive line again this week. See if the linemen can get into a groove early and make third downs more manageable.
6. Where is 25?In the next three weeks, the Giants face three of the top-five running backs in terms of yards. Philadelphia's LeSean McCoy is No. 1, leading Chicago's Matt Forte (5th) and Minnesota's Adrian Peterson (2nd) and. Two out the Eagles' three losses have come when McCoy rushes for fewer than 75 yards. In their only win, he notched a season-high 184 yards (one shy of his career record).
7. Spy on Vick.Chip Kelly's offense is predicated on the run. Like always, Michael Vick is a threat to score on every play. The Giants will have to stay disciplined against the quarterback who has more yards on the ground (228) than two NFL teams combined (Jacksonville and St. Louis).
[
INFOGRAPHIC: GIANTS VS. EAGLES STATS](http://www.giants.com/news-and-blogs/article-1/Infographic-NYG-PHI-stat-comparison/68ec2c03-1d3e-433d-804e-6f066823288a)
8. Take shots.** The best defense on Sunday might be the best offense. The Eagles are giving up an NFL-worst 446.8 yards per game and 34.5 points. That's a perfect recipe for a Giants offense which has scored seven points in the last two weeks.
9. Limit big plays.This rings true for the second half, particularly late in the third quarter when games have gotten out of hand for the Giants this season. Philadelphia is first in the NFL with 31 plays of 20 yards or longer.
10. Believe. Avoiding 0-5 after starting 0-4 is as much mental as it is physical. No one has run away with the division yet.