EAST RUTHERFORD, NJ - Mathias Kiwanuka said a week ago he believed he would play football again in 2010. Unfortunately for the Giants and Kiwanuka, that will not happen.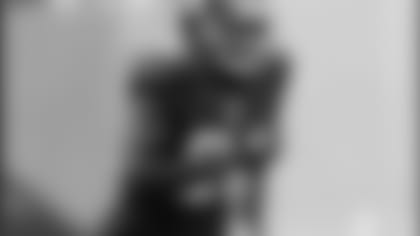 The Giants today placed Kiwanuka, the fifth-year defensive end, on injured reserve because of the herniated cervical disk that was diagnosed on Oct. 1. It is the second time in four seasons Kiwanuka lost a significant portion of the season to injury. In 2007, the year he played strongside linebacker, Kiwanuka fractured his left fibula in Detroit on Nov. 18 and missed the team's run to the Super Bowl.
"It's painful for us to go this route with Kiwi, but we've exhausted all of our options," general manager Jerry Reese said. "What's most important is for him to get healthy. We're praying and hopeful that by next fall he will be back at 100 percent and playing for the New York Giants."
"We held out hope as long as we could," Coach Tom Coughlin said. "Finally, by consensus, the doctors came to this decision. You have to make the right choice and the decision was made that he could not play again this season. My concern is for Mathias. He loves the game, he loves to play, he's proven his versatility this year beyond any question. He's given great effort and he has proven that he is a team player. I feel badly for Mathias because I know how important playing the game of football is to him. Let's get him healthy, back on the field, playing for the New York Giants."
While unhappy he no longer has the option of returning this year, Kiwanuka understands the Giants' decision.
"Like I said before, I felt like, given enough time, I could've made it back this season, but it's the nature of the business," Kiwanuka said. "The Giants had to move on, and I had to be okay with it. Regardless of what happens to me as an individual, I'm definitely still going to work with the Giants organization throughout the term of my contract (which he said expires after this season). I know this team is going be successful, so I'm excited to watch it."
To take Kiwanuka's place on the roster, the Giants signed defensive back/return specialist Will Blackmon, who played the previous four seasons for the Green Bay Packers. Ironically, Blackmon was Kiwanuka's roommate during their senior season at Boston College. They ate dinner together last night.
"Blackmon had a very good workout for us and showed that he has recovered nicely from a serious knee injury (which limited him to three games in 2009)," Reese said. "We expect him to get into the mix quickly on special teams. He has experience and production as a return specialist and cover specialist. He also has played both safety and corner, which gives us some flexibility there as well."
The Giants, who have a four-game winning streak and 5-2 record, have a bye this week and will return to action on Nov. 7 in Seattle. Kiwanuka didn't expect to play then, but he was optimistic of returning this season. He has been examined by five doctors in an effort to find the best course of treatment for his disc issues.
"It's a very important part of my body and I wanted to make sure that I covered all of my bases," Kiwanuka said. "If somebody says that this person is the best in this area, by all means I'm going to go in there and see them. That was my approach, and the Giants were behind me 100 percent with that. That's why I went and saw everybody."
Kiwanuka still hopes rest will correct the problem in his neck.
"I want to avoid surgery," he said. "The consensus is that if I take the proper amount of time off, there is a very good chance that it'll heal on its own. That's what the goal is right now. If it doesn't happen, we'll cross that bridge when we get to it. Regardless of whether or not it requires surgery, I'll still be back by the opening of training camp."
Kiwanuyka played in the first three games of the season, including a start at linebacker in the season-opening victory over Carolina. He had two sacks against the Panthers and a team-high four after those three games. But after a Sept. 26 loss to Tennessee, Kiwanuka began to feel some stiffness in his neck. He underwent an MRI and on Oct. 1, just two days before a home game against Chicago, the Giants announced he had a bulging cervical disc in his neck.
Kiwanuka said he is in no pain, which makes this injury more difficult to deal with than his fractured leg three years ago.
"That's definitely the toughest part," Kiwanuka said. "The toughest part is not having an actual physical ailment. In the long run, I guess it's better off this way. As far as emotions go during this process, not having a physical restriction is the toughest part."
Blackmon, 6-0 and 208 pounds, was the Packers' fourth-round draft choice in 2006, the 115th overall selection. He played in 32 games with two starts for Green Bay, totaling 20 tackles (19 solo), two forced fumbles and a fumble recovery. Blackmon averaged 21.1 yards on 66 kickoff returns and 11.0 yards on 47 punt returns and scored three touchdowns. His best season was 2008, when he played all 16 games with one start, had 17 tackles (16 solo) and averaged 21.0 yards on 55 kickoff returns and was fourth in the NFC with an 11.1-yard average on 36 punt returns, including two for touchdowns.
"He has return experience and secondary experience," Coughlin said. "He's a veteran coming back off a (knee) injury. He's been an outstanding returner in this league, and he's been a contributor on special teams as well as on defense."
Blackmon has twice been named NFC Special Teams Player of the Week. The first was in Week 14 of the 2007 season, when he returned a punt 57 yards for his first career touchdown and he recovered a fumbled punt in the end zone for another score in a 38-7 rout of Oakland. He was honored again in Week 1 of the 2008 season after scoring on a career-long 76-yard punt return vs. Minnesota.
In 2009, Blackmon played three games before suffering a season-ending torn ACL on Oct. 5 at Minnesota. He was in camp with the Packers this summer, but reached an injury settlement with the team on Sept. 5.
"It's awesome," Blackmon said of joining the Giants. "I was hoping I could finally get back on the field and make things happen. This opportunity opened up and I'm excited and my wife is excited.
"My knee is doing very well. I wouldn't be out there if I couldn't perform. I wasn't going to come here and give the Giants 80 percent of me. I'm feeling good."
Blackmon, who turned 26 yesterday, was a three-year starter at Boston College. He played three years at cornerback before switching to wide receiver as a senior, when he led the team in catches (51) and receiving yards (763) while also playing some defensive snaps.
"I told Mathias last night when you have really good friends you're always going to come back full circle at one time or another," Blackmon said. "We kept in touch all the time. It's fun to be here with him. He said this is a great place and everyone has the same goal."
"It's tough, because we were a couple of weeks away from playing together again," said Kiwanuka, who was a first-round draft choice in 2006. "He got his papers from Green Bay, I was excited and heard there was a chance that he might come here, so I've been talking him up around the locker room. Man, he's a great player. I told everybody he's definitely the most talented and gifted athlete that I ever played football with, hands down. He made the switch from DB to wide receiver and didn't miss a beat, and obviously he is a very talented return guy, too. He can do it all."
Except make Kiwanuka feel better about missing the rest of the season.