EAST RUTHERFORD, N.J. – The Giants' depleted linebacker corps today welcomed a new member when the team was awarded Allen Bradford off waivers from the Seattle Seahawks. To make room on the roster for Bradford, the Giants placed linebacker Dan Connor on season-ending injured reserve. Connor, who was signed as a free agent on March 16, started the season opener at middle linebacker. But he suffered another neck injury (burner) in the loss to the Cowboys in Dallas. Connor had to leave the fourth preseason game in New England for the same reason.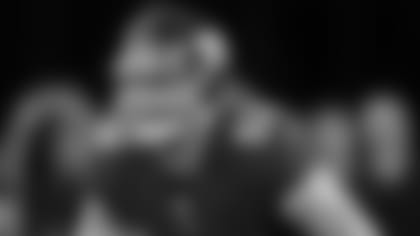 Mark Herzlich will play middle linebacker when the Giants host the Denver Broncos on Sunday.
Bradford, 5-11 and 242 pounds, played in Seattle's season-opening victory at Carolina but had no tackles. The Giants face the Panthers in Charlotte next week.
Bradford has an interesting football background. He was a star running back and linebacker at Colton High School in California. Pete Carroll, the current coach of the Seahawks, recruited Bradford to USC as a safety. But Bradford switched to running back and finished his career with 1,585 rushing yards on 267 carries, a 5.9-yard average. He scored 16 touchdowns in 52 games. In 2010, Bradford was second in the country with a 7.2-yard average.

>> READ GIANTS LOCKER ROOM QUOTES
The Tampa Bay Buccaneers selected Bradford on the sixth round of the 2011 NFL Draft, the 187th overall pick. He played one game for the Bucs as a rookie, gaining 13 yards on five carries vs. San Francisco on Oct. 9, 2011. Four days later, Bradford was waived by Tampa Bay.
On Oct. 21, Carroll signed Bradford to Seattle's practice squad and converted him back to defense. The Seahawks signed him to a reserve/future contract on Jan. 3, 2012 and waived him on Aug. 31. He did three more stints on Seattle's practice squad before joining the active roster on Dec. 29. Bradford played in the Seahawks' season-ending victory over St. Louis and was inactive in for their two postseason games.
In the 2013 preseason, Bradford played in all four games with a start at San Diego on Aug. 8. He finished with 21 tackles, a pass defensed, a special teams tackle and a fumble recovery.
*The Giants also made a move on their practice squad, signing wide receiver Marcus Harris, whose practice squad contract had been terminated on Tuesday.