EAST RUTHERFORD, NJ - David Diehl looked at the cluster of reporters firing questions at him and asked, "Are we really doing this again?"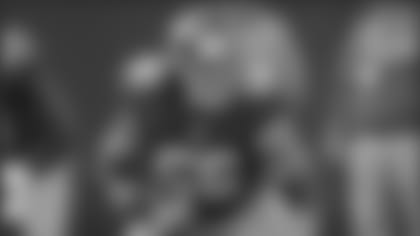 "This" is discussing position changes on the offensive line, which took place at three positions in practice today. The subject was covered repeatedly in training camp and was revisited today because injuries resulted in a shift of 60 percent of the offensive front.
Eight players did not practice today as the 2-2 Giants began preparing for their game Sunday in Houston against the 3-1 Texans. The group included the team's two centers, Shaun O'Hara and Adam Koets. The list did not include tackle Will Beatty, who is sidelined indefinitely after undergoing surgery to repair a fractured foot.
The absences of O'Hara (ankle/Achilles) and Koets (knee) necessitated the kind of shuffling along the offensive line that was prevalent throughout camp. Left guard Rich Seubert moved to center. Diehl, a Pro Bowler last year at tackle, shifted to guard. Shawn Andrews, a two-time Pro Bowl guard when he was with Philadelphia, stepped in at tackle.
Coach Tom Coughlin said Diehl and Andrews could flip-flop tomorrow, although Koets said he expects to practice.
"Today they asked me to play there, get Shawn reps at tackle having having Adam hurt and out for today," Diehl said. "Tomorrow I'll be back at tackle. So I went and got reps. You never know how things happen, and later on in the season if injuries do happen or whatever … I just went out there and practiced. I haven't pulled or done any of that stuff at guard in seven-eight weeks. Did it today, and that was it. Got it over with and back at tackle tomorrow." 
"They're just getting reps," Seubert said. "It's Wednesday, guys. We're just trying to get reps and see what happens. Everybody's got to be ready to go at every position. Dave knows what he's doing anywhere. I know what I'm doing anywhere. Shawn, he got here late and the last couple weeks he's been learning tackle because he had been playing tight end for us. So whatever helps make it the easiest for everybody, and we're just here to try to win football games. Those other guys that aren't practicing right now, they'll be back. We've all been through it, and we're here -whatever helps this team win."
No matter who lines up, the offensive line faces another big challenge this week in stopping a Houston line that includes two-time Pro Bowler Mario Williams, one of the NFL's best defensive ends. Williams is third in the NFL with 5.0 sacks in four games.
Also missing practice were running back Ahmad Bradshaw (ankle), defensive end Mathias Kiwanuka (neck), safety Kenny Phillips (knee), linebacker Keith Bulluck (toe), fullback Madison Hedgecock (hamstring) and defensive end Osi Umenyiora (knee). Coughlin said Umenyiora will work tomorrow, while Bradshaw and Phillips both said they will be on the practice field tomorrow.
O'Hara, who missed the last two games, tried to run yesterday, but "the results weren't all that good," Coughlin said. Koets, who has started for O'Hara, hurt his medial collateral ligament in the 17-3 victory over Chicago Sunday night. He is wearing a brace.
"It's a mild sprain - nothing serious," Koets said. "It bothered me even on Tuesday, but it feels a lot better today when I was running on it. I feel pretty optimistic about it. Hopefully, it will keep improving and it won't be a problem."
Seubert, a guard most of his life, has some experience playing center. He stepped in at the position when O'Hara missed time in training camp and started the Giants' preseason game in Baltimore at center. Because of that Diehl played a lot of guard and Beatty got a lot of reps at tackle in Albany.
Seubert has since been back at his familiar left guard position, but was typically unfazed by the switch for practice today.
"Left side, right side, center - there's not much difference," Seubert said. "You're playing football. If you love it, you're going to learn how to play it. Whatever we can do, whatever is going to help this team win and I feel comfortable playing center and hopefully Koets is all right to go. It's still Wednesday so we've got a long ways to go before Sunday, but wherever I'm playing I'm happy."
Andrews, who did not play in 2009 after undergoing back surgery, signed with the Giants on Aug. 20. He originally played guard, but moved out to tackle when Beatty was injured in the season-opening victory over Carolina. He has also played tight end and started there against the Bears.
One of the league's premier guards during his five-year tenure in Philadelphia, Andrews was asked when he last lined up at left tackle.
"When I first got here," he said. "But before that, it was probably since 'never-uary.' So it's been a long time."
But Andrews is working hard to learn that and any other position he might be called upon to play.
"I've been in my books, logging extra time with assistant offensive line coach Jack Bicknell, and we've been getting after it," Andrews said. "Like I told coach when I first sat down and met with him, 'Wherever you need me, wherever you want me to be, I'm going to excel and try to be the best that I can.' So I've been at left tackle, left guard, right guard, right tackle for the last few weeks. So I wasn't surprised at all (by today's move)." 
Perhaps the only negative impact on the position shifting is that it impedes Andrews from getting to know the playbook as well as he'd like.
"It's a challenge, and I knew it wasn't going to be easy coming in," Andrews said. "Going to play tight end was actually a shocker, but I've just been going extra time and coming in on my off days and before practice, after practice and I get home at night time - just trying to go over everything and go over scenarios in my mind and just get the mental reps, because those are just as important as the physical reps."
Except for Andrews, the offensive linemen have been together long enough that midweek positions shifts are easily taken in stride.
"What am I supposed to do, worry?" Seubert said.  "No. This is football. People get injured, and everybody's been hurt. We need to go out there and play. We need five guys to play. If we've got five guys left, those five guys are going to go out there and give it all we got." 
*Bradshaw, named yesterday as the NFC Offensive Player of the Week, is working through a sore ankle.
Last year, of course, he seldom practiced because of ankle and foot injuries, which were surgically-repaired in the offseason. He still rushed for 778 yards and seven touchdowns.
Coughlin was asked what Bradshaw misses when he doesn't practice.
"The instinctive reaction to what you see in front of you," Coughlin said. "The recognition of the blitz pickup aspect of it. The ability to relate full-speed to the movement that you see on defense - you don't get any of those by standing there and watching. Your mind can be ready for it by looking at the tape but you really have to do it. And that goes for everybody."
Bradshaw is fifth in the NFL with 382 rushing yards and he agrees that practice is an important component to his success.
"You get the flow in practice," Bradshaw said. "You get to see the blocking of the linemen, the flow of the linebackers. They have them flowing different ways on different plays on the practice squad. So it makes it a lot easier so that you see it a lot better."
*Phillips didn't work because of a knee issue, but it is not related to the microfracture surgery he underwent last year.
"We started to actually do a little bit less with him on Wednesdays," Coughlin said. "We started that last week. He calls it tired and sore. According to the training room, it has nothing to do with the past surgery or anything of that nature. We're just trying to maintain it."
Phillips has started all four games and is fourth on the team with 24 tackles (18 solo).
"I think they're just trying to make sure we have no setbacks or anything like that," Phillips said. "So we're just being safe right now. We're just trying to make sure I don't go out there and hurt it in practice or anything like that."
Phillips played only the first two games last season before undergoing surgery.
"I haven't played ball in a long time," Phillips said. "So if anything, the legs might get a little fatigued and that's when injuries can occur and that's what we're trying to avoid."
*Coughlin said there was "nothing that I can report" from the tests done yesterday on Mathias Kiwanuka's neck. Kiwanuka was diagnosed late Friday with a bulging cervical disk. Coughlin did not offer a prognosis.
"Really, all we're doing is getting information from the doctors – that's all," Coughlin said. "I think that there will be a time frame if it's a wait deal and then we'll have to – once that time frame is met, then a decision would have to be made."
*Two Texans did not practice today, wide receivers Andre Johnson (ankle) and Jacoby Jones (calf).