Mark, Spencer, Keith, Dan, Jacquian, Aaron, Jake, Kyle, and Etienne – who are they? They're a bunch of no-name linebackers on the Giants, that's who. And they're fine with it. They're motivated by it. So is their position coach, Jim. He only cares about three people anyway – Sam, Will, and Mike.
"I've always told my guys, the expectation is for the position," said Jim Herrmann, entering his fifth season as the Giants linebackers coach. "If you're the Will linebacker in the game on Sunday, the expectations are for that position. Not the guy, not the person, not the individual, but for the position. This is what the Will linebacker does at the New York Giants. This is what the Mike linebacker does at the New York Giants. Not just a guy, his name, but the position."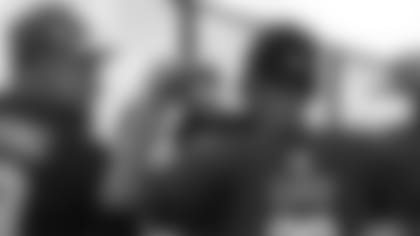 Best Fan Photos from Training Camp](http://www.giants.com/photos/photos/Best-Fan-Photos-from-Training-Camp/9b185a64-a598-4624-b7d2-5f1b76a84acd) Beginning in the offseason and now heating up in training camp, Herrmann and the rest of the staff are in the process of working out those nine guys to cover the strongside, weakside, and in the middle.
They won't, however, all make the 53-man roster, which means multiple players have to be able to play multiple positions. That way, when Week 10 comes around and someone is dinged up, another player can go in and play a new spot.
That all factors into the team's decision in one of the most-watched competitions, which Herrmann says has been fun. That's because of the character in the meeting rooms.
"As a coach, I can't ask for anything more from them," he said. "I hear, even though they're competing with a guy for a spot, I hear them talking and saying, let's try this, or let's do this. They're helping each other out to get better as a defensive unit and they're helping each other out to get better as an individual player as they compete. To me, that's huge. It helps us as a team."
Herrmann went on to evaluate some of his personnel competing for jobs.
About Spencer Paysinger, he said, "One, physically he has changed his body. He has gotten stronger. I don't think necessarily coming out of college he was the strongest or biggest guy, which I think is why he probably got overlooked. And now that you look at it, you're like, wow, why did anybody overlook him?"
Herrmann was asked about Aaron Curry showing old flashes of himself, to which he responded, "I think he's coming along. He had a long way to go because of where he came from, but he had a pick out here the other day. He's a big strong man who can play blockers. I think every day he goes out, he gets better. Just like all of them."
On Etienne Sabine, an undrafted rookie out of Ohio State, Hermann said, "Well, being a Michigan guy, like I am, it's kind of hard to coach a Buckeye. I like him. He's a good young player. He's smart. He's into the game, he knows the game, and I think right now I can't wait until he gets out there and plays against Pittsburgh [in the first preseason game]. I want to see him in live-game action, and to me, always with a first-year guy, a rookie guy is you have to find out if the game's too big for him. It doesn't look like it. He's played in the horseshoe at Ohio State, so he knows what big games are. So I think it will be fun for him to get out there. It will be fun for me to watch him in a live game. I think the other guys in our room are also kind of excited for him."