EAST RUTHERFORD - Brandon Crawford is like most of the other 56 players participating this weekend in the Giants' rookie minicamp. He's a little nervous, unsure of what lies ahead, but eager to prove to the coaches that he deserves a longer look and an opportunity to win a roster spot this summer.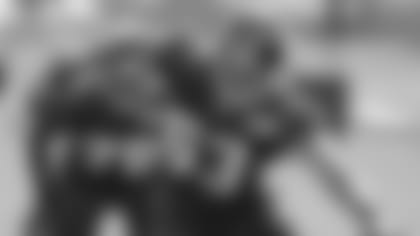 But one significant difference exists between Crawford and the other young players in camp: he's not so young.
Crawford is 33, which is old for most NFL players and positively ancient for a rookie. He is a defensive end, a position where the Giants are well-stocked with two former Pro Bowlers and a pair of first-round draft choices, including the 15th overall pick in last week's draft, Jason Pierre-Paul. But Crawford is undaunted.
"I give myself a great chance," Crawford said. "I give myself as much chance as the next man. It's all about the individual person and how they apply themselves. I don't look at the age factor like everyone else. I think that you have to look at the person and their physical capabilities. Are they able to do what they are asking you to do, and can their body take this? My body hasn't been through the wear and tear that everybody else has. I can play the game and I can play at a high level. I just need to go in there and figure out what they need me to do and execute it to the best of my ability and do it at a high level."
So why did it take Crawford so long to get to the NFL? The short answer is he took a long and winding road to get here. He played high school football in Ft. Wayne, Ind., and was considering scholarship offers from mid-major colleges when his plans were derailed. Crawford, looking only to get some pizza, accepted a ride in a friend's car. The vehicle was reported stolen, Crawford was arrested and the schools backed off.
In 1996, he went to work in an auto parts factory. Three years later, Crawford enlisted in the Marines. After six months at Camp Pendleton, he was stationed for three years in Cherry Point, N.C. Crawford was discharged in 2003, returned to the workforce and in 2006 he enrolled at Ball State, which was a short drive from his family's home. He was 29 and hadn't played football in 10 years, but that didn't stop Crawford from believing he could still excel on the field.
"It was always a focus I had," Crawford said. "I always told myself if I have the chance to get the opportunity, I'd pursue it. I always stayed positive. Like I said, I never doubted myself and I never thought negatively. I always stayed positive. My mom kept me grounded and told me to push for it. I have continued to do that. I take it one year at a time, and I tried not to get ahead of myself. I just kept putting myself in the position that would help my team be successful."
First there was the little hurdle of actually getting on the team. Ball State's head coach at the time was Brady Hoke, who now holds the same position at San Diego State. He was understandably skeptical when a 29-year-old walk-on who hadn't worn a uniform in a decade arrived at his office and requested a tryout. Crawford was certainly a longshot, but he probably couldn't have approached a more empathetic coach than Hoke, whose brother, John – now the Chicago Bears' secondary coach – walked on at Ball State and started 44 consecutive games. Hoke was willing to give the ex-Marine a chance.
"Of course, you never know what kind of history any of them have when they just walk in off the street," Hoke said in a phone interview. "But there was Brandon. I took him in my office, and we sat down. I talked with him a little bit and tried to get his story. You try and judge people with their honesty and their character and those kinds of things. He is one of those guys who, after you have a conversation with him, you go, 'Hey, I really like this guy.'"
Crawford has his own recollection of that initial meeting.
"Basically, he asked how old I was," Crawford said. "He said, 'You have some pretty nice size.' He was trying to figure out things through the compliance officer and the NCAA clearinghouse first and foremost if I'd even be able to play. Once he got the information back confirming I would be able to, he said that he'd really like to have the chance to get me out there. I would have to wait until the next time they had walk-on tryouts, and he would give me the call and have me talk to the coordinator. They called me up and called me in for a workout. I made my way over to the facility and I did my workout for them. They said they'd let me know in a couple weeks who they were keeping and who they weren't. Within a week, they called me back and called me in."
It commenced a long process that eventually got Crawford on the field. Having been away from football for so long, he was understandably out of form.
"He got involved with our conditioning program, and you could see he was a little bit of a fish out of water," Hoke said. "When we started spring football, he was rusty. There wasn't any doubt about it. Physically, he had grown obviously through his time in the service. He was getting used to body motions and movements and muscle memory stuff and I think that was a little bit tough for a while. But he just kept getting better every time he went out on the field."
Crawford improved enough to become a consistent contributor to the Ball State defense. As a 30-year-old freshman in 2006, he played in 10 games and had 10 tackles and two sacks.
"I remember the first game I got in was against Purdue," Crawford said. "There was a screen pass to the running back and I remember the coach told me not to let the running back release and stay on him, and if he comes through the hole, get him. I hit him pretty hard, and the coaches made a joke after the game, saying, 'You have really been missing the game.'"
The following season, Crawford started all 13 games and led the team in tackles for losses (16) and sacks (7). In 2008, he started every game and had eight tackles for losses for a Ball State team that was 12-0 in the regular season before losing the MAC championship game and the GMAC Bowl. As a senior, Crawford extended his starting streak to the final 39 games of his career and had 11.5 tackles for losses and three sacks.
In addition to his impressive play, Crawford was a popular teammate, despite the age difference between him and the other players. They gave him several nicknames, the most popular being "Crawdaddy." The coaches and players loved to needle him about his age, but they admired his work ethic and toughness.
"I think we all picked on him now and again, me included," Hoke said. "But everyone had so much respect for him. He was voted as a captain by his teammates and that speaks volumes. That was due both to his ability and production and what he did as a person and the character that he had. In our 12-0 year in '08, he was a big part of the defense that played as well as Ball State had in a long time, and he was the captain of that defense.
"He was just an exceptional leader. He was very dedicated to his team. He would show up at 4:30 a.m. for a 5:45 lift group. He would be the first one there. His training in everything that he had gone through, he was an early riser and was always rarin' to go. I thought he did a great job as a teammate."
Crawford hoped to get selected in the NFL Draft, but all 32 teams passed on him through seven rounds. The Giants contact his agent soon after the draft and Crawford is competing against players who are a decade younger, hoping he impresses enough to get a contract offer.
"He is a terrific kid," Coach Tom Coughlin said. "I grabbed him last night. He has been in the Marine Corps. He went into the service and then college later on. He's still participating in football after his military obligation and service. He is an outstanding Marine and I just take my hat off to that kid."
When the Giants open their season on Sept. 12 vs. Carolina, Crawford will be 34 years, 27 days old. Should he beat the long odds and find himself on the field that day, he would be the second-oldest rookie to play in an NFL game in the Super Bowl era. Punter Sav Rocca played in a game as a rookie for Philadelphia at age 34 years, 40 days on Dec. 30, 2007.
"I have as much chance as everyone else," Crawford said. "I'm in shape and my body is in good health. I feel great. It's a matter of me getting out there and being able to execute."
After traveling a long road to get here, Crawford will certainly give it his best shot.