EAST RUTHERFORD, NJ - After learning that Victor Cruz had earned spots on the Giants' 53-man roster, Duke Calhoun phoned his fellow wide receiver Saturday evening.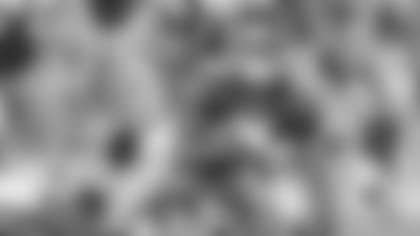 "I called Vic and said, 'Man, we're part of the team now, so whatever they call on us to do, we've got to do it,'" Calhoun said today. "We've got to have each other's back."
Cruz and Calhoun are the only rookie free agents to make the final roster. Playing the same position helped bring the two young players closer together. Undrafted first year players always face long odds in trying to win a roster spot. But Cruz and Calhoun have supported each other since first meeting in May. They survived Saturday's final cutdown and were on the field today when the Giants held a light practice. The season opens Sunday at home against Carolina.
"I was happy for Duke," Cruz said. "We've come a long way from rookie minicamp, and it's nice to see we made it this far. So it's nice to see Duke here, too."
Cruz was at his family's home in Paterson, about 20 minutes from the Timex Performance Center, when he received a phone call from his agent soon after the 6 p.m. deadline for submitting transactions.
"Of course, I started to cry immediately, and my family went crazy in the house and things like that," Cruz said. "So I was excited and I'm happy to be here and I'm ready to start."
Calhoun was with his roommate, cornerback Seth Williams, who was waived on Saturday but signed to the practice squad yesterday.
"Nobody called," Calhoun said. "I called my agent, and he was like, 'No news is good news.' So I just went from there. I looked at the cuts and my name wasn't on there on Yahoo."
Throughout the spring and training camp, both Calhoun and Williams sported hair so long it covered the names on the backs of their jerseys. Calhoun said his hair had been long since the ninth grade. But both players showed up today with shorter locks after taking a pair of scissors and cutting it themselves at home. They were looking to "finish us off" at a local barber.
"I said if I got a job I was going to get a haircut and look like a businessman," Calhoun said. "And that's what I did. It's a new beginning, man, a new beginning."
Cruz, 6-1 and 200 pounds, and Calhoun, 6-4 and 205, were both productive receivers in college who have played well here since first stepping on the field at rookie minicamp.
Cruz played at Massachusetts, where he caught 131 passes for 1,958 yards and 11 touchdowns. He caught everything thrown his way early in training camp, then showed the entire country what he's capable of in his preseason debut vs. the Jets, when he had six receptions for 145 yards and three touchdowns, making a spectacular one-handed grab on a 64-yard score. Cruz finished the preseason with an NFL-best 297 receiving yards. His four touchdowns tied for the league lead and his 15 catches placed him one behind the league leader, Denver's Eric Decker.
When he stepped on the field today, Cruz, who will now wear jersey number 80 instead of the No. 3 he wore throughout the summer, said he had a different feeling than in previous practices.
"It's kind of calming to know that you have a job and you're not worried about competing and things like that," he said. "I mean you still compete, but you're kind of more relaxed and just ready to go out there. There's less tension within yourself. You just kind of go out there and relax and play a little bit more. It was all smiles, congratulations, things like that. So it was good.
"The real work definitely starts now. I'm excited to see where they're going to play me on special teams and things like that. I'm just happy to be here. I'm happy to get started."
Calhoun caught 212 passes for 2,981 yards and 19 touchdowns at Memphis. After he was bypassed in the NFL Draft, perhaps 10 teams showed an interest in signing him. He chose the Giants in part because he had attended the Manning Passing Academy camp in Louisiana prior to his sophomore season and got to catch passes from Eli Manning.
"He remembered me from it because afterwards, Peyton (said), 'Two receivers stood out,'" Calhoun said. "One from Memphis State and one was from LSU, Early Doucet. So we did pretty good at the camp.
"I never played with a great quarterback … and I still was managing to make plays. I had like 10 teams call me after the draft, and I chose New York. So I'm happy here and thank God I'm still here. New York, it's a big city - big city, big stage and playing in front of great fans. That's what I'm looking forward to."
Calhoun caught the game-winning 60-yard touchdown pass from Rhett Bomar in the preseason finale last week vs. New England. He had five catches for 105 yards in five games. But Calhoun distinguished himself as an outstanding special teams player, particularly as a gunner on the punt team. Tom Coughlin is looking for more speed at that position this season because the Giants are employing a rookie punter in Matt Dodge.
"I'm here to make plays and that's what I do and that's what I'm going to do," Calhoun said. "So I'm just ready for my number to be called in any situation."
*Quarterback Sage Rosenfels, obtained in a Friday night trade with Minnesota to back up Eli Manning, said his biggest challenge will be learning the Giants' playbook.
"The verbiage is completely different than anything I've been in, and that's going to be the challenge," Rosenfels said. "Basically, I'll be learning a foreign language. Trying to relate my old offenses to this offense, and as pass protection relates to pass protection in the old offense. Albeit there are always different rules and nuances to what a coordinator or O-line coach does. I'll do everything to make that foreign language become my first language.
"I'm going to do my best to know everything in the game plan. The playbook is pretty massive that they gave me. It's fairly obvious that all those plays won't be in every week's game plan. What I'm going to try and do is to get down to those hundred plays or anything that is in the game plan so that coach can call whatever he needs to call, and trust that I know what I'm doing. To get to that point, I really have to put in a lot of time. It's great to be in New York City, but I won't be seeing New York City for a few more weeks."
*Darius Reynaud said he was "still in shock" over the Friday night trade that delivered the wide receiver/return man and Rosenfels to the Giants. "I had a great preseason, all four games," Reynaud said. "I wasn't worried about anything until I got that phone call on Friday night when I was traded."
Coughlin said Reynaud will return punts – kickoff returns, which he handled at West Virginia University, remain a possibility – and play receiver, his position for two years before moving to running back following the 2009 season.
"Anything they want me to play, I'll play it," Reynaud said.
He's quickly learning the Giants' special teams schemes.
"It's totally different from what we are doing in Minnesota," Reynaud said. "The schemes are totally different. As soon as I got here, they gave me this book, and I've been right at it ever since."
*Center Shaun O'Hara, who missed the last two preseason games with ankle and Achilles injuries, returned to practice.
"Today felt good," O'Hara said. "It felt good on a number of different levels. Obviously, being back out on the field and being out with the boys is always a good feeling. I thought it went well today, and it wasn't a rigorous practice by any means. It was just good to get out there to run around and sweat a little bit."
The Giants are off tomorrow and begin full-scale preparation for the Panthers on Wednesday.
"That's the plan," O'Hara said. "The plan is to progress, move forward, and make sure we don't have any setbacks."
O'Hara had swelling and soreness for much of training camp before a cast was placed on his ankle on Aug. 26. The cast was removed on Sept. 1.
"I didn't feel great initially," O'Hara said. "Being in a cast for a week definitely makes it shift. With each day after that, it started getting better.
"I can definitely say it's been frustrating. It was something that at one point it'd feel like it was getting better, and then it would take a different turn without exactly knowing why. It just was frustrating not being able to practice, and going into my 11th year now, I haven't really had anything like this. It was tough every day not knowing how it was going to respond."
Asked if O'Hara is "good to go" for the Carolina game, the ever-cautious Coughlin said, "We'll see what he's like tomorrow."
*Linebacker and special teams standout Chase Blackburn, who hurt his MCL in the preseason opener three weeks ago, returned to practice today and said he will "no doubt" play against the Panthers on Sunday.
"I've been running the last couple days, testing it out, and today I really got my change of direction going and testing it," Blackburn said. "And it seemed to do pretty good."
*Kevin Boss and Travis Beckum are the only tight ends on the roster after the weekend release of Bear Pascoe and Scott Chandler. Pascoe and Jake Ballard are on the practice squad. Beckum, who missed the final two preseason games with a neck injury, is not a traditional blocking tight end.
"It is (a concern)," Coughlin said. "Through the course of training camp, you have to shape your 53 (man roster). When you go ahead and line up where you are and what your needs are, the numbers you need to have to go through the season. We just felt that right now, that's where we are. As you can see, there are two practice squad tight ends that are just an up-down away. Right now, they're our two guys. What's really important for us is if Beckum can practice and stay out there. That's a big factor right now."
*Cornerback Aaron Ross did not practice today because of the plantar fascia injury that sidelined him for the final two preseason games
"He's getting better," Coughlin said. "The reports are good. They have some things they have to try and work out with him, in terms of his comfort level with the shoe. He's getting there."
Asked if he expected Ross to practice on Wednesday, Coughlin said, "I have no idea. We'll see."
*Coughlin said new reserve quarterback Sage Rosenfels will also be the backup holder to Matt Dodge.
*The Giants filled the eighth spot on their practice squad by signing running back Charles Scott from LSU. Scott, 5-11 and 238 pounds, was released by the Arizona Cardinals on Friday. He was traded to the Cardinals last Monday by the Philadelphia Eagles, who selected him on the sixth round of the 2010 NFL Draft. Davis, the 200th overall selection this year, was traded for cornerback Jorrick Calvin, the 201st choice.
Scott rushed 11 times for 23 yards in the Cardinals' preseason-closing victory over Washington last Thursday. He had one carry and caught one pass in three games for the Eagles.
In four years at LSU Scott played in 43 games with 23 starts. He rushed for 2,317 yards on 434 carries (a 5.3-yard average) and 32 touchdowns. As a junior in 2008, he ran for 1,174 yards and scored 18 touchdowns. Scott's senior season was cut short when he broke his clavicle in the third quarter against Alabama.
*To alleviate traffic congestion around the New Meadowlands Stadium on game days, Giants fans without parking permits are urged to use the Park and Ride Train service from N.J. Transit's Frank R. Lautenberg train station in Secaucus, N.J. (Secaucus Junction). A surface parking lot is available for use by ticket holders on game days. Take Exit 15X on the eastern extension of the New Jersey Turnpike (675 New Country Road at Seaview Drive, Secaucus, N.J., 07094). Ticket holders can park in this 1,100-space parking lot and take the rail service to the stadium. The parking lot is open 24 hours a day. The cost to park in this lot is $20 per game or $160 for the season. Call 888-PARKFAST or visit www.parkfast.com for more information about the Park and Ride.