I am wondering what the problem is with Da Monster Moore. He is sounding more like Da China Doll Moore. He is listed as having a shoulder contusion. He has been out of action almost as long as JPP was out having back surgery. What gives? While we are on the subject, why haven't we seen any of Johnathan Hankins? It seems to me that we need youth injected into this D-line. They look slow and they are not winning 1 on 1 battles. It is starting to look like keeping Justin Tuck around was a big mistake. Your take? - Brian **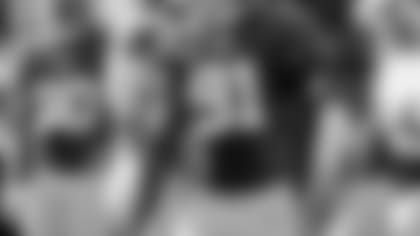 Dear Brian,
Let's address your last point first. I'm not sure what you see –or don't see – in Justin Tuck. After two games, he leads the Giants with 16 tackles, including participation in one of the Giants' two sacks. He's also a respected team leader. I think keeping him was anything but a big mistake. I'm all for blending youth into the defensive line, but who do you want to sit down? Linval Joseph, Cullen Jenkins, Mike Patterson and Shaun Rogers have all made plays. Hankins will get his chance at some point. Moore hurt his shoulder in the preseason opener. The team's medical staff didn't clear him to play until last week. That's not his fault. Actually, it's a prudent course of action – unless you have some insight into the injury nobody else does. Moore made his debut against Denver. If he stays healthy, he will presumably see more action in the coming weeks.
How much of the problems with the running game are caused by missed assignments by the offensive line or poor coordination? - Charlie
Dear Charlie,
I must confess, I don't know what a lineman's assignment is on any specific play. I don't know about coordination. I just know the run blocking has not been good enough, nor has it been to the standards the linemen set for themselves. There have been plays when the holes were there and the backs didn't take advantage of them. But if the Giants are going to do better than 36.5 rushing yards a game it has to start up front.