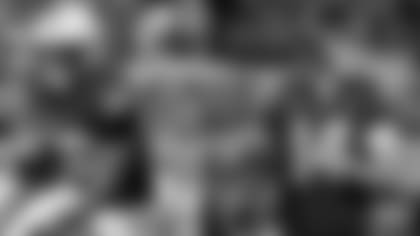 NFL Draft Experts debate if Penn State running back Saquon Barkley or USC quarterback Sam Darnold would be a better fit for the Giants.
"Make the Case" is now in session on Giants.com.
Every year in this series, we look at projections provided by two draft experts and then ask you, the fans, to weigh in on which player you would like the Giants to select second overall in the 2018 NFL Draft.
To kick things off, we look at two of the biggest names in this year's class: Penn State running back Saquon Barkley vs. USC quarterback Sam Darnold.
Be sure to vote and Make YOUR Case in the comments below!

Saquon Barkley, RB, Penn State
ESPN's Todd McShay picked Barkley for the Giants. Barkley, who finished fourth in the Heisman Trophy voting this past year, left Penn State as the school's all-time rushing touchdown (43) and total touchdown (53) record holder.
McShay: "The Giants could go a lot of different directions here. If they are really looking to win now with Eli Manning at QB, then they should take the best player in the draft, Barkley. Give Manning a running game and a little more pass protection (via free agency or later in the draft) and Giants fans would argue they are a playoff team. Bradley Chubb and Quenton Nelson are in play here as well. And New York also could get a sweet offer to move back for a team looking to jump up and take a QB."
VS.
Nate Davis of USA TODAY liked Darnold, who became the first Trojans quarterback ever with more than 4,000 yards passing in a season. He went 20-4 as a starter during his time at USC and led the school to its first conference title in nine years.
Davis: "He didn't throw at the combine, which could make him a perfect candidate for the Giants, who probably wouldn't need him to throw a regular-season pass in 2018, either. New GM Dave Gettleman would probably love to get a shot at Barkley and will probably be tempted to add Notre Dame G Quenton Nelson. … But at the end of the day, it's rare for the Giants to be in position to draft a franchise passer — they haven't had a top-five selection since they wound up with Eli Manning in 2004. Though Manning, 37, may have another year or two in his tank, this is too good an opportunity to enact a bona fide succession plan, especially considering Darnold's estimable upside and a low-key demeanor (like Manning's) that would probably work well in The Big Apple."