Every year in late July, roughly six weeks before the regular season begins, coaches, scouts, personnel executives, trainers and players across 32 NFL clubs head to training camp. It's the start of another season, as teams return to the practice field with a steely-eyed focus on hosting the Lombardi Trophy six months later.
Late July also marks the coming of the most active period of the Atlantic hurricane season, which officially runs from June 1 to November 30, but peaks from late August through September. According to the National Oceanic & Atmospheric Administration (NOAA), 12.1 named storms occur each season, with an average of 6.4 becoming hurricanes.
For the 3.34 million residents of Puerto Rico, the onset of another hurricane season is a painful reminder of the destruction that last year's brought to the island.
Hurricane Maria made landfall in Puerto Rico on September 20, 2017, cutting across the island on a northwest trajectory with 155 mph winds, starting on the eastern shores and working its way through the interior.
According to the National Hurricane Center, Maria left $90 billion in damage, making it the third-costliest Atlantic hurricane on record. Ninety-five percent of the island was without power. Less than half the population had drinking water. Thousands of Puerto Ricans were left homeless and in shelters.
Eight months after the storm first made landfall, a group of Giants players – Landon Collins, Nate Solder, Michael Thomas and Eli Apple – arrived in Puerto Rico to see the recovery efforts firsthand.
"This is something I wanted to do for a long time," said Solder, who has a cousin in Puerto Rico, a freelance boat captain. "Coming to Puerto Rico, you hear so much about it. These people become forgotten. With current trends, if something isn't popular or immediate, then we forget about it. I don't want these people to feel like we've forgotten about them, because there's plenty of people who haven't. I'm very thankful that I got this opportunity."
The Giants toured the island with Americares, a Connecticut-based non-profit and global health and disaster response organization that was working in Puerto Rico, even before Maria struck. Since their founding in 1979, Americares has delivered more than $15 billion in medical aid and innovative health programs to 164 countries, including the U.S. The Giants and the New York Giants Foundation have supported the organization for more than two decades, including a donation of $400,000 last fall as part of a $1 million towards hurricane relief.
"When Hurricane Maria hit, we had a team on the ground that was immediately looking at how can we meet survivors' health needs, how can we look to restore access to health services, and simultaneously how can we also meet those mental health needs," said Kate Dischino, Americares' Vice President of Emergency Programs. "Americares was here right after Maria struck. We have a team of 10 that's focused in the San Juan area but also providing services across the island, including the islands of Vieques and Ceiba."
The trip started with a visit to San Inocencio A. Montero School, an elementary/intermediate school that's about a 90-minute drive west of the captial, San Juan. The village of Utuado is in the central mountainous region of the island, where resources have been the hardest to deliver, with winding dirt roads and difficult landscapes. The school didn't re-open after Maria until December. Americares ran a mobile health clinic out of the school after the hurricane first hit.
The Giants' players spent over an hour with 300 students, playing everything from tug of war to jump rope to hopscotch. There was also time devoted to mental health activities. With another hurricane season fast approaching, Dischino says anxiety, especially among children, is at an all-time high.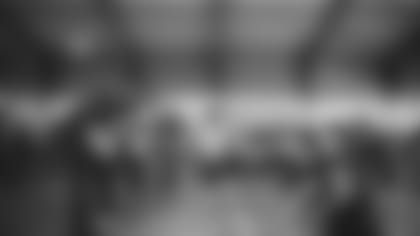 For the players, the visit was a chance to bring smiles to kids' faces and let them know there are people who care.
"Those kids were so excited to see us," Thomas said. "It always feels good for me and my wife to put a smile on kids' faces, but this is a whole different level. If we can take everything they're going through off their mind even for a second that was great."
That wasn't the only part of the three-day trip the Giants spent with kids. A day after their visit to San Inocencio A. Montero, the Giants found themselves at Juncos Stadium in Juncos. About 25 miles southeast of San Juan, Juncos was heavily damaged in Maria. At the time of the Giants' visit, much of the community remained without power.
The players got to do something very familiar to them – hit the football field. The Juncos American Football Club was almost dismantled after the storm, but like so much of the island, has found a way to persevere in the most trying of times. With their parents and coaches cheering from the sidelines, the five Giants put their game faces on, taking part in some basic football drills followed by a scrimmage.
"The experience being here has been amazing," Collins said. "We try to teach them a little something, something," said Collins. "We had the kids out here just to teach them some cool things like backpedaling and how to catch the ball. We had a little 7-on-7 deal going on. My squad won with the one touchdown. It's a blessing just to be here."
Collins, a New Orleans native, is no stranger to hurricane relief. The two-time Pro Bowler was in the sixth grade when Hurricane Katrina devastated his hometown and displaced his family. With his family scattered, Collins attended multiple middle schools before attending Duchtown High School in Geismar, Louisiana.
"I know what those people are going through," Collins said during OTAs this spring. "I lost my home, I've been without power, I've been displaced. Is it shocking? No, because I've been through it. But seeing what they're going through, I feel it and I know their hearts sting and I know what they're going through. So, as much as I can help, I will try my best to help."
The visit with the Juncos American Football Club ended with a special gift. After the scrimmage, the Giants presented a $10,000 credit with Riddell to help the team get new equipment. Players, coaches and parents were overcome with emotion. The team was so moved by the surprise donation, that the head coach, Recautor Rivera, instantly announced that the team would change their name to the Giants.
"That was the best part about this trip for me, seeing how those kids, the parents, they are dealing with so much, but they have hope," Thomas said. "They know it's going to get better. They know they have to keep working. Seeing them in great spirits knowing they're going to persevere, that's humbling."
In addition to the school visit and Juncos Stadium, the Giants spent the bulk of the trip at various locations witnessing the rebuilding efforts firsthand. That included trips to three separate medical clinics – the Medical Services Corporation (CSM) in Utuado, another Medical Community Clinic (COSSAO) in Mamayes and the building that once housed the COSSMA health clinic in the town of San Lorenzo. The latter was damaged so badly by Maria that eight months after the storm, the building is still uninhabitable. Thanks to Americares, a climate-controlled medical tent was set up in the parking lot so patients could continue to receive treatment.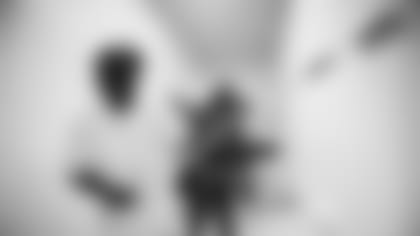 On the visit to the clinic in Utuado, the Giants were able to meet with the clinician staff and see a video about what they did immediately after the storm, and how Americares was quickly able to mobilize and get out in the community. Americares helped the clinic bring health care to patients who would not have been able to come in those immediate days, due to the overwhelming damage to the country's infrastructure.
From meeting with patients at each clinic to delivering medicine and supplies, to simple things like painting the walls of the new facility in Mamayes, the Giants were deeply moved by the perseverance of the Puerto Rican people.
"It was great talking to the people and hearing what they had to say," Apple said. "They definitely have their spirits and they have a great plan of how to continuing to fix everything up. They're definitely going to be successful and I'm rooting for them."
"What we might take for granted could be huge for someone else," Thomas added. "I was talking to the director at one of the clinics and they're expanding one of the clinics and he was so excited to show us the new buildings; this is going to be the dental part, this is going to be that. He was like, 'I know you're all used to this big, grand thing in America and this is small to y'all.' I was like, 'no, this is huge.' We understand it's huge. We understand what type of impact this is going to make on the community. These people are getting cared for in a tent, and you're going to have this new facility for them. Seeing that they appreciate little things puts things back in perspective for me. Don't take for granted the things that we have."
Puerto Rico still has a long journey on the road to recovery. As an example, just last month, the Puerto Rico Electric Power Authority announced that 100% of the island finally had its power restored.
For far too many of the 3.34 million island residents, the rebuilding process isn't over, and may not be anytime soon. But if there's one thing the Giants learned on their visit, it's that the Puerto Rican people are strong, resilient and unafraid.
"When you hear so much about Puerto Rico, and the things that they've gone through and when you can actually see it and you can meet the people, a term that I've definitely repeated a million times since I've been here is resiliency," Solder said. "It's been amazing to be here. You have so many perceptions on TV. You get to know the people and how hard they're working and how much they care about each other. It's been great, and I'm glad that we've had a little opportunity to give back. So much of what we have can be shared and a little bit here makes a big impact."