In an NFL season marked by protests, politics and social issues, the Giants are taking a proactive approach to engage with local police departments and encourage positive relations between law enforcement and people of the community.
Four players – Damon Harrison, Olivier Vernon, Mark Herzlich and Adam Bisnowaty – went on a special ride-along to start the conversation. They joined Newark Mayor Ras Baraka, members of the Newark Police Department and Sgt. Levi Holmes, president of the Newark Bronze Shields (the African-American police officer's association within the NPD) during a two-hour ride through the city.
The players, officers and the mayor participated in an open and honest dialogue about critical issues.
"It's a conversation that needs to be had," Harrison said. "So often, we speak with people with like-minds and everyone that has the same emotions and feelings that you have. You don't get the opportunity to sit down with a police officer and hear his thoughts and to know the things that are going on. I got a lot out of the conversation and I was able to change my perspective a little bit on the way I view officers."
During the ride-along, the Giants engaged with law enforcement about their efforts to have regular positive interactions and programs in the community of Newark. They also discussed the challenges of policing, and heard their perspectives on the player protests taking place around the league.
Mayor Baraka also shared his vision for the police department in Newark, and their recent progress and accomplishments. One example is The Newark Police Explorers, a group of teenagers who are learning about careers in law enforcement. Those young people also joined the Giants on the ride-along.
"Hearing that gave me a whole different insight into things," said Vernon, whose father is a police officer in Florida. "Just to hear their plans of what they've been doing throughout the years to try and better the relationship between the people that protect this community and live in this community."
Harrison, who hails from South Louisiana, was surprised to hear about some of the programs. Growing up, the five-year vet said he had constant contact with officers. Harrison was pleased to find out the Newark Police Department is taking a similar approach.
"To know an officer's name and have that officer watch you grow so you have that relationship with the communities and the officers will ease a lot of the tension," Harrison said. "That's something I never thought was still going on, but these officers are really here in the communities on a daily basis. Some of it is mandated; they're required to go out and do it. I think I'll sleep a little bit better at night knowing there's some effort being shown to try and heal that relationship."
A day that started at Newark Police Division Headquarters didn't end there. The ride-along continued with visits to Newark Central High School and Weequahic High School. Joined by members of the NPD, the Giants spoke to the football team and encouraged them to be leaders on and off the field. Each school was surprised with a $10,000 equipment grant from The Giants Foundation.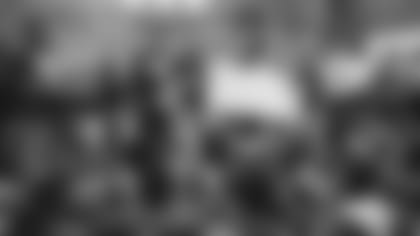 "Today just blew me away," said Weequahic head coach Brian Logan, who recently retired after 26 years as a Newark police officer. "Everything we ever asked for, everything we ever prayed for happened today. I'm excited right now, I'm overwhelmed. You have no idea. This is what we pray for and today was special."
"I never try to forget that I didn't really have this happen for me when I was a kid," Vernon added. "Football players coming to our school and coming to talk to us and coming to talk to our football team. I just try to look at it through their eyes and remember where I came from. It's always a blessing. When you get to a certain position and you have the opportunity to give those blessings back you just keep doing that."
(About the Newark Bronze Shields – The organization was founded in 1959, and is focused on improving the quality of life within the community by engaging in youth programs, fundraisers to benefit the less fortunate, and providing scholarships for college-bound students. Over the years, the organization has worked with the department's management, politicians and the courts to push for change. Visit their website at www.newarkbronzeshields.com.)
Olivier Vernon, Damon Harrison, Adam Bisnowaty and Mark Herzlich visit the Newark Police Department and two local high schools.