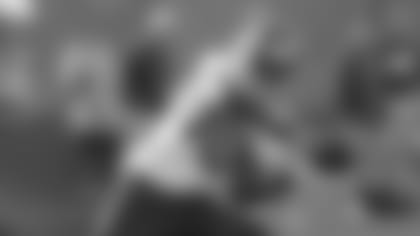 Early in the third quarter of the Giants' Monday night victory over the St. Louis Rams, Domenik Hixon ran a pass route, felt something wrong in his right knee and feared he might have a serious injury. On the next play, Hixon ran another route, beat his defender and said to himself, "If I can do that, I'm okay."
Unfortunately, Hixon's first instinct was correct.
The Giants announced today that the valuable wide receiver and return specialist suffered a torn anterior cruciate ligament in the 28-16 triumph over St. Louis. Hixon will undergo surgery in the near future. It is the second major knee injury suffered by Hixon in as many years; he missed the entire 2010 season after tearing the same ACL in a mini-camp practice in June.
"It's a shame, a guy who we missed last year, and (we were) happy to have back," quarterback Eli Manning said.
"Domenik worked so hard to get back," Coach Tom Coughlin said. "He is a great guy and a true pro. He studies and he works hard. He is great to his teammates. He is very reinforcing to everyone around him. He carries himself with class and distinction and for a guy like that to make a great play and then be done for the season, that is a difficult blow. If he was standing here, he would be telling his teammates to keep going. Let's go and the next guy in line has to step up and play better. We have to all do our jobs better and that is the position we are going to take."
Hixon played in the Giants first two games, catching four passes for 50 yards and returning three punts for 31 yards. Ironically, he hurt his knee while making his best play of the young season, when he juggled and then secured the ball for an acrobatic 22-yard touchdown reception from Manning with 21 seconds left in the first half against the Rams.
"The first time I put my right leg down I kind of felt something tighten up," Hixon said, "and then just focused on the ball and made that catch."
After halftime, Hixon tested his leg by running several sprints near the Giants bench area. After playing in the team's first series of the second half, he was removed from the game and the Giants announced he had a knee injury. Hixon was examined by team physician Dr. Russell Warren and underwent an MRI yesterday, when the injury was confirmed.
Hixon said in the postgame locker room that his calf hurt, so he was surprised when told the injury was actually a torn knee ligament.
"There was no pain at all in my knee so that's why I was thinking it was my calf and all the swelling went there," Hixon said. "Still now, my calf is the only thing that hurts. My knee feels fine.
"It (the diagnosis) was just kind of disbelief. It was almost like I wanted to challenge the doctor in a sense, because I was out there running in the game and he kind of just gave me different scenarios. It still feels unreal talking about it. Even now walking around, everybody is like, 'You're walking normal.' And I say, 'Yeah, but the doctor didn't make it up.'"
Players and coaches are accustomed to dealing with injuries, but seeing Hixon go down was a tough blow for many, because he had worked so hard to come back after suffering the same injury last year.
"Obviously, you feel bad for Domenik," Manning said. "After the game I talked to him, he thought he would just be out a week, or miss a day or two, you never know. But obviously, heard the news yesterday, I've talked to him, so he keeps a great attitude and that's what kind of keeps you going. Just to say, 'Hey, this is gonna be a great story when I come back from this one,' and 'I'll be able to help you out next year.' So that's kind of what keeps me positive, keeps the other guys, and we just want to go out there and play well for him."
Beginning Sunday against the Eagles in Philadelphia, Hixon, who was used as the third or fourth wide receiver, will likely be replaced on offense by a combination of Victor Cruz, newly-signed Brandon Stokley and third-round draft choice Jerrel Jernigan, who was inactive the first two games.
"You saw his contribution already with the touchdown catch, those are the kinds of plays he can bring to us," Manning said. "It's unfortunate, but we're gonna need some guys to step up.  That's why we brought Brandon Stokley in here, and Victor Cruz, and we drafted Jerrel, so we've got guys. We're gonna need some young guys to step up and make some plays also. But we still have talented receivers."
Cruz, the second-year pro who caught his first two career passes vs. the Rams, has mixed emotions about potentially assuming a larger role in the offense.
"It feels good, obviously, to go up and know you have an opportunity to get some real playing time this week and make a difference in the game," Cruz said. "The other part of me feels really awful for Domenik because coming from last year and then having such a great game - he had an unbelievable catch and then to get the bad news today, it's tough. You just have to be ready to play and go in there and be responsible and understand what you have to do to help this team win."
Cornerback Aaron Ross replaced Hixon as the team's punt returner on Monday night and Coughlin said he will keep that job going forward.
Ross returned 76 punts in college at Texas but didn't get to do it for the Giants until the final two games of the 2010 season, when he averaged 6.2 yards on six runbacks.
"He's always wanted to be the punt returner," Coughlin said.
Hixon would be the ninth Giants player to go on injured reserve and the fifth with a knee injury. Starting middle linebacker Jonathan Goff, cornerback Terrell Thomas and reserves Clint Sintim and Brian Witherspoon are all sidelined with torn knee ligaments. Sintim, like Hixon, hurt his knee for the second year in a row.
Second round draft choice Marvin Austin (torn pec), cornerback Bruce Johnson (Achilles) and backup quarterback Sage Rosenfels (illness) are also on injured reserve.
Hixon, meanwhile, knows exactly what lies ahead of him – surgery, recovery and long, arduous rehabilitation to return to the football field.
"I know what to expect, but you know that's going to be a tough road and a long road," Hixon said. "But I am willing to put in the work and we've got great trainers and doctors here. So it's just starting all over again."
In addition to being a productive player and a standup guy, Hixon is relentlessly upbeat. To tear the same knee ligament twice in 15 months can be devastating. But Hixon is treating this setback as a short hurdle.
"God has a plan and everything is going to work itself out and it's just another chapter in the book," Hixon said. "I hope one day maybe a couple a years from now and I'll see you guys around and we will be talking about a great comeback – a kind of Cinderella story."
*Wide receiver Mario Manningham, who did not play the second half on Monday night after complaining of fogginess at halftime, was examined by team physicians and by independent Neurologist Dr. Teena Shetty yesterday. He also underwent the team's protocol for concussions (including MRI and DTI). He underwent further examination and testing today.
"He felt better and he feels better even now, but he has to go through a whole bunch of things and every one of them has to be signed off on," Coughlin said. "That is not the case just yet so we will have to wait. The way, from what I understand, it is supposed to go, it has and we have no update at this time."
*Tight end Travis Beckum, who missed the first two games with a hamstring injury, participated in today's jog-through.
*Osi Umenyiora, who has not played since undergoing arthroscopic knee surgery on Aug. 19, did not participate in the light workout. Whether he will work tomorrow or play in Philadelphia is uncertain.
"It is day to day, I don't know what to tell you," Coughlin said. "One day it looks good and the next day it is not as good. We are just doing what the medical people are trying to keep us informed about."
*Hakeem Nicks has another reception and Manning has an additional completion and 23 passing yards after a scoring change from the game Monday night.
With 6:37 remaining in the first quarter, the Giants faced a fourth-and-four from the Rams' 32-yard line. Manning threw a pass to the left sideline for Nicks, who caught the ball as he was being interfered with by cornerback Bradley Fletcher. Referee Terry McAulay correctly announced that the Giants declined the penalty. But in the official game summary, it is written as no play with the Giants accepting the penalty.
The correction gives Nicks four catches for 38 yards in the game (and puts him over the 2,000-yard mark in his career at 2,002).  Manning completed 19 of 30 passes for 223 yards. The Giants had 323 net yards, not 300 and 204 net passing yards instead of 181.
The play was also a successful fourth down conversion for the Giants.