EAST RUTHERFORD, NJ - With all the news about the injured quarterbacks, the Giants' defensive players have worked in relative anonymity this week.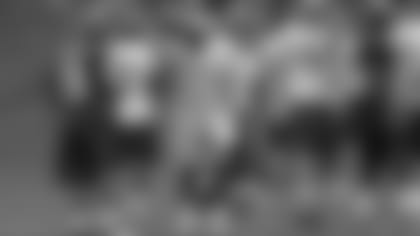 But work they have and new defensive coordinator Perry Fewell left the University at Albany today certain his charges have made significant progress during their three-week training camp stay.
"We've made some strides each and every day," Fewell said. "I told them one day that we had an 'aches and pains practice' because it ached me to watch them and it pained me to watch them and it wasn't very good. I thought they responded well. I think that they've tried each and every day to practice hard, to focus and concentrate. I've only really seen one practice that we've had that was painful for us."
Fewell's defense will get its second test in a game tomorrow night, when the Giants host the Pittsburgh Steelers in the New Meadowlands Stadium. In Monday night's 31-16 victory over the Jets, the defense started well; safety Antrel Rolle intercepted Mark Sanchez on the second play and returned the ball 59 yards to the one, setting up the Giants' first touchdown.
But the starters followed the takeaway by surrendering a 14-play, 68-yard drive that took 8:42 off the clock and ended with Sanchez's four-yard touchdown pass to Brad Smith – who was uncovered because of a communication issue that resulted in the Giants being flagged for too many men on the field (the penalty was declined).
Fewell hopes to avoid those kinds of mistakes against the Steelers.
"I think you show improvement from week one to week two," he said. "Obviously, I would like to continue to be physical. This is a great team to try to be a physical football team against in the Steelers. I would like for us to tackle well – really tackle well against the Pittsburgh Steelers. I would like to see us continue to turn the football over and play with great energy."
Fewell, who was the Buffalo Bills' defensive coordinator the previous four seasons, has installed a system that is significantly different than that used by the Giants last season. He sees progress in the players' grasp and execution of his schemes, but knows the Giants have plenty of room – and time – to improve before the regular season opener vs. Carolina on Sept. 12.
"I think we are learning each and every day," Fewell said. "I don't want to use the comfort level right now because we're continuing to introduce new concepts, new ideas, new personnel groups and trying to then recall something that we put in two weeks ago with the players. I think that they are understanding what we're trying to teach and what we're trying to accomplish.
"The first sense of urgency is Pittsburgh. But I think when we return to camp next week in the Meadowlands, we're going to start over mentally from an installation – some of the things that we haven't run in the last, let's say, five, six practices. Do they have recall? We're going to be demanding from that standpoint. 'The last time I called this pressure was last Monday, can you recall all of the adjustments, etc.' The sense of urgency needs to be in our learning and see how much we have retained from camp."
The end of training camp is a natural time of evaluation and contemplation. As he is every year, Coach Tom Coughlin was asked to summarize the team's camp experience. He indicated he was relatively pleased with Fewell's unit.
"It's been a great camp from the standpoint of days without rain and the weather initially was rather cool," Coughlin said. "We did have some warm days, but the facilities, the field and the temperature and all that stuff has been outstanding. We have made good progress defensively, not as good on offense for a lot of reasons, but we have to catch up a bit on the offensive side of the ball. The camp has been good, we've enjoyed our stay."
Well, maybe it was not quite as enjoyable for offensive coordinator Kevin Gilbride. He arrived here with three healthy quarterbacks and departs with two of them – starter Eli Manning and No. 2 Jim Sorgi – sidelined by injuries. Manning, who received 12 stitches for a laceration to his forehead sustained in the Jets game, will be back as soon as he can wear a helmet. Sorgi has a shoulder injury and his prognosis in less certain.
Rhett Bomar, third on the depth chart when camp began, will start and play most of the game against Pittsburgh. Rookie Dominic Randolph, who canceled a vacation when he signed on Wednesday, practiced for the first time yesterday and is the temporary No. 2.
Gilbride is concerned not only about the quarterbacks but the execution from his wide receivers.
"I'm more worried about them executing the way that they need to," Gilbride said. "They were not as sharp as they need to be. They showed rust more than anything last week. Hopefully they're going to grow, and some of the things that they'll be confronted with is just technique. Beating press coverage, doing the routes the way they are supposed to be done. The implementation of the offense the way it is supposed to be done, that needs to be upgraded."
Bomar has benefitted this month from a heavier workload. Last year, he received the fewest camp reps among the Giants' quartet of quarterbacks (Manning, David Carr and Andre' Woodson were the others). This summer, Bomar has had more opportunities to execute the offense and demonstrate his capabilities.
"He didn't get a lot of work last year," Gilbride said. "We had four quarterbacks, and he was getting fourth reps. In many respects, it's kind of like his rookie year, there's no question about that, which is part of why we only brought three quarterbacks in, to give him some work.
"We think we see a guy who has some physical skills and some potential. We were trying to give him enough work to try and see, never anticipating it would ever be as much work as he got (this week), or that he's going to get on Saturday night. He can run, as he showed you when he pulled it down (and gained 23 yards on third-and-17 against the Jets). He's got a very strong arm. It's really still growing in confidence, and doing the things we ask of our quarterback, which is substantial. It's significant. Much of our run game is contingent on him taking in and out of one play to another, etc. He also needs to grow with his consistency and his accuracy."
*A total of 39,875 fans attended this year's camp, the fifth-highest total in the Giants' 15 years here. The per-day average of 2,492 was second all-time. The Giants had the fewest practice days (16) and fewest practices (23) than they've ever had in Albany.
--- ](http://www.nyg2010.com/)**