EAST RUTHERFORD - Six months ago, Jay Alford sat in the locker room in Chicago's Soldier Field and expressed optimism that his 2009 season would be interrupted only briefly. Alford had been carted off the field early in the third quarter of the Giants' preseason loss to the Bears with what he thought – and hoped – was a relatively minor knee injury. He predicted "two or three weeks" of inactivity and a return to the field by opening day or soon thereafter.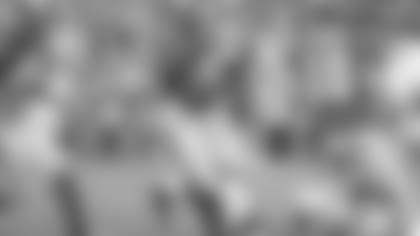 DT Jay Alford estimates that his strength and conditioning are currently "75-80 percent" of their pre-injury levels and will continue to improve throughout the offseason.


Alas, the injury was more severe than Alford thought. He tore the anterior cruciate ligament in his left knee. That forced Alford to undergo major surgery and miss the entire season.
Alford had entered his third NFL training camp in the best condition of his life and he expected to have a big season. Since the surgery, he has worked hard to get back into shape and expects to have those same lofty goals when the Giants open camp in the summer. But it's safe to say this has not been a fun half-year for Alford.
"When football is your life, basically, and when it gets taken away, you have no life," Alford said recently in the locker room at the Timex Performance Center, where he continues to work out regularly. "I missed everything about football - the locker room atmosphere, getting close to your teammates, practicing, games – all of it. When it's not there anymore, it's stinks.
"I haven't been so bored in my life than I was last season. I'm definitely looking forward to this year, because you just miss it, you miss it a lot. I'm definitely looking forward to getting back on the field."
Alford estimates that his strength and conditioning are currently "75-80 percent" of their pre-injury levels. "My strength is off maybe 40, 50 pounds, but I don't think it's a drastic difference," he said. Alford has more than five months to close the gap before camp opens. But he expects to make his presence felt long before that.
"I want to be back for OTAs (the organized team activities in the spring)," Alford said. "They say I should be ready by March, I should be a hundred percent. Right now, it's a mental thing, because when I do run on it, I'm usually thinking about it. Once that goes away, I should be alright. Hopefully, it goes away sometime soon.
"I started running on it about four weeks ago. I just started cutting, doing lateral stuff a couple of weeks ago. It's doing real well. It feels healthy."
Alford's return would give the Giants another big and talented player on the defensive line. Last year, he was expected to be a vital player on what many said was the NFL's deepest line. But his injury was the first and most severe of many that plagued the defensive front all season.
When he went down in Chicago, Alford never imagined that he wouldn't again wear a Giants uniform in 2009. The injury was originally diagnosed as a sprained MCL and a partial tear of the ACL. Alford figured he'd need a little time to rehab and strengthen the knee and would soon rejoin his teammates on the field. But further exams revealed the more severe injury and the necessity for surgery.
"Shock wasn't the word," Alford said upon receiving the news. "It was almost heartbreaking. I had so much promise going into the year. I thought I made such a big leap from my second year to my third year. To get the news – your year's done and you're not going to have a third year – my heart stopped. I thought, 'Now what do I do?' You go through your depressed moments. But after that you say, 'I have to rehab, I have to get better.'"
Before he was hurt in Chicago, Alford had not missed a game since joining the Giants as a third-round draft choice from Penn State in 2007. He had played in all 32 regular season games with three starts and played in five postseason contests. His career totals include 34 tackles (10 solo), 3.5 sacks and one pass defensed in the regular season and 12 tackles (four solo) and one sack in the postseason.
As a rookie, Alford carved his niche in Giants lore by snapping the ball on Lawrence Tynes' overtime field goal that won the NFC Championship Game in frigid Green Bay. He followed that up in Super Bowl XLII, when he sacked New England quarterback Tom Brady for a 10-yard loss with 19 seconds remaining.
In 2008, Alford started three games and finished with 26 tackles (nine solo), 2.5 sacks, three tackles for losses, four quarterback hurries, seven quarterback hits and one pass defensed. When he went down, the Giants lost a rising young lineman – and their snapper on field goals and extra points. The latter duties were assumed by punt snapper Zak DeOssie.
"I never had a major injury before, so this was my first time having a season and not playing in it," Alford said. "I had little minor tweaks here and there, but I was always able to play. So this was the first time I had to sit out a whole year. I started playing when I was 13. I'm 26 now, so that's a long time. It was rough. It shocked me so much, because I had never missed football. I had such a good track record in football of not getting hurt and playing well. When that got taken away it was mind-blowing."
When the team practiced during the week, Alford was often in the locker room rehabbing his knee. But game days were tough for him.
"I don't think I watched a whole game," he said. "The most I watched was a half. I couldn't watch the games, the wins or the losses."
Alford will return to the field to play for a new defensive coordinator in Perry Fewell and new line coach in Robert Nunn. He is eager to work with them, but what excites him most is returning to the daily routine with his teammates, on the field and in the meeting room.
"When you're injured, your days are usually taken up just rehabbing and once you rehab, you go home," Alford said. "You don't get to spend time with your teammates or the D-line. You don't get to have that. You miss it a lot, because you don't have it.
"The first couple of months it was rough (coming into the locker room). They're out there playing and all you're doing is rehabbing. You can't really talk about what happened on the field, because you're not there. And I was going through some depressed moments at that time, so I didn't want to talk to anybody. I just wanted to come in, get my workout in and leave. I didn't really want to be around anybody at that moment. But it definitely got better. They started worrying about me – 'Hey Jay, how you doin', you good? Come chill with us, come hang out with us.' It got better as time went on."
Now Alford can't wait to again be a full participant in Giants events.
"I'm definitely looking forward to training camp," he said. "I'll probably hate it after it starts, but right now I'm looking forward to it. I'm sure during Week 3 I'm going to be dreading it, but right now I'm can't wait for it to start."