EAST RUTHERFORD, NJ - Only two Giants position groups have new coaches this year, but the changes were made under vastly different circumstances.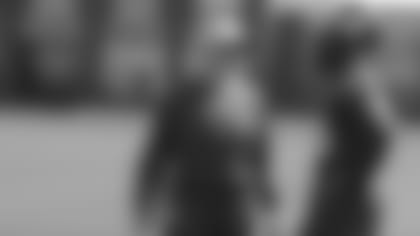 At quarterback, Eli Manning had the best statistical season of his career in 2009. But coach Chris Palmer left the Giants to become the head coach of the Hartford Colonials of the United Football League. He was replaced by former receivers coach Mike Sullivan.
The defensive line was expected to have an outstanding year when the 2009 season began. But injuries and subpar play resulted in a leaky run defense and only 32 sacks, the second straight season the Giants had a double-digit decline in that stat. After the season, line coach Mike Waufle was dismissed by Tom Coughlin. The job of reinvigorating a line that still has many talented veterans, plus the team's top two draft choices, is Robert Nunn, who is working under a new defensive coordinator in Perry Fewell.
"Everything is off to a good start," Nunn said this week after a team practice (officially an organized team activity). "Guys are all working. Every one of them is showing up everyday with good attitude, and so far, so good."
It's not unusual to hear an NFL coach make that statement in June. The trick is to be able to be as upbeat and positive six months from now. Nunn seems to have the forces available to give the Giants outstanding line play throughout the season. The ends include former Pro Bowlers Justin Tuck and Osi Umenyiora and first round draft choices Mathias Kiwanuka (2006) and Jason Pierre-Paul (2010). At tackle, the Giants will line up with Barry Cofield, Chris Canty, Jay Alford, Rocky Bernard and this year's second-round choice, Linval Joseph.
Of course, a year ago the Giants had largely the same cast up front (except, of course, for the current rookies) and were widely expected to have perhaps the NFL's best and deepest defensive line. Then Alford suffered a season-ending knee injury in a preseason game, Canty was absent or limited much of the season because of a variety of ailments, Tuck and Bernard played most of the year with weakened shoulders, Umenyiora lost his starting job late in the season and the line never performed at its expected level.
"Injuries are part of this game," Nunn said. "You still have to go out there and produce.  And that affected them some last year. We go back to the things that we have talked about and say, 'Let's take it one day at a time, one snap at a time and continue to build.'  And as I said, injuries are part of it.  You have to learn to fight through them.  Someone else has to step up when someone is injured and can't go.
"(But) at the end of the day it doesn't matter.  You are still going to be judged whether you succeeded or you failed.  Some of the things that happened last year were because of guys going down or missing time in key parts of the season. But the end of the year is what counts."
If the line is going to enjoy a successful 2010 season, Nunn must maximize the potential of each lineman and the group. The obvious question: how is he going to do it?
"Well, we have talked about it – just taking one step at a time and starting with fundamentals," he said. "That is the only way I know how to do it. So that is what we are going to try to do to hopefully get off to a good start, which we have so far, and keep building each day and try to improve each one individually. And if we do that, then we are going to improve as a group."
Nunn is a 22-year coaching veteran who is in his 11th season on an NFL staff. He was a defensive line coach with the Tampa Bay Buccaneers in 2009. He has also coached for the Miami Dolphins, Washington Redskins and Green Bay Packers.
For the defensive linemen, the learning curve this spring is twice as sharp as they digest Fewell's system and get accustomed to Nunn and the lessons he's imparting.
"It's a different philosophy," Kiwanuka said. "It's what we've been doing, but there are definitely changes in philosophy and how we go about our execution. Our stances have changed, our steps have changed, our reads have changed. But when you change the defense, those things are going to change, too. It's a combination of a change in the defense and a change of the coach."
"It's still the same concepts," Tuck said. "Different guys have different ways of doing similar things. The biggest thing I think is the film room. Coach Waufle is a bit of a nut, kind of like the whole D line. Coach Nunn is a little laid back. We'll get to him soon enough.
"I think that's been a smooth transition. He's a very upbeat type of guy and our defense is filled with a lot of upbeat players. So it was an easy transition for us. We love how he approaches the game. Right now, everything is a learning curve. We haven't gotten to speak the same language that he does. But everything is close. We go out there and work and get better every day. As training camp approaches, I think it will be even smoother."
Perhaps the greatest and most important curiosity is how all of the linemen will be used once the season begins. Kiwanuka and Tuck have taken snaps at tackle – "I'll be all over the place," Kiwaunka said – and Canty has plenty of experience at end.
Waufle frequently rotated his linemen, though both Fewell and Nunn have hinted that they may stick longer with a set lineup.
"I have been around both, situations where we have rotated a lot, and I have been around situations where we didn't rotate a lot," Nunn said. "And a lot of it depended – if somebody is in there and getting the job done and they are hot and they are doing a great job, they are going to stay in there. We will get into that as we get going throughout training camp. And I'm sure there will be some rotation, but again, if the guy gets in there and is clearly being productive and is doing a good job, then we are going to stick with the guy that is hot."
With the carrot of increased playing time out there for those who perform, the competition among the defensive linemen should be fun to watch all summer – and perhaps beyond. ](http://www.nyg2010.com/)**
If you'd like to submit a question or comment to Michael, click here.