EAST RUTHERFORD, NJ - They are both downplaying the significance of the matchup, saying it's another day at the stadium and another game they want to win. Are Eli and Peyton Manning just trying to be blasé for the media or do they attach little special significance to their second meeting as professionals Sunday night in Indianapolis?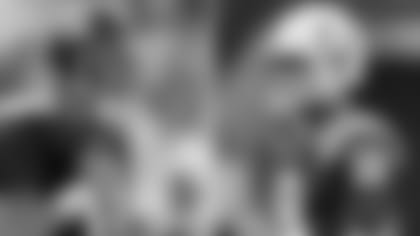 Someone who knows both players well believes it's not an act.
"Knowing those two, it's probably not," said Jim Sorgi, who was Peyton Manning's backup on the Indianapolis Colts for six years before joining the Giants this season. He undwerwent shoulder surgery last week and is on injured reserve. "I'm sure they won't talk at all this week and it'll be, 'He's the opponent and we're going to go and try to beat our opponent.' That's kind of the sense I got from both of them. From the outside looking in, I always thought, 'Hey, this is a heated rivalry here.' Four years ago Peyton got him, and I'm sure Eli is chomping at the bit to get him. But he's just chomping at the bit to beat the next team that's in line. Peyton's probably ready to do the same thing, especially after losing last week. If I know Peyton, he's not very happy right now. It'll be a heck of a show on Sunday night."
The main event, of course, is the Giants, trying to improve to 2-0 for the third straight season, going up against a Colts team hoping to avoid its first 0-2 start since 1998.
"The competitive aspect of this game is that their quarterback and our quarterback are both preparing for our team," Coach Tom Coughlin said. "And that who we are going to play – is the Indianapolis Colts football team. And so that is the way that Eli will look at this – and nothing different. We have got to go into their place – a domed stadium – we have all of that to be concerned with as well. So it's the competitive aspect that comes to the front. And that is where it stays."
But the fascinating sideshow that will generate most of the attention is Eli vs. Peyton in the second matchup in NFL history in which brothers are the starting quarterbacks on opposing teams. The first was on Sept. 10, 2006, when the Colts invaded Giants Stadium and walked out with a 26-21 season-opening victory.
The encore four years later has also generated enormous interest, though Eli Manning said today it might be more fun to the fans and media than the Manning family. After all, who are Archie and Olivia Manning supposed to root for?
"I understand that it's a big deal to the media and fans, and that it's a unique story and everything," Eli said. "I think it's definitely been better this year in that it's the second game of the season, and not the opener where you had four months to talk about it. It's a lot easier dealing with just one week and I think it's a lot more relaxing for Peyton and me just having to deal with it for one week."  The older brother concurs.  "I know both of us were relieved," Peyton said. "We knew that when we played each other this season that it wasn't the opener. Four years ago, we had all the questions all preseason. The fact that it's week two, we just get to focus on our first game as I know Eli was, and now I understand it's week two and the questions. The fact is that it's one week, and after this week it'll be over, so I think both of us are pretty relieved as far as when the game was going to be."
Four years ago, Eli was a third-year pro beginning his second full season as the Giants' starter. He completed 20 of 34 passes for 247 yards, two touchdowns and an interception. The Giants trailed 13-0 and 16-7, but pulled to within 23-21 midway through the fourth quarter.
Peyton was then a two-time MVP. He would win his Super Bowl later that season, but was already considered one of the great quarterbacks in NFL history. Against the Giants, he completed 25 of 41 passes for 276 yards, a touchdown and an interception. His passer rating was 78.9, considerably less than Eli's 88.7. But it was Peyton who was asked today if the matchup is now more equal, given Eli's relative inexperience last time.
"Yeah, certainly there is a big difference between being in your (third) year and being in your seventh," Peyton said. "There's a difference in experience for any player in the amount of time that you'd played, especially at quarterback. Certainly, a lot has happened since that game four years ago. It's two different teams, I think. We have a different head coach, we have different assistant coaches, a lot of different players. There are not many players that were on defense for the Giants for that game four years ago. There are a lot of new players there. I think it's a different situation."
It is for Eli, who admitted earlier this week he will try to appreciate this moment and opportunity more the second time around.
"I think the first time they made such a big fuss about it and how it is about the Manning Bowl and this or that," he said. "I probably didn't enjoy it as much as I should have. I think this next time you start to realize you don't know how many times it is going to happen. This might be the last one. You might get one more here or there. Obviously, we have to both make it to the Super Bowl for it to happen again in the next four years. It is rare and you kind of appreciate the fact that when the National Anthem is being sung you are kind of looking over and you see your big brother there and it is pretty special. You have to try to enjoy it, have fun with it, and just understand that it is something that you don't know how many times you are going to get to do."
Later, Manning said, "it's a little different than last time. It was my (second) full season being a starter, and the first game of that season. There were a lot of things going on. With this one, I've been playing a little bit longer. Still, it's going to be fun. It's going to be a great environment, it's my first time to play in the Indianapolis stadium. I've been there for a few games but never played in the stadium and I'm looking forward to that. They are always a tough team and it's going to be a challenge for us, so we have to go out there and play great football."
The Mannings are one of 22 sets of brothers currently active in the NFL. They are certainly the league's most famous and most accomplished brother act. Both have won Super Bowls (Peyton in Super Bowl XLI, Eli a year later). Peyton is a 10-time Pro Bowl selection and a four-time NFL most valuable player (an NFL record).
Both quarterbacks are extremely durable. Peyton has started 193 consecutive regular season games (he's never missed one) and Eli has started 88 in a row, the second and third longest streaks among active quarterbacks (after Brett Favre's 286).
Eli is 51-37 (.580) in the regular season, plus 4-3 (.571) in the playoffs. Peyton is 131-62 (.679) in the regular season and 7-8 (.467) in the postseason. The brothers have both won far more than their father did in his career from 1971-84 (Archie: 35-101-3, .263)
"Eli is an experienced NFL quarterback that plays probably in the toughest division in football," Peyton said. "He sees tremendously complicated defenses every single week, but always twice a year from Philadelphia, the Redskins, and the Cowboys. He's seen three different (defensive) coordinators on his team the past three years, which every day in practice, he is seeing different looks. He hasn't missed a start. It'd be hard to find a guy who knows more about defense and is experienced like Eli is, because he has been in every single Sunday and he's always ready to play. He takes the cerebral part very seriously, and usually when I call or talk to him, he's studying, so that's what a quarterback's supposed to do in my opinion."
Of course, Peyton has long been known for putting in long hours of study each week. That's just one of many similarities between the brothers.
"Not only their mannerisms sometimes are the same, but just the way they talk," Sorgi said. "The way they do certain things you can just tell that their DNA is the same. Obviously, they have differences - everybody does - but their games are a little different on the field. They're different people, but you can tell that they're brothers."
On Sunday, they'll try to put that aside for three hours and do whatever they can to lead their team to victory.
*Eli admitted the game will be tough on Archie and Olivia Manning.
"It's hard for them to be happy at the end of the game for one son knowing that the other son is disappointed," he said. "They'll be at the game, and rooting for the offense the whole time. They're hoping for a high scoring game."
*Although he was a Colt and worked with Peyton Manning for six years, Sorgi said he hasn't been asked for much information on his former team.
"If they ask me a question, I'll help out any way that I can," he said. "I'll go to game film if they want me to. But they haven't really asked for much information as of yet.
"I have a lot of information. Being there six years, I helped put in a lot of the information that they use. But sometimes how much you know really doesn't matter. It's all about executing against him. I can give the defense here all the information that I can, and it's all, 'Can we get to Peyton? Can we knock him down? Can we get to him before he gets the ball out?' You can know what route's coming and still not cover. It's all about-you've got to get lucky. You've got to hit him. You've got to hit him early. You've got to force the turnovers and get them to punt once in awhile hopefully. And hopefully you put up enough points that you have one more point than they do."
*Sorgi was asked whether Peyton Manning's many pre-snap gyrations are actually significant or if it's mostly a bluff.
"It depends on his mood," Sorgi said. "Sometimes a lot of it is actual changing and signaling, and sometimes it's a lot of nothing. He's so good at playing chess with the defense that he knows when he needs to give them a little something to make them think that he's doing something and not do anything - then when to actually have to change the play to get the Colts in a better place. It's kind of give and take. Sometimes it means a lot. Sometimes it means very little."
*The Giants today welcomed back Aaron Ross to practice as they began preparations for their Sunday night game in Indianapolis against the Colts.
Ross practiced without limitations after missing the season-opening victory over Carolina with a plantar fascia injury suffered in an Aug. 21 preseason game vs. Pittsburgh. Ross and starting cornerbacks Corey Webster and Terrell Thomas face a huge challenge in defending against the Colts' high-power passing attack, which is led by Peyton Manning and receivers Reggie Wayne, Pierre Garcon and tight end Dallas Clark.
Wide receiver Hakeem Nicks (ankle injury sustained vs. Carolina) and defensive end Osi Umenyiora (knee) will not practice today, though Coughlin said he hopes both will be on the field tomorrow. Linebacker/special teams standout Chase Blackburn (knee), Phillip Dillard (hamstring) and cornerback Bruce Johnson (knee) also did not practice. Safety Michael Johnson did not practice, though the team said it was not for injury reasons.
Tom Coughlin said today that tight end Kevin Boss, who sustained a concussion vs. the Panthers, will not play in Indianapolis.
Tackle Will Beatty will undergo surgery tomorrow to repair a broken bone in his foot. The Giants will then have a better idea how long the second-year pro will be sidelined. Shawn Andrews is the backup tackle in Beatty's absence.
Linebacker Gerris Wilkinson practiced fully.
*The Giants trail in the regular season series, 7-6. But they won both of their previous games in Indianapolis, 24-7 in 1990 and 44-27 in 2002, when Kerry Collins threw for 366 yards and four touchdowns, three of them to Amani Toomer. This is the Giants' first visit to three-year-old Lucas Oil Stadium.
*The Colts have won six of their last seven home openers and their last five games against NFC teams.